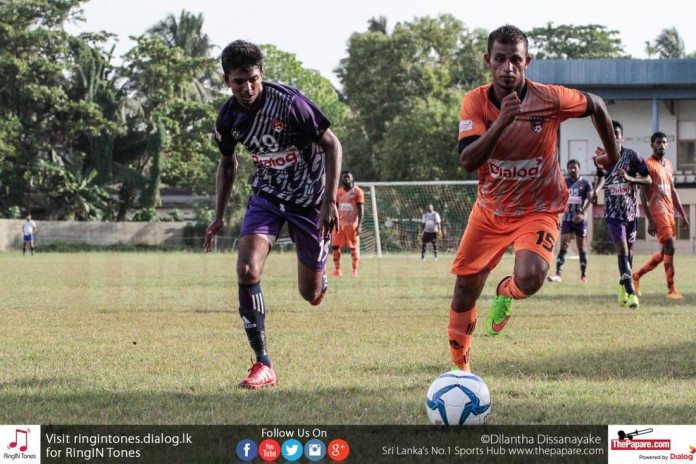 Super 8 chasing Super Sun produced a rather uninspired performance but managed to win 3-0 with two late goals against Thihariya Youth in the Dialog Champions League match at the Vernon Fernando Stadium in Kalutara.
Within the first 30 minutes neither team had made enough of a stamp on the game to take control. Both sides created chances but could not hit the target.
Yet by a mile Super Sun had the most chances. They pressed hard and wide and had a goal cleared of the line. While another goal from a header rattled of the post and found no one able to convert.
The half looked to end in a draw when Super Sun centre back Teo Daniel dribbled the ball from deep into his own half, past four opposing players to then unselfishly past to the left flank for forward Nuwan Priyankara to take a shot. Thihariya Youth goalkeeper Mohamed Massod safely collected the goal scoring opportunity.
Photo Album – Super Sun SC v Thihariya Youth SC | Group Stage | DCL16
With this moment of brilliance, Daniel had lifted his teammates on and they had new confidence, which allowed them to add a goal in the 35th minute by Duodu Joseph. The goal was well worked from the back with skilful passing and Joseph had an easy shot from a cross from 4 yards outside the box.
Half time – Super Sun 1 – 0 Thihariya Youth
The second half started much the same as the first with lots of chance going begging and neither team able to capitalise.
However Super Sun always looked like the better team with their dominance on the ball.
Thihariya Youth's forwards were unable to find any kind of rhythm or cohesion. With at times shooting wildly from well outside the box.
Super Sun had far more passion and gained many corners threw there attacks. They were reward with the second goal in the 79th minute. Farood Faiz made a powerful challenging run down the right of the box to the shoot and beat goalkeeper Mohamed Massod at his near side.
The game was then tarnished when Super Sun's Silmy Hassan and Thihariya Youth Sudarshana Ramanayake were sent off for violent conduct. Hassan appeared to tackle Ramanayake late, which resulted in both players lashing out with kicks to the shins.
Deep into injury time Super Sun were reward with another goal. Mohamed Farhan made a late run down the left flank in the 92nd minute as he crossed the ball straight to keeper Mohamed Massod with Nuwan Priyankara and Teo Daniel lying in wait with no Thihariya Youth defenders in support. Massod miss timed his catch that resulted in him fumbling the ball into his own net.
Full time – Super Sun 3 – 0 Thihariya Youth
ThePapare.com Player of the Match – Teo Daniel
Goal Scorers
Super Sun – Duodu Joseph 35', Farood Faiz 79', Mohamed Farhan 90+2'

Bookings
Yellow cards
Super Sun – Nuwan Priyankara, Shafraz Kaiz

Red Cards
Super Sun – Silmy Hassen 84'
Thihariya Youth – Sudarshana Ramanayake 84'