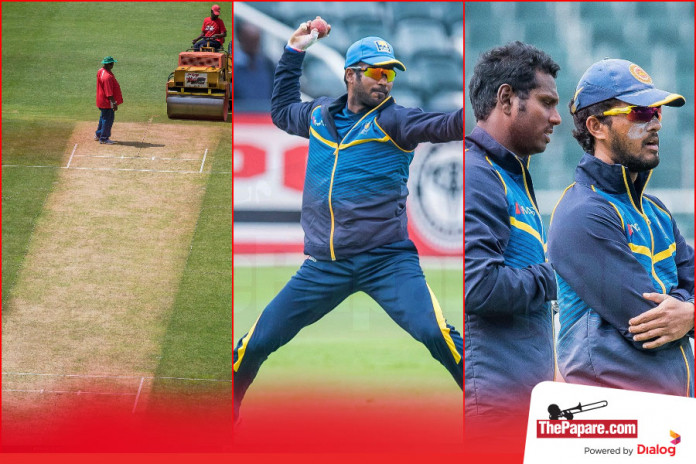 Rex Clementine in Johannesburg
With the series already lost, if Sri Lanka were hoping for some breathing space in the final Test against South Africa here in Johannesburg, they were in for a huge shock. The hosts have left lot of grass on the wicket for the final Test at the Wanderers and are expected to field four fast bowlers.
Left-arm quick Wayne Parnell will join Vernon Philander and Kagiso Rabada as the third seamer while 24-year-old right-arm quick Duanne Olivier is expected to make his debut ahead of spinner Keshav Maharaj, making it an all pace attack.
South Africa have part-time spinner J.P. Duminy in their ranks and they should feel confident as Duminy took a hat-trick in the World Cup quarter-final against Sri Lanka in 2015 in Sydney.
"The pitch looks a lot greener than the previous two wickets, so obviously there will be swing seam and bounce right throughout the Test match, which we kind of expect. We've always expected a green top when we tour South Africa. We've got to play on whatever we get. We will not complain or make a fuss about it. We will go out there and do our best," Mathews told journalists.
Photos : Sri Lanka Practices Ahead of 3rd Test
Sri Lanka's batsmen's approach in the series has been critiicsed as they have looked to attack from the start and lacked patience. The longest a Sri Lankan batsman has occupied the crease in this  series is when Kaushal Silva batted for 204 minutes in the second innings in Port Elizabeth. In all, the Sri Lankans have made just two half-centuries in four innings.
"It's pretty simple. I'm repeating myself and what's needed is long hours of concentration. When you get a 20 and a 30 you suddenly feel that you're set, and you get a good ball, especially in these conditions. We need to try and push hard and concentrate hard. Whoever gets a start needs to convert that into a big innings," Mathews said.
"You've got to play on merit. When the bowler is bowling well you've got to respect him and whenever you get the loose ball, you try and capitalize on it. It's a bit of a balance of both. You can't go negative, you can't go over positive, so you need to have that correct balance. Cricket is a game where you have to score runs. Whether you score 100 off 300 balls or whether you score 100 off 70 balls it doesn't matter, as long as you work your game out. You just need to score runs," Mathews added.
Sri Lanka Cricket has announced the 15-man Sri Lanka T20I squad for the upcoming three-match T20I series against South Africa which starts next week.
Adapting to conditions in South Africa has been a tall order for the Sri Lankans. At home, they are brought up on wickets where the ball hardly rises above knee level and can get away by being overly aggressive. But here in South Africa the batsmen's temperament on these wickets has been tested.
"It actually differs from condition to condition. Sometimes coming out all positive can also be your downfall. You need to have that balance when the ball is moving quite a lot. You can get a good ball and give a nick. You need to be able to concentrate hard. That's what all the batsmen were lacking. We've trained quite hard except for the first day in Johannesburg where we didn't get the practice wickets to bat on. We trained hard over the next two days. So hopefully the batters will do the needful."
After the heavy defeat in Port Elizabeth, the Sri Lankans were expected to learn from their mistakes, but they were shot out for 110 runs in the first innings in Cape Town and South Africa refrained from enforcing the follow on and went onto win by 282 runs.
"It is a challenge and it can get quite frustrating. We know we've been making those mistakes and we keep repeating them. But as I said before, we've got a set of players who are looking to score runs and I always encourage that. And yes, by looking to score runs in these conditions maybe you can get a good ball or, if the ball is not good enough, you can still get out because of the conditions."