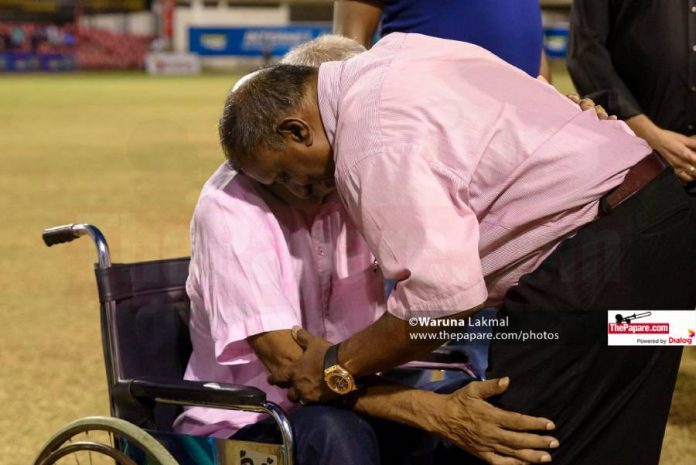 It was a heartwarming sight for rugby fans, in-fact any sports fan, and anyone and everyone who made their way to Havelock Park yesterday to witness the encounter between the Colombo Origins and Outstation Origins – a game of rugby played in honour of the legendary national cap Chandrishan Perera . 
The match-up between the crème de la crème of Sri Lanka rugby, organized by Sri Lanka Rugby acted as the national trials for the best 50 players in the country to prove themselves and earn their spot at representing Sri Lanka in the upcoming Asia Rugby Championship. However, after a very physical brawl and high-class rugby, the Outstation Origins captained by Kandy's Roshan Weeraratne ended up victorious scoring 24 points to 12 over Omalka Gunaratne's Colombo Origins team.
Be it Rugby, Cricket or Athletics, Shan has been in the thick of it all. At one point in all of our lives, we have all enjoyed his commentary and his involvement in the rugby field. But, what most of us (younger crowd to be exact) had no idea was, about his engagement with Sri Lanka cricket(SLC). He worked as the Media Manager for SLC in the early 2000's and earned the respect of many individuals from all around the world. His guts and sheer strength was what made him standout from the others, making the name 'Shan' legendary across the shores.
Read More: Cricket needs Chandrishan back badly
Being a 1st class cricketer himself, Shan was very well-known among the cricketing fraternity. He was a formidable pacey who had the experience playing here and in England. In a fitting tribute, today Shan was honoured by the stars of the '96 Cricket World Cup winning team – telling you what an important role/service Chandrishan has rendered towards Sri Lankan sports.
Read More: A game of rugby for Chandrishan Perera
Having heard of the difficulties battled by our silver-tongued, iron-willed hero, Roshan Mahanama, Romesh Kaluwitharana, Aravinda De Silva, Chaminda Vaas, some remnants from the world cup and the likes of ex-national cap Farveez Mahroof, legendary Thomian Ken De Alwis lent their presence to the momentous occasion at Havelock Park yesterday.
Read More: Sporting personalities need to be looked after! – Roshan Mahanama
Chandrishan is said to have played the role of the Strength and Conditioning trainer of the Sri Lanka cricket team free of charge at a point, spending days and nights  readying the boys ready for the big games. Therefore it was no surprise that these great cricketers united to lift the glamorous rugby back and pay him homage for  his literally 'priceless' efforts trying to uplift our favourite sport.
Roshan Mahanama squeezing time from a family bereavement presented himself at the press conference earlier last week. Conveying most earnestly his views on the subject he said "I think we owe this to him. As soon as I heard about this, I informed all my colleagues, especially the players from the '96 world cup team, to gather together and show their support for this great cause"
And 'gather together' they did! It was the cricketers who were upfront watching the game of rugby with much enthusiasm, sitting  next to Shan, applauding his game, his strength of mind and his spirits.
Paying it forward, lets also gather up in support for the big guy, all of your from around the world make your donations
Name: P C M Perera
Acc No. : 670101000005833
Union Bank Borella
Swift – UBCLLKLC