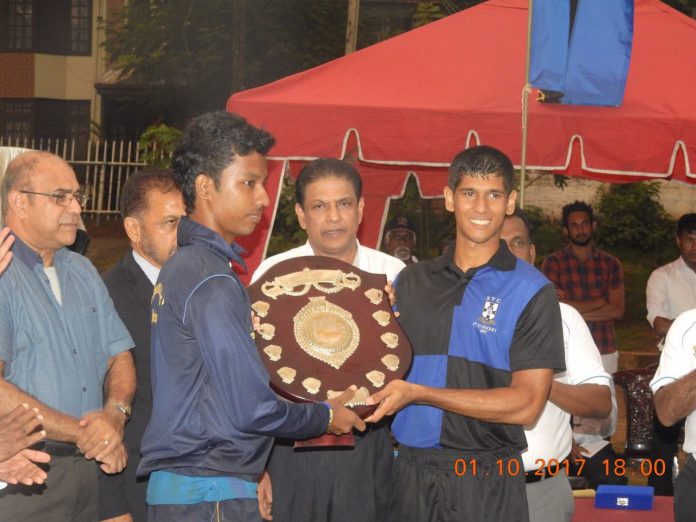 The third annual encounter for the Eric Hulangamuwa trophy which was played in Matale between St.Thomas's Matale and S.Thomas' College Mount Lavinia, ended in a nil all draw.
The proceedings  began with the St. Thomas' Matale school band leading the two teams  and the school authorities, old boys walking towards the Edward Park hockey grounds with large crowds cheering the teams. Matale being famous for hockey over the years, their interest and support for the game was witnessed with this colourful parade and  large crowd gathering at the grounds. The game was sponsored by Nations Trust Bank and Ceylinco Life Insurance Ltd.
The under 16 teams were introduced to the officials and the game  commenced under dark clouds looming in the sky.
The teams were playing a pass and play game with the boys from Mount Lavinia putting more pressure. However the weather gods were unfair and play was disrupted towards the end of the first half. Thereafter the match officials decided to call off the game, with both teams unable to score and the match ending in a nil all draw.
The much anticipated 1st XI encounter for the Eric Hulangamuwa trophy commenced with the duration of the game being reduced to 20 minutes per half. Amidst the large crowds supporting the Matale boys, the boys from Mount Lavinia were equal to the task. The first half ended without scoring and continued until the final whistle was blown. Rahal Rabukpotha from STC, Mt.Lavinia was awarded the Indrawansa Herath challenge trophy for  the Best Player in the 1st XI encounter. The Erci Hulangamuwa trophy will be shared between the two schools this year.
The old boys encounter was an addition this year and was played with less intensity and with a more friendly atmosphere. The Old Thomians' Hockey Union (OTHU) Mt. Lavinia presented a special commemorative plaque to the Matale old boys which was gracefully accepted by Ranjith Wijekoon, an old boy of STC, Matale , a distinguished national hockey player and a former representative of the Asian team. The match commenced with the old boys playing a slow stop and pass game due to wet ground conditions. Heshan Fernando from STC, Mount received a short corner pass to the top of the dee and took a hard shot which went pass the goal keeper and sounded the boards. That score remained the same until end of play.
The grand awards ceremony was graced by a distinguished gathering, namely Mr.Palitha Kohona – Former Ambassador to the UN & former Secretary to the Foreign Ministry,  Mr.Anura Dissanayake- Secretary to the Mahaweli Ministry, Presidents Counsel Mr.Mohan Weerakoon , Rev Fr. Marc Billimoria –Warden STC Mt. Lavinia, Mr.K.A.J.Kulasooriya – Principal STC, Matale. The main sponsors for the game, Nations Trust Bank was represented by Mr.Chandana Dodanwela –Senior Manager Emerging Markets and Mr.Dinesh Marasinghe – Branch Manager .Ceylinco Life Insurance Ltd was represented by Mr.Priyantha Bandara – AGM and Mr.Senaka Bandara – Branch Manager.