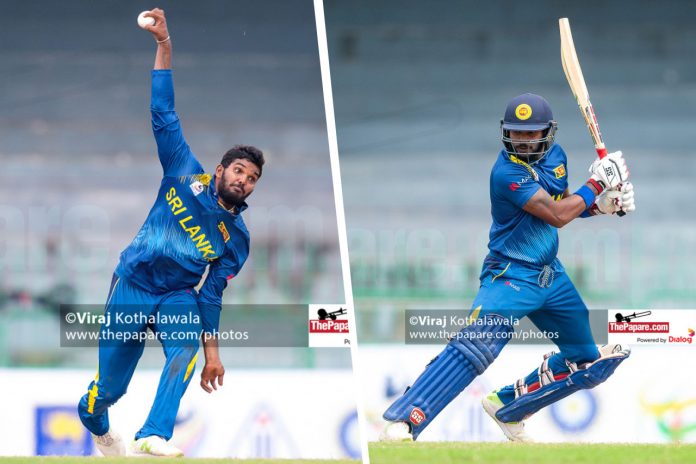 A commanding all-round performance by the Sri Lanka Emerging team helped them register a thumping 186-run win over their Bangladesh counterparts in the 1st of the 3-match Unofficial ODI series in Savar today (18th).
Skipper Charith Asalanka elected to bat first after winning the toss, something which was not in their favour back in South Africa where they lost the few matches they batted first and won many chasing. However, the familiar sub-continent conditions in Bangladesh was ideal for the Lankan batsmen.
The Sri Lanka Emerging team beat the University Sports South…
The playing XI was almost the same which featured in South Africa except for the bowling line-up which had some new faces in Malinga-like Nuwan Thushara and Shiran Fernando along with all-rounder Jehan Daniel.
Openers Pathum Nissanka and Sandun Weerakkody provided a quick start as they put up 48 runs in just 6 overs before they were separated in the 7th over. The early advantage was smartly utilized by the skipper as he anchored the innings batting at number 3.
He accumulated runs with a couple of handy partnerships with Sammu Ashan and Kamindu Mendis to set a perfect platform for the lower-middle order to come in and go hard at the bowlers. Following his dismissal for 71 in the 36th over, hard-hitting Wanindu De Silva walked in ahead of Ashen Bandara and just demolished the Bangladeshi attack.
Wanindu, scoring 70 runs in just 46 deliveries with 3 sixes and 7 boundaries, provided Sri Lanka the impetus to go past 300. In a 48-run 6th wicket stand in just 29 deliveries Wanindu was well supported by Bandara who remained unbeaten on 29 off 17 as Sri Lanka ended their innings on 304/7 after 50 overs.
The run-chase for Bangladesh never got going as lanky right-arm seamer Shiran Fernando picked up 2 quick wickets including the Bangladeshi skipper, Test cap Najmul Hossain. 
Bangladesh T20I cap, 19-year old Afif Hossain and opener Saif Hassan then built the best partnership of the Bangladesh innings, 32 runs for the 4th wicket, to bring some sort of hope for the home camp. It was not to last long however as Amila Aponso shattered them with a timely double strike to seal the Sri Lankan dominance.
A media conference ahead of Team Sri Lanka's departure..
Leg spinner Wanindu De Silva, who was introduced to the attack last, took the match under his control with the ball picking up 4 of the last 5 wickets, just like how he did it with the bat. Interestingly, Wanindu was also a last minute inclusion to the squad replacing injured leg-spinner Sachindu Colombage.
Slinging pacie, Nuwan Thushara picked up 2 wickets.
The two teams will now meet on the 21st of this month at the same venue.


Batsmen
R
B
4s
6s
SR
Pathum Nissanka
lbw b Shafiqul Islam
18
18
3
0
100.00
Sandun Weerakkody
b Shafiqul Islam
31
24
5
0
129.17
Charith Asalanka
c Saif Hassan b Afif Hossain
71
79
7
2
89.87
Sammu Ashan
b Aminul Islam
33
70
4
0
47.14
Kamindu Mendis
c Najmul Hossain Shanto b Yeasin Arafat
28
40
1
0
70.00
Wanindu Hasaranga
c Mohammad Naim b Shahidul Islam
70
46
7
3
152.17
Ashen Bandara
not out
29
17
3
1
170.59
Jehan Daniel
c Mahidul Islam Ankon b Shahidul Islam
8
6
1
0
133.33
Shiran Fernando
not out
2
2
0
0
100.00
| | |
| --- | --- |
| Extras | 14 (b 0 , lb 1 , nb 2, w 11, pen 0) |
| Total | 304/7 (50 Overs, RR: 6.08) |
| Fall of Wickets | 1-48 (6.1) Pathum Nissanka, 2-59 (8.1) Sandun Weerakkody, 3-144 (28.6) Sammu Ashan, 4-172 (35.2) Charith Asalanka, 5-226 (42.6) Kamindu Mendis, 6-274 (47.5) Wanindu Hasaranga, 7-289 (49.1) Jehan Daniel, |
| Bowling | O | M | R | W | Econ |
| --- | --- | --- | --- | --- | --- |
| Shahidul Islam | 10 | 0 | 71 | 2 | 7.10 |
| Yeasin Arafat | 10 | 0 | 89 | 1 | 8.90 |
| Shafiqul Islam | 7 | 1 | 22 | 2 | 3.14 |
| Nayeem Hasan | 10 | 1 | 50 | 0 | 5.00 |
| Afif Hossain | 5 | 0 | 28 | 1 | 5.60 |
| Aminul Islam | 8 | 0 | 43 | 1 | 5.38 |


Batsmen
R
B
4s
6s
SR
Saif Hassan
c Charith Asalanka b Wanindu Hasaranga
50
70
6
0
71.43
Mohammad Naim
c Sandun Weerakkody b Shiran Fernando
5
5
1
0
100.00
Najmul Hossain Shanto
c & b Shiran Fernando
8
9
1
0
88.89
Yasir Ali
c Sandun Weerakkody b Nuwan Thushara
0
11
0
0
0.00
Afif Hossain
lbw b Amila Aponso
19
33
3
0
57.58
Aminul Islam
b Amila Aponso
0
1
0
0
0.00
Mahidul Islam Ankon
c Pathum Nissanka b Wanindu Hasaranga
10
21
1
0
47.62
Nayeem Hasan
c Sandun Weerakkody b Wanindu Hasaranga
1
8
0
0
12.50
Shahidul Islam
b Wanindu Hasaranga
0
1
0
0
0.00
Yeasin Arafat
c Ashen Bandara b Nuwan Thushara
1
12
0
0
8.33
Shafiqul Islam
not out
0
0
0
0
0.00
| | |
| --- | --- |
| Extras | 24 (b 4 , lb 0 , nb 0, w 20, pen 0) |
| Total | 118/10 (28.3 Overs, RR: 4.14) |
| Fall of Wickets | 1-18 (2.3) Mohammad Naim, 2-38 (4.5) Najmul Hossain Shanto, 3-49 (7.5) Yasir Ali, 4-82 (16.1) Afif Hossain, 5-82 (16.2) Aminul Islam, 6-104 (23.4) Mahidul Islam Ankon, 7-112 (25.1) Nayeem Hasan, 8-112 (25.2) Shahidul Islam, 9-118 (27.6) Saif Hassan, 10-118 (28.3) Yeasin Arafat, |
| Bowling | O | M | R | W | Econ |
| --- | --- | --- | --- | --- | --- |
| Shiran Fernando | 6 | 2 | 28 | 2 | 4.67 |
| Jehan Daniel | 2 | 0 | 22 | 0 | 11.00 |
| Nuwan Thushara | 4.3 | 0 | 21 | 2 | 4.88 |
| Amila Aponso | 7 | 0 | 25 | 2 | 3.57 |
| Kamindu Mendis | 3 | 1 | 6 | 0 | 2.00 |
| Wanindu Hasaranga | 6 | 3 | 12 | 4 | 2.00 |