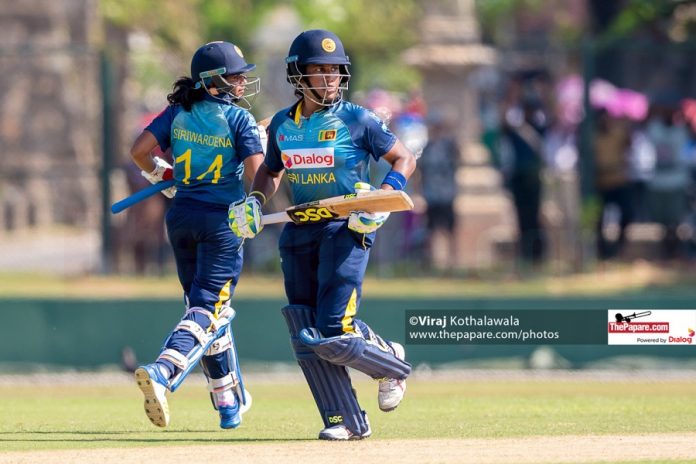 Sri Lanka were on 49 for 3 when the 2nd T20I between the hosts and India was called off due to inclement weather in Colombo earlier today.
After a 30-minute rain delay, Indian Captain Harmanpreet Kaur decided to bowl first on a wet afternoon at the Colts Cricket Club Grounds. Sri Lankan skipper Chamari Attapattu once again gave her side a blistering start, hitting two fours and a six, before right arm spinner Deepti Sharma broke through her defense.
Read: India holds their nerve to take victory
Poonam Yadav continued her form from the previous game picking up Kavisha Dilhari who was promoted up the order. The game was halted when the score was on 49/3 in 7.5 overs due to heavy showers and subsequently called off.
The 3rd T20 will be played tomorrow at the Colombo Cricket Club grounds down Maitland Crescent.
No Result
Sri Lanka Women's Innings
Batting
R
B
Yasoda Mendis
c D Sharma b A Reddy
1
6
Chamari Athapatthu
b D Sharma
21
16
Dilani Manodara
not out
15
17
Kavisha Dilhari
c A Reddy b P Yadav
3
5
Eshani Lokusuriya
not out
1
3
Fall of Wickets:
1-10 (Y Mendis, 1.4 ov), 2-39 (C Athapatthu, 5.3 ov), 3-44 (K Dilhari, 6.5 ov)
| Bowling | O | M | R | W | E |
| --- | --- | --- | --- | --- | --- |
| Anuja Patil | 3 | 0 | 23 | 0 | 7.67 |
| Arundhati Reddy | 1 | 0 | 12 | 1 | 12.00 |
| Deepti Sharma | 2 | 0 | 7 | 1 | 3.50 |
| Poonam Yadav | 1 | 0 | 2 | 1 | 2.00 |
| Radah Yadav | 0.5 | 0 | 5 | 0 | 10.00 |