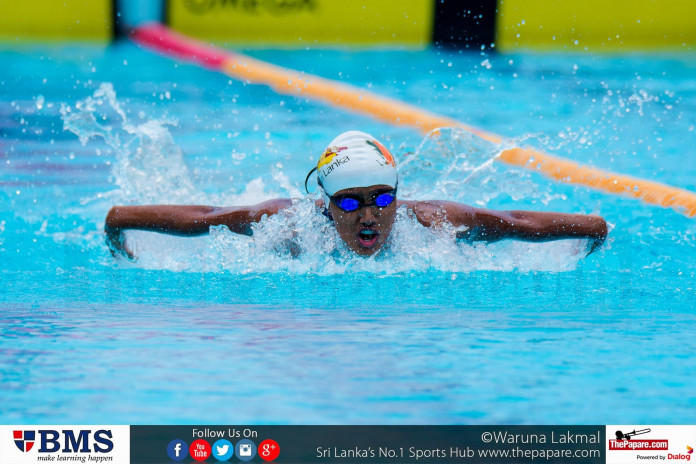 A total of 12 records were shattered on the opening day of the 23rd National Sports Festival Swimming Championships as the Western Province swimmers dominated the day's proceedings at the Sugathadasa Indoor Swimming Complex.
The swimming series of the 42nd National Sports Festival commenced at the Sugathadasa Indoor Swimming Pool Complex with the active participation of top swimmers representing their respective provinces.
National swimmer Ishani Senanayake set the tone for the swimming meet setting a new meet record in the Women's 800m, clocking a timing of 9:55:00. The earlier record was also set by Ishani in 2015 which was 10:10:56. She followed up her first medal honour by winning the Women's 200m Freestyle with timing of 2:16.91, renewing the record she set last year.
Continuing the success of the Western Province team, 14-year-old Hiruni Perera took the honour of taking home the medal for the Women's 200m Individual Medley establishing a new meet record with timing of 2:41:04.
Visakhian Ramudi Samarakoon continued her success story with another two gold medals under her belt winning the Women's 50m Butterfly stroke and the 100m Breaststroke. Coincidentally she broke two records in the process setting a new timing of 36.73 in the 50m and 1:19.52 in the 100m.
Up and coming swimmer from Negombo, Hiruni Perera also took home two medals in the first day setting two new records. Clocking 2:41.04 in the Women's 200m Individual Medley and finishing the Women's 200m Butterfly in a duration of 1:09.18 she entered the record books of the National Sports Festival.
Former Royalist and Navy swimmer Kanitha Munasinghe got his share of two gold medals on the first day winning the 50m Breaststroke and the 100m Breaststroke. Champion swimmer from Sirimavo Bandaranaiyke Vidyalaya, Vinoli Siriwardena also got the honour of winning two golds on the opening day by winning the Women's 200m Backstroke and 50m Backstroke. Vinoli went on to set new meet records in both events.
With Western Province winning all the events held on the first day, they are expected to take the overall title having already won the first 17 events on offer.