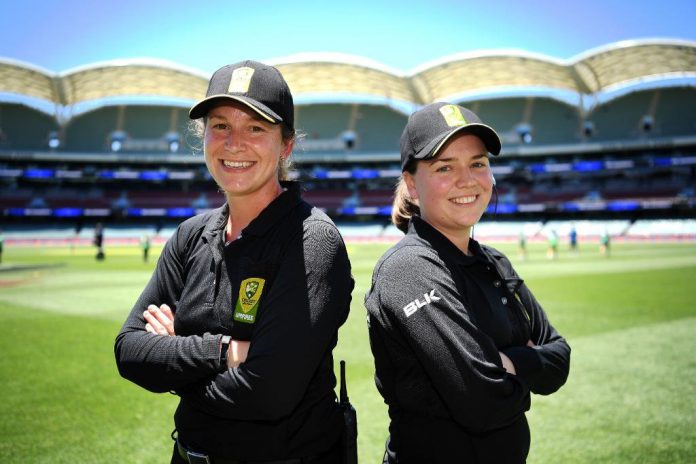 The ICC Women's T20 World Cup Global Qualifier will make history with an all-female umpiring panel to officiate in Scotland from 31 August to 7 September.
Australia's Claire Polosak and Eloise Sheridan are among the appointments and it marks another milestone for the pair, who together formed the first female umpiring duo to officiate a professional fixture on Australian soil in December 2018 in the Women's Big Bash League.
The ICC to live stream ICC Women's T20 World Cup Qualifier matches for first time ever
Polosak also became the first woman to umpire a men's One Day International earlier this year in Namibia and was the first women to officiate in a men's domestic match in Australian in 2017.
"To have an all-female umpiring team at an ICC event for the first time is really exciting," Polosak said.
ICC welcomes first female match referee and boosts numbers on development panel
"It shows female umpires across the world are making the most of their opportunities which ensures the officiating family continues to get stronger."
Polosak and Sheridan will be joined by Jacqueline Williams, Sue Redfern, Kim Cotton and Lauren Agenbach all from the ICC Development Panel of Umpires.
The tournament will see eight teams compete for two places at the ICC Women's T20 World Cup 2020 to be held in the Australian cities of Canberra, Melbourne, Perth and Sydney next year.
Claire Polosak to become first female umpire in men's ODI
The Women's tournament will be held as a standalone event from 21 February – 8 March, while the men's (18 October – 5 November) tournament will be held later in the year.
Both events will culminate in finals at the world's largest cricket stadium, the Melbourne Cricket Ground, presenting an opportunity to set a new world record for the highest attendance at a women's sporting fixture on Sunday 8 March 2020, International Women's Day.