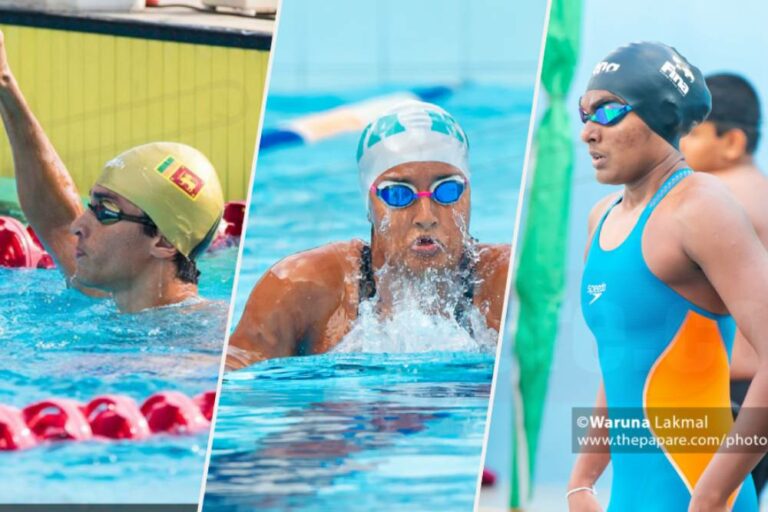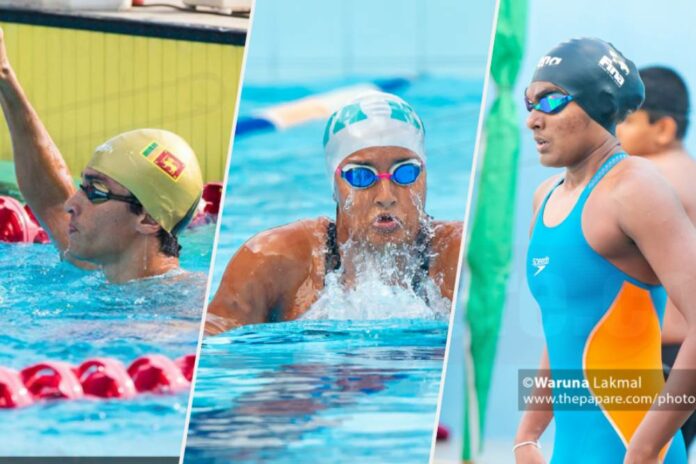 The 20th edition of the World Aquatic Championships – Fukuoka 2023, organized by the World Aquatics, runs for 17 days from the 14th of July to the 30th of July 2023 at Fukuoka, Japan. The Swimming events started on Sunday 23rd July, at the Marine Messe Fukuoka Hall A. Diving, High Diving, Synchronized Swimming, Open Water Swimming and Water Polo along with the rest of the disciplines, are also happening alongside Swimming in Japan.
Team Sri Lanka consists of 3 swimmers: Matthew Abeysinghe, Ramudi Samarakoon and Ganga Senevirathne. Mr. Manoj Abeysinghe leads the team as the National Coach.
As of 28th July 2023, 3 Lankans are done with their events. Abeysinghe, the fastest Sri Lankan, swam 2 freestyle events in Fukuoka on the 26th and 28th of July. In his 1st event, Men's 100m Freestyle, Abeysinghe swam a time of 50.46 sec and managed to become the 51st in the ranking. Abeysinghe also finished the Men's 50m Freestyle event on the 28th in 23.23 seconds, and was ranked 57th in the world.
The National Breaststroke record holder Samarakoon swam the Women's 100m Breaststroke and 200m Breaststroke events with times of 1:15.36 and 2:45.61, ranking 52nd and 34th respectively.
Senevirathne, the fastest female backstroker at present, competed in the Women's 100m Backstroke and 200m Backstroke events at the championships. She clocked 1:04.86 in the 100m Backstroke and finished in 48th place. Senevirathne finished 37th in ranking with a time of 2:23.36 in the 200m Backstroke event.
In addition to Team Sri Lanka's performances so far, with 2 more days to go in the championships, 6 new world records have been established.
Out of them all, it was super exciting to see the fall of the longest standing Swimming record of 15 years in the Men's 400m Individual Medley event – Leon Marchand from France renewed the record by clocking a 04:02.50, which was previously held by the greatest Olympian Michael Phelps in 2008.
Haiyang Qin from China raised the bar in Men's 200m Breaststroke event with 02:05.48 becoming the world champion in the event.
The 2 Australian ladies became the new world record holders in the Women's 200m Freestyle and 400m Freestyle events. Mollie O'Callaghan swam the 200m Freestyle in 01:52.85, breaking the world record, while Ariarne Titmus broke the 400m Freestyle world record by finishing it in 03:55.38 seconds.
Besides the 4 individual records, the Australian female relay team is the new owner of the Women's 4*100m Freestyle relay and 4*200m Freestyle relay.
After 15 days of competition, China is leading the medal table with 20 Golds and a total of 34 medals, while Australia is standing at 2nd with 12 golds and a total of 21 medals.