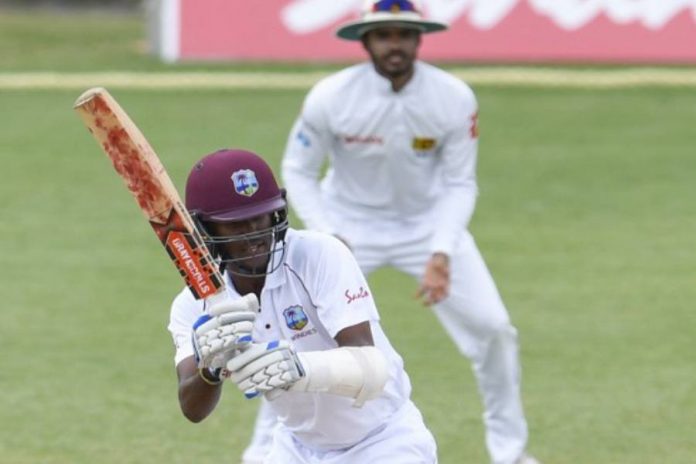 Sri Lanka eventually fell five wickets short of levelling the series, on a final day which saw interruptions in the form of rain and bad light, as the visitors were left pondering about the two hours that were missed after they decided to protest 'the change of ball' during the first session on day three.
Earlier in the day Sri Lanka resuming their 2nd innings on 334/8, added only eight runs to their overnight total with Shannon Gabriel being the chief destroyer once again. Gabriel in-fact went on to capture 8 wickets in the second innings to restrict Sri Lanka to 342 all-out, to follow up his five wicket haul in the first innings. His figures of 13/121 in the match was also the all time 3rd best bowling figures in a Test match for any West Indian bowler.
Kasun Rajitha bowled with plenty of heart in the first innings to capture three wickets and he roared like a lion twice in his second over in the second innings in celebration, when he dismissed Devon Smith and Kieran Powell within the space of three balls.
A century run stand for the 5th wicket between by far the two-best batsmen in the team Dinesh Chandimal and Kusal Mendis, put Sri Lanka 287 runs ahead ..
West Indies was reeling at 8/2 and to make matters worse, Shai Hope was struck on the ribs by a brutal Lahiru Kumara delivery which was clocked just under the 150kmph mark. Hope tried his best to stay on but eventually decided to leave the field and that brought in a nervous Roston Chase to join Kraig Brathwaite in the middle. Chase went through a few anxious moments against Kumara early but managed to keep him at bay.
Suranga Lakmal returned for a spell on the stroke of lunch and set up Roston Chase beautifully to have him cleaned up for 13, as the visitors went into the break with renewed hope.
Shane Dowrich(8) didn't last for too long when Akila Dananjaya got one to go on straight with the arm to find his outside edge, as Dhananjaya de Silva accepted the simple opportunity in the slips. West Indies was 64/4 and looking down the barrel at this stage with more than 60 overs remaining, when Shai Hope returned to the batting crease.
Loud cries were heard whenever Hope tried to play off the back foot as he seemed to be in a lot of pain but continued to battle, on an uneven surface which provided a lot of assistance for the fast bowlers with variable bounce. He seemed like he wouldn't last for too long though he did survive for 115 balls. He even took the attack to Kumara – who hit him in the ribs earlier – depositing him into the stands with a classical pull shot, before his brave effort ended when a Suranga Lakmal delivery took off from no where, struck his back elbow and ricocheted on to the stumps.
Dinesh Chandimal, the Sri Lankan captain, has been charged for breaching Level 2.2.9 of the International Cricket Council's Code of Conduct, for changing the ball condition.
Brathwaite continued his lone battle at the other end, taking the attack to the bowlers whenever needed. It was a typical Brathwaite knock in-fact. He reached his half century off his 159th ball. He did it his own way but managed to remain unbeaten when first rain and then bad light arrived.
Skipper Jason Holder faced 20 deliveries for his unbeaten 15* as West Indies was 147/5 in the 61st over of their innings when umpires Aleem Dar and Ian Gould decided to take the players off due to bad light. That meant more that 32 overs were lost on the final day – which also included a slight rain interruption right after the tea break – as the umpires decided to call off play and declare the match drawn.
Rajitha picked up five wickets in the match for Sri Lanka while Kumara and Lakmal picked up four apiece as Sri Lanka showed plenty of courage in clawing their way back into the Test match after conceding a 47 run first innings lead.
This closely fought game of Test cricket will unfortunately be remembered for the wrong reasons as Sri Lanka await the hearing of their skipper Dinesh Chandimal who has been accused of ball tampering, which also saw a protest from the Sri Lankan players for the first couple of hours on day three.
Full Scorecard
// var socket=io('http://localhost:8080'); var socket=io('http://202.124.184.250:8080');
jQuery( document ).ready(function() { console.log( "ready" ); var prev_bat_team = 0;
socket.on('message',function (message) { message = JSON.parse(message); console.log(message); if( message.data.cric.commentary){ jQuery('#cmt_wrap').prepend('
'+message.data.cric.commentary.event+'
'+message.data.cric.commentary.comment+'
'); } if(message.data.cric.match){ console.log(message.data.cric.match.teams_1_inn2_r[0]); function ove(balls) { var overs = 0; if(balls %6 == 0){ overs = balls/6; }else{ overs = parseInt(balls/6)+"."+(+balls - +parseInt(balls/6)*6); } console.log(overs); return overs; }
if(!message.data.cric.match.teams_1_inn2_r[0]){
jQuery('#score_1_'+message.data.cric.match.teams_1_r[0]['id']).html(message.data.cric.match.teams_1_r[0]['score'] + " / " + message.data.cric.match.teams_1_r[0]['wkts']); jQuery('#over_1_'+message.data.cric.match.teams_1_r[0]['id']).html("("+ove(message.data.cric.match.teams_1_r[0]['balls'])+" overs)"); }else { jQuery('#score_1_'+message.data.cric.match.teams_1_r[0]['id']).html(message.data.cric.match.teams_1_r[0]['score'] + " / " + message.data.cric.match.teams_1_r[0]['wkts']+" & "+message.data.cric.match.teams_1_inn2_r[0]['score']+" / "+message.data.cric.match.teams_1_inn2_r[0]['wkts']); jQuery('#over_1_'+message.data.cric.match.teams_1_r[0]['id']).html("("+ove(message.data.cric.match.teams_1_inn2_r[0]['balls'])+" overs)"); } if(!message.data.cric.match.teams_2_inn2_r[0]){
jQuery('#score_2_'+message.data.cric.match.teams_2_r[0]['id']).html(message.data.cric.match.teams_2_r[0]['score'] + " / " + message.data.cric.match.teams_2_r[0]['wkts']); jQuery('#over_2_'+message.data.cric.match.teams_2_r[0]['id']).html("("+ove(message.data.cric.match.teams_2_r[0]['balls'])+" overs)"); }else { jQuery('#score_2_'+message.data.cric.match.teams_2_r[0]['id']).html(message.data.cric.match.teams_2_r[0]['score'] + " / " + message.data.cric.match.teams_2_r[0]['wkts']+" & "+message.data.cric.match.teams_2_inn2_r[0]['score']+" / "+message.data.cric.match.teams_2_inn2_r[0]['wkts']); jQuery('#over_2_'+message.data.cric.match.teams_2_r[0]['id']).html("("+ove(message.data.cric.match.teams_2_inn2_r[0]['balls'])+" overs)"); }
if(message.data.cric.match.teams_1_r[0]['extras']!=null){ jQuery('#extras_1_r_'+message.data.cric.match.teams_1_r[0]['id']).html("("+ove(message.data.cric.match.teams_1_r[0]['extras'])); } if(message.data.cric.match.teams_2_r[0]['extras']!=null){ jQuery('#extras_2_r_'+message.data.cric.match.teams_1_r[0]['id']).html("("+ove(message.data.cric.match.teams_2_r[0]['extras'])); } if(message.data.cric.match.teams_1_inn2_r[0]['extras']!=null){ jQuery('#extras_1_r_2_'+message.data.cric.match.teams_1_inn2_r[0]['id']).html("("+ove(message.data.cric.match.teams_1_inn2_r[0]['extras'])); } if(message.data.cric.match.teams_2_inn2_r[0]['extras']!=null){ jQuery('#extras_1_r_2_'+message.data.cric.match.teams_2_inn2_r[0]['id']).html("("+ove(message.data.cric.match.teams_2_inn2_r[0]['extras'])); }
//extras_1_r_2_ // if(prev_bat_team != message.data.cric.team_id){ jQuery('#widget_wrapper').load(document.URL + ' #widget_wrapper'); // } // prev_bat_team = message.data.cric.team_id // }
}); });
Full Scorecard
253/10 & 342/10
(91.4 overs)
300/10 & 147/5
(60.3 overs)
Match Drawn
Sri Lanka's 1st Innings
Batting
R
B
Kusal Perera
c J.Holder b K.Roach
32
55
Mahela Udawatte
c J.Holder b S.Gabriel
0
2
Dananjaya De Silva
b S.Gabriel
12
14
Kusal Mendis
c S.Dowrich b J.Holder
45
83
Dinesh Chandimal
not out
119
186
Roshen Silva
c J.Holder b S.Gabriel
6
23
Niroshan Dickwella
c S.Hope b S.Gabriel
16
55
Akila Dananjaya
c S.Dowrich b K.Roach
2
10
Suranga Lakmal
lbw by S.Gabriel
10
9
Kasun Rajitha
c S.Dowrich b K.Roach
4
33
Lahiru Kumara
c S.Hope b K.Roach
0
6
Extras
7 (b 1, lb 2, nb 2, w 2)
Fall of Wickets:
1-0 (M Udawatte, 1.2 ov), 2-15 (D de Silva, 5.4 ov), 3-59 (KJ Perera, 18.1 ov), 4-126 (K Mendis, 34.1 ov), 5-148 (R Silva, 43.1 ov), 6-179 (N Dickwella, 59.4 ov), 7-190 (A Dananjaya, 62.6 ov), 8-206 (S Lakmal, 65.4 ov), 9-237 (K Rajitha, 76.4 ov), 10-253 (L Kumara, 78.6 ov)
| Bowling | O | M | R | W | E |
| --- | --- | --- | --- | --- | --- |
| Kemar Roach | 18 | 8 | 49 | 4 | 2.72 |
| Shanon Gabriel | 16 | 4 | 59 | 5 | 3.69 |
| Miguel Cummins | 19 | 5 | 69 | 0 | 3.63 |
| Jason Holder | 14 | 2 | 56 | 1 | 4.00 |
| Devendra Bishoo | 11 | 3 | 15 | 0 | 1.36 |
| Roston Chase | 1 | 0 | 2 | 0 | 2.00 |
West Indies's 1st Innings
Batting
R
B
Kraig Brathwaite
c N.Dickwella b K.Rajitha
22
79
Devon Smith
lbw by A.Dananjaya
61
176
Keiran Powell
c K.Mendis b L.Kumara
27
45
Shai Hope
c D.De.Silva b S.Lakmal
19
41
Roston Chase
c S.Lakmal b L.Kumara
41
68
Shane Dowrich
c N.Dickwella b S.Lakmal
55
98
Jason Holder
c N.Dickwella b K.Rajitha
15
35
Devendra Bishoo
c K.Mendis b K.Rajitha
2
13
Kemar Roach
lbw by L.Kumara
13
21
Miguel Cummins
not out
8
20
Shanon Gabriel
c D.De.Silva b L.Kumara
3
8
Extras
34 (b 11, lb 8, nb 1, w 9, pen 5)
Total
300/10 (100.3 overs)
Fall of Wickets:
1-59 (K Brathwaite, 24.4 ov), 2-115 (K Powell, 40.6 ov), 3-149 (S Hope, 54.3 ov), 4-163 (D Smith, 59.1 ov), 5-241 (R Chase, 80.4 ov), 6-254 (S Dowrich, 86.3 ov), 7-261 (D Bishoo, 89.6 ov), 8-279 (J Holder, 93.3 ov), 9-292 (K Roach, 98.4 ov), 10-300 (S Gabriel, 100.3 ov)
| Bowling | O | M | R | W | E |
| --- | --- | --- | --- | --- | --- |
| Suranga Lakmal | 24 | 6 | 50 | 2 | 2.08 |
| Akila Dananjaya | 25 | 7 | 81 | 1 | 3.24 |
| Kasun Rajitha | 22 | 6 | 49 | 3 | 2.23 |
| Lahiru Kumara | 26.3 | 4 | 86 | 4 | 3.27 |
| Dananjaya De Silva | 3 | 0 | 10 | 0 | 3.33 |
Sri Lanka's 2nd Innings
Batting
R
B
Kusal Perera
c S.Dowrich b S.Gabriel
20
23
Mahela Udawatta
c D.Bishoo b K.Roach
19
46
Kasun Rajitha
lbw by S.Gabriel
0
6
Dananjaya De Silva
c D.Smith b S.Gabriel
3
15
Kusal Mendis
b S.Gabriel
87
117
Dinesh Chadimal
c S.Dowrich b K.Roach
39
112
Roshen Silva
c S.Dowrich b S.Gabriel
48
115
Niroshen Dickwella
c K.Powell b S.Gabriel
62
70
Akila Dananjaya
b S.Gabriel
23
30
Suranga Lakmal
lbw by S.Gabriel
7
22
Lahiru Kumara
not out
0
5
Extras
34 (b 12, lb 8, nb 11, w 3)
Total
342/10 (91.4 overs)
Fall of Wickets:
1-32 (KJ Perera, 7.4 ov), 2-34 (K Rajitha, 9.4 ov), 3-44 (D de Silva, 13.6 ov), 4-48 (M Udawatte, 16.2 ov), 5-165 (D Chandimal, 47.4 ov), 6-199 (K Mendis, 57.2 ov), 7-298 (R Silva, 81.1 ov), 8-307 (N Dickwella, 83.1 ov),9-334 (S.Lakmal, 89.5), 10-342 (A.Dananjaya, 91.4)
| Bowling | O | M | R | W | E |
| --- | --- | --- | --- | --- | --- |
| Kemar Roach | 21 | 3 | 78 | 2 | 3.71 |
| Shanon Gabriel | 20.4 | 6 | 62 | 8 | 3.04 |
| Jason Holder | 15 | 5 | 38 | 0 | 2.53 |
| Miguel Cummins | 13 | 1 | 44 | 0 | 3.38 |
| Devendra Bishoo | 11 | 0 | 58 | 0 | 5.27 |
| Roston Chase | 10 | 1 | 38 | 0 | 3.80 |
| Kraig Brathwaite | 1 | 0 | 4 | 0 | 4.00 |
West Indies's 2nd Innings
Batting
R
B
Kraig Brathwaite
not out
59
172
Devon Smith
c D.De.Silva b K.Rajitha
1
5
Kieran Powell
c M.Udawatta b K.Rajitha
2
2
Shai Hope
b S.Lakmal
39
115
Roston Chase
b S.Lakmal
13
37
Shane Dowrich
c D.De.Silva b A.Dananjaya
8
12
Jason Holder
not out
15
20
Fall of Wickets:
1-6 (D Smith, 3.2 ov), 2-8 (K Powell, 3.4 ov), 3-55 (R Chase, 22.6 ov), 4-64 (S Dowrich, 27.2 ov), 5-117 (S Hope, 54.3 ov)
| Bowling | O | M | R | W | E |
| --- | --- | --- | --- | --- | --- |
| Suranga Lakmal | 17.3 | 3 | 48 | 2 | 2.77 |
| Kasun Rajitha | 13 | 3 | 23 | 2 | 1.77 |
| Lahiru Kumara | 10 | 3 | 28 | 0 | 2.80 |
| Akila Dananjaya | 19 | 7 | 33 | 1 | 1.74 |
| Dananjaya De Silva | 1 | 0 | 5 | 0 | 5.00 |