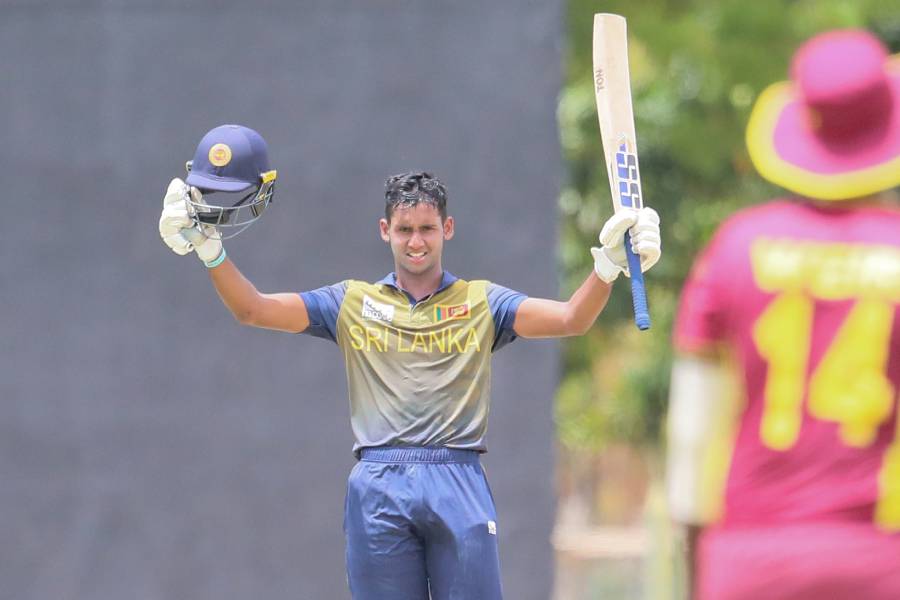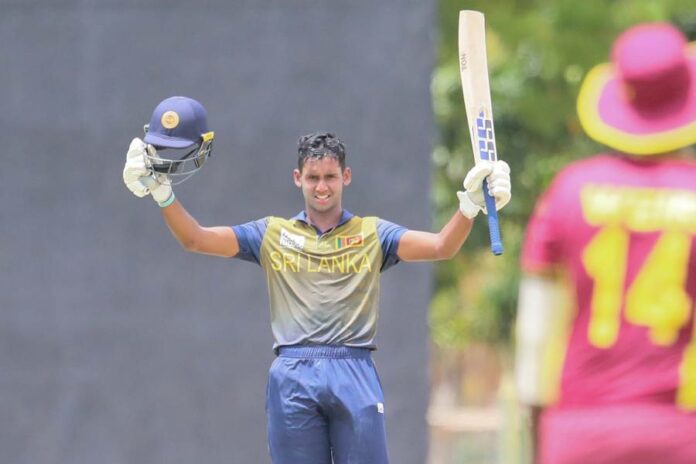 Sri Lanka U19 Team clinched the 3-match Youth ODI series against West Indies U19 Team, 2-1, as they registered a 51-run win in the third and final match played today (1st September) at Dambulla.  
Sri Lanka U19 Skipper Sineth Jayawardene won the toss and opted to bat first in the series decider. Sri Lankan opening pair Pulindu Perera and Vishen Halambage put on a decent partnership for the first wicket as they added 44 runs in 5.3 overs. 
Perera and Sri Lanka's No. 4 batter Ravishan Nethsara kept the momentum with the hosts, putting on another vital 47-run stand for the wicket. However, Sri Lanka witnessed a major batting collapse, losing 5 quick wickets for 74 runs to be restricted to 199/7. 
Read : Jordan Johnson ton guides West Indies to series-leveling win
The opening batter Perera, who held one end firmly, then revived the innings adding a crucial 80-run stand for the 8th wicket with Vihas Thewmika. Perera went on to score a headline-grabbing century for the hosts as they posted a commanding total – 304/8 in the allotted 50 overs. 
In reply, the visitors also got off to a strong start and were 92/1 after 12 overs at one stage. However, the Sri Lankan bowlers managed to drag things back, picking up 5 quick wickets to halt their proceedings at 175/6. 
West Indian batters always maintained a healthy run-rate throughout the run-chase, but lost too many wickets which prevented them from crossing the line, though their wicket-keeper batter played a fighting half-century at the latter part of the innings. 
Vishwa Lahiru was the pick of the bowlers for Sri Lanka as he bagged 3 crucial wickets for 48 runs, while Garuka Sanketh, Skipper Jayawardene and Thewmika also supported him at the other end, taking 2 wickets each.  
The two sides will now focus on red-ball Cricket as the 2-match Youth Test series will begin on the 5th of September at the same venue.  


Batsmen
R
B
4s
6s
SR
Pulindu Perera
c Nathan Sealy b Nathan Edward
155
140
17
4
110.71
Vishen Halambage
c & b Tarrique Edward
19
13
4
0
146.15
Sineth Jayawardena
c Stephan Pascal b Tarrique Edward
15
28
1
0
53.57
Ravishan Nethsara
c Stephan Pascal b Isai Thorne
27
42
4
0
64.29
Supun Waduge
c Joshua Dorne b Nathan Edward
3
10
0
0
30.00
Dinura Kalupahana
c Tarrique Edward b Nathan Edward
13
8
3
0
162.50
Sharujan Shanmuganathan
c Adrian Weir b Deshawn James
16
18
1
0
88.89
Malsha Tharupathi
c Nathan Edward b Deshawn James
7
5
1
0
140.00
Vihas Thewmika
not out
28
30
3
0
93.33
Vishva Lahiru
not out
7
11
0
0
63.64
| | |
| --- | --- |
| Extras | 14 (b 5 , lb 1 , nb 5, w 3, pen 0) |
| Total | 304/8 (50 Overs, RR: 6.08) |
| Bowling | O | M | R | W | Econ |
| --- | --- | --- | --- | --- | --- |
| Nathan Edward | 9 | 0 | 66 | 3 | 7.33 |
| Deshawn James | 10 | 0 | 70 | 2 | 7.00 |
| Tarrique Edward | 10 | 0 | 41 | 2 | 4.10 |
| Nathan Sealy | 9 | 0 | 54 | 0 | 6.00 |
| Isai Thorne | 10 | 0 | 52 | 1 | 5.20 |
| Mavendra Dindyal | 2 | 0 | 15 | 0 | 7.50 |


Batsmen
R
B
4s
6s
SR
Adrian Weir
c Sineth Jayawardena b Garuka Sanketh
52
41
7
2
126.83
Stephan Pascal
c Dinura Kalupahana b Vishva Lahiru
5
5
1
0
100.00
Joshua Dorne
c Sharujan Shanmuganathan b Vishen Halambage
34
28
4
1
121.43
Jordan Johnson
c Vishva Lahiru b Sineth Jayawardena
14
11
0
1
127.27
Mavendra Dindyal
b Sineth Jayawardena
21
32
2
0
65.62
Jewel Andrew
lbw b Vishwa Lahiru
80
64
8
4
125.00
Nathan Sealy
c Vishwa Lahiru b Vihas Thewmika
20
29
1
0
68.97
Tarrique Edward
lbw b Vishwa Lahiru
7
15
0
0
46.67
Nathan Edward
b Vihas Thewmika
2
9
0
0
22.22
Isai Thorne
b Garuka Sanketh
8
7
2
0
114.29
Deshawn James
not out
0
2
0
0
0.00
| | |
| --- | --- |
| Extras | 10 (b 0 , lb 0 , nb 0, w 10, pen 0) |
| Total | 253/10 (40.3 Overs, RR: 6.25) |
| Bowling | O | M | R | W | Econ |
| --- | --- | --- | --- | --- | --- |
| Garuka Sanketh | 9 | 0 | 44 | 2 | 4.89 |
| Dinura Kalupahana | 3 | 0 | 31 | 0 | 10.33 |
| Vishva Lahiru | 8.3 | 0 | 48 | 3 | 5.78 |
| Malsha Tharupathi | 4.5 | 0 | 38 | 0 | 8.44 |
| Vishen Halambage | 8.1 | 1 | 34 | 1 | 4.20 |
| Sineth Jayawardena | 3 | 0 | 29 | 2 | 9.67 |
| Vihas Thewmika | 4 | 0 | 29 | 2 | 7.25 |