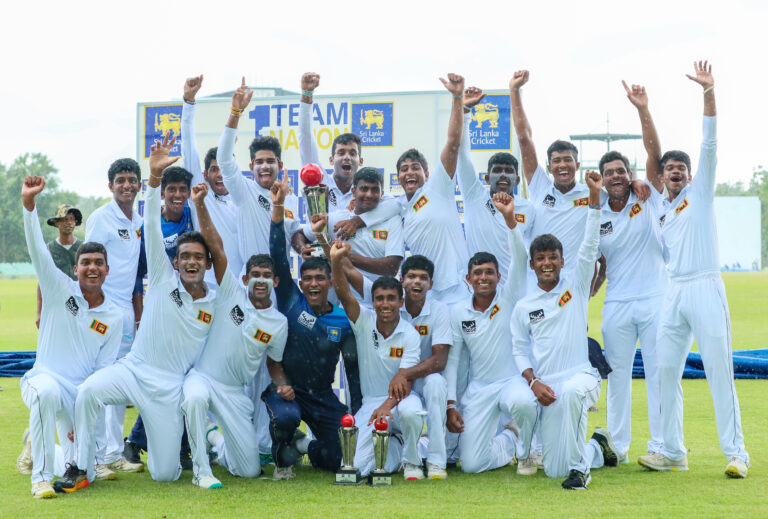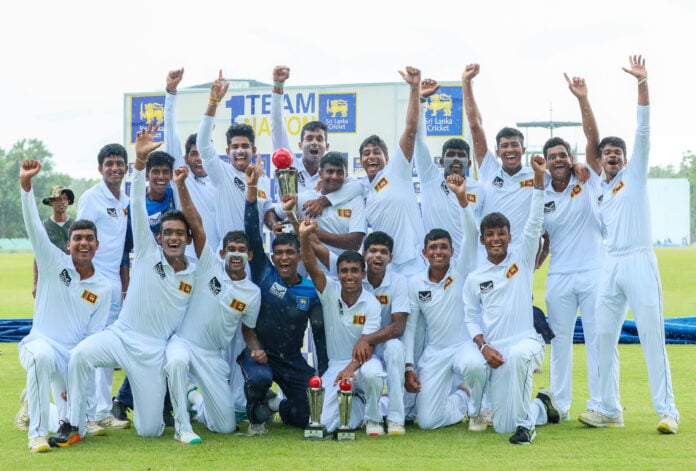 Jordan Johnson's magnificent 157* couldn't prevent a defeat for West Indies U19s in the second Youth Test against Sri Lanka as the hosts won by 7 wickets and claimed the series victory 1-0 at Rangiri Dambulla International Cricket Stadium in Dambulla.
Sri Lanka were only 2 wickets away from cleaning up the visitors second innings at the beginnings of the day and did so in dramatic way with a couple of run outs. Vihas Thewmika who led the Lankan attack yet again with a 3-wicket haul, finished with 8/106 in the match and 14 wickets in the series at 13.14. Apart from him, Kaveesha Piyumal and Malsha Tharupathi each starred with two wickets as well.
Read – Sri Lanka close in on series win despite Johnson's ton
Jordan Johnson, the best batter for the Windies on this tour, remained unbeaten with another scintillating knock of 157 in just 163 balls, which included 20 fours and a six. The left handed batter amassed 358 runs in three innings in this Youth Test series, averaging 179.00 with two big hundreds and he also smashed a century in the unofficial ODI series.
Chasing 79 to win, the hosts lost 3 quick wickets very close to each other after Pulindu Perera and Sineth Jayawardene commenced the innings. Skipper Jayawardene who failed to contribute with the bat throughout this tour, went all guns blazing early in the innings, blasting a 14-ball 30 with a flurry of boundaries.
Read More – Vihas Thewmika takes five to dent West Indies U19s
At 39/3, Rusanda Gamage and Ravishan Nethsara joined forces, and the duo took Sri Lanka U19s home, after putting on an unfinished 42-run stand for the 4th wicket. The rain prevented a result in the first game and Sri Lanka U19s took the series 1-0.
326/10 (77.5) & 81/3 (18.4)
127/10 (36.4) & 277/10 (68.5)


Batsmen
R
B
4s
6s
SR
Stephan Pascal
lbw b Vihas Thewmika
28
69
4
0
40.58
Steve Wedderburn
c Pulindu Perera b Vihas Thewmika
24
45
3
0
53.33
Joshua Dorne
run out (Sharujan Shanmuganathan)
3
10
0
0
30.00
Jordan Johnson
c Pulindu Perera b Vihas Thewmika
52
49
6
2
106.12
Mavendra Dindyal
c Sineth Jayawardena b Kaveesha Piyumal
0
12
0
0
0.00
Devonie Joseph
st Sharujan Shanmuganathan b Vihas Thewmika
0
2
0
0
0.00
Nathan Sealy
lbw b Malsha Tharupathi
2
9
0
0
22.22
Tarrique Edward
c Sineth Jayawardena b Vihas Thewmika
0
6
0
0
0.00
Isai Thorne
lbw b Malsha Tharupathi
1
16
0
0
6.25
Deshawn James
c Rusanda Gamage b Malsha Tharupathi
0
1
0
0
0.00
Tamarie Redwood
not out
0
1
0
0
0.00
| | |
| --- | --- |
| Extras | 17 (b 8 , lb 9 , nb 0, w 0, pen 0) |
| Total | 127/10 (36.4 Overs, RR: 3.46) |
| Bowling | O | M | R | W | Econ |
| --- | --- | --- | --- | --- | --- |
| Ruvishan Perera | 5 | 3 | 9 | 0 | 1.80 |
| Dinura Kalupahana | 2 | 0 | 10 | 0 | 5.00 |
| Kaveesha Piyumal | 13 | 3 | 32 | 1 | 2.46 |
| Vihas Thewmika | 11.4 | 1 | 43 | 5 | 3.77 |
| Malsha Tharupathi | 5 | 1 | 16 | 3 | 3.20 |


Batsmen
R
B
4s
6s
SR
Pulindu Perera
run out (Devonie Joseph)
41
47
6
1
87.23
Sineth Jayawardena
c Nathan Sealy b Deshawn James
0
8
0
0
0.00
Ravindu De Silva
c Nathan Sealy b Isai Thorne
43
77
5
1
55.84
Rusanda Gamage
lbw b Nathan Sealy
58
52
10
0
111.54
Dinura Kalupahana
lbw b Nathan Edward
33
74
1
0
44.59
Sharujan Shanmuganathan
lbw b Nathan Edward
36
105
2
0
34.29
Diniru Abeywickramasinghe
c Devonie Joseph b Isai Thorne
1
4
0
0
25.00
Malsha Tharupathi
c Nathan Edward b Nathan Sealy
70
49
6
4
142.86
Vihas Thewmika
not out
31
38
3
0
81.58
Kaveesha Piyumal
b Nathan Sealy
1
4
0
0
25.00
Ruvishan Perera
lbw b Nathan Sealy
6
10
1
0
60.00
| | |
| --- | --- |
| Extras | 6 (b 1 , lb 4 , nb 1, w 0, pen 0) |
| Total | 326/10 (77.5 Overs, RR: 4.19) |
| Bowling | O | M | R | W | Econ |
| --- | --- | --- | --- | --- | --- |
| Isai Thorne | 20 | 3 | 64 | 2 | 3.20 |
| Deshawn James | 10 | 2 | 39 | 1 | 3.90 |
| Tarrique Edward | 17 | 2 | 75 | 2 | 4.41 |
| Nathan Sealy | 20.5 | 1 | 82 | 4 | 4.00 |
| Tamarie Redwood | 8 | 1 | 53 | 0 | 6.62 |
| Mavendra Dindyal | 1 | 0 | 5 | 0 | 5.00 |
| Jordan Johnson | 1 | 0 | 3 | 0 | 3.00 |


Batsmen
R
B
4s
6s
SR
Stephan Pascal
c Sharujan Shanmuganathan b Kaveesha Piyumal
25
30
4
0
83.33
Steve Wedderburn
c Sineth Jayawardena b Vihas Thewmika
37
84
4
1
44.05
Jordan Johnson
not out
157
163
20
1
96.32
Mavendra Dindyal
c Sharujan Shanmuganathan b Ruvishan Perera
15
39
1
0
38.46
Devonie Joseph
c & b Vihas Thewmika
16
18
3
0
88.89
Joshua Dorne
lbw b Malsha Tharupathi
16
35
2
0
45.71
Nathan Sealy
c & b Vihas Thewmika
1
7
0
0
14.29
Tarrique Edward
c Sharujan Shanmuganathan b Malsha Tharupathi
0
5
0
0
0.00
Isai Thorne
lbw b Kaveesha Piyumal
1
9
0
0
11.11
Tamarie Redwood
run out (Sharujan Shanmuganathan)
2
22
0
0
9.09
Deshawn James
run out (Sharujan Shanmuganathan)
0
2
0
0
0.00
| | |
| --- | --- |
| Extras | 7 (b 0 , lb 6 , nb 1, w 0, pen 0) |
| Total | 277/10 (68.5 Overs, RR: 4.02) |
| Bowling | O | M | R | W | Econ |
| --- | --- | --- | --- | --- | --- |
| Kaveesha Piyumal | 16 | 5 | 57 | 2 | 3.56 |
| Vihas Thewmika | 21.5 | 2 | 63 | 3 | 2.93 |
| Sineth Jayawardena | 8 | 1 | 31 | 0 | 3.88 |
| Dinura Kalupahana | 2 | 0 | 26 | 0 | 13.00 |
| Malsha Tharupathi | 12 | 2 | 51 | 2 | 4.25 |
| Ruvishan Perera | 9 | 0 | 43 | 1 | 4.78 |


Batsmen
R
B
4s
6s
SR
Pulindu Perera
run out (Nathan Sealy)
3
11
0
0
27.27
Sineth Jayawardena
c Nathan Sealy b Isai Thorne
30
14
5
1
214.29
Malsha Tharupathi
c Isai Thorne b Nathan Edward
2
7
0
0
28.57
Rusanda Gamage
not out
21
43
3
0
48.84
Ruvishan Perera
not out
17
37
1
0
45.95
| | |
| --- | --- |
| Extras | 8 (b 8 , lb 0 , nb 0, w 0, pen 0) |
| Total | 81/3 (18.4 Overs, RR: 4.34) |
| Bowling | O | M | R | W | Econ |
| --- | --- | --- | --- | --- | --- |
| Isai Thorne | 6 | 1 | 29 | 1 | 4.83 |
| Deshawn James | 1 | 0 | 14 | 0 | 14.00 |
| Tarrique Edward | 6.4 | 0 | 16 | 1 | 2.50 |
| Nathan Sealy | 5 | 1 | 14 | 0 | 2.80 |