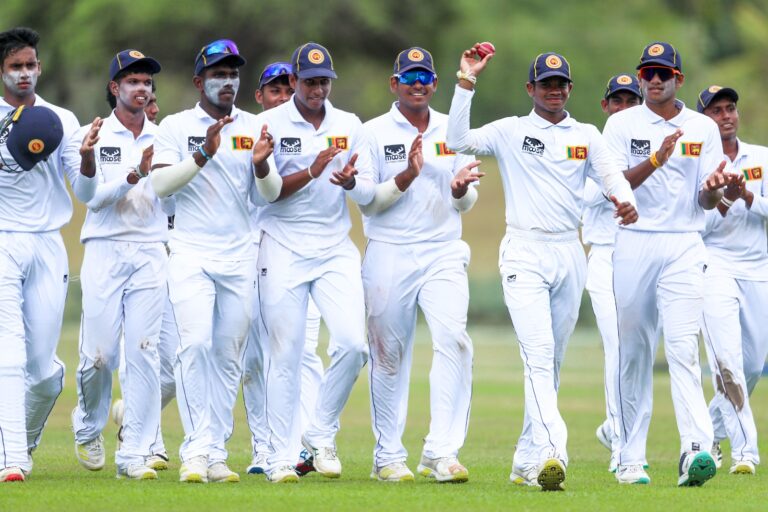 Vihas Thewmika showed more disciplined bowling to claim another 5-wicket haul as the Sri Lanka U19s took the early advantage of the 2nd Youth Test against the West Indies U19s on the opening day at Rangiri Dambulla International Cricket Stadium in Dambulla.
>>Vihas Thewmika 6-for outshines Jordan Johnson's century
After winning the toss, West Indies U19s Captain Nathan Sealy decided to bat first. Stephan Pascal and Steve Wedderburn commenced the innings and added 57 runs for the first wicket. Vihas Thewmika continued from where he left off in the first game to dismiss Wedderburn for 24.
Soon after, Joshua Dorne was run out for 3 before Thewmika trapped Pascal for 28 as the Windies were reduced to 66/3. Their middle order and lower order really struggled to make any contributions except for Jordan Johnson, as they began to lose wickets for the visitors at regular intervals.
>>Day three washes out after Windies put some fight
The centurion from the first game, Johnson, played in attacking mode, accumulating 52 runs off 49 balls before being dismissed as the last batsman of the innings. Once again, Thewmika claimed 5/43, leading the attack to bundle out the visitors for 127. The leg spinner Malsha Tharupathi gave good support and finished with 3/16.
Following that, Pulindu Perera and Sineth Jayawardene walked in as the openers for the islanders. However, Skipper Jayawardene did not trouble the scores as Deshawn James sent him back in the 4th over.
>>Dinura Kalupahana hundred makes it Sri Lanka's day
Ravishan Nethsara joined in-form Perera in the middle and they together revived the innings, putting a half-century stand for the second wicket. The opener scored 41 in 47 balls before being run out in the 16th over. Nethsara was involved in another half-century stand with Rusanda Gamage, taking Sri Lanka to the lead.
Nethara made 43, while Gamage played a brutal knock of 58 in 52 deliveries as both of them got out in the space of 13 balls. Dinura kalupahana (23*) and Sharujan Shanmuganathan (21*) remained unbeaten at the crease when the Umpires called for stumps on day 1. The islanders lead by 64 runs with 6 wickets in hand.
326/10 (77.5) & 81/3 (18.4)
127/10 (36.4) & 277/10 (68.5)


Batsmen
R
B
4s
6s
SR
Stephan Pascal
lbw b Vihas Thewmika
28
69
4
0
40.58
Steve Wedderburn
c Pulindu Perera b Vihas Thewmika
24
45
3
0
53.33
Joshua Dorne
run out (Sharujan Shanmuganathan)
3
10
0
0
30.00
Jordan Johnson
c Pulindu Perera b Vihas Thewmika
52
49
6
2
106.12
Mavendra Dindyal
c Sineth Jayawardena b Kaveesha Piyumal
0
12
0
0
0.00
Devonie Joseph
st Sharujan Shanmuganathan b Vihas Thewmika
0
2
0
0
0.00
Nathan Sealy
lbw b Malsha Tharupathi
2
9
0
0
22.22
Tarrique Edward
c Sineth Jayawardena b Vihas Thewmika
0
6
0
0
0.00
Isai Thorne
lbw b Malsha Tharupathi
1
16
0
0
6.25
Deshawn James
c Rusanda Gamage b Malsha Tharupathi
0
1
0
0
0.00
Tamarie Redwood
not out
0
1
0
0
0.00
| | |
| --- | --- |
| Extras | 17 (b 8 , lb 9 , nb 0, w 0, pen 0) |
| Total | 127/10 (36.4 Overs, RR: 3.46) |
| Bowling | O | M | R | W | Econ |
| --- | --- | --- | --- | --- | --- |
| Ruvishan Perera | 5 | 3 | 9 | 0 | 1.80 |
| Dinura Kalupahana | 2 | 0 | 10 | 0 | 5.00 |
| Kaveesha Piyumal | 13 | 3 | 32 | 1 | 2.46 |
| Vihas Thewmika | 11.4 | 1 | 43 | 5 | 3.77 |
| Malsha Tharupathi | 5 | 1 | 16 | 3 | 3.20 |


Batsmen
R
B
4s
6s
SR
Pulindu Perera
run out (Devonie Joseph)
41
47
6
1
87.23
Sineth Jayawardena
c Nathan Sealy b Deshawn James
0
8
0
0
0.00
Ravindu De Silva
c Nathan Sealy b Isai Thorne
43
77
5
1
55.84
Rusanda Gamage
lbw b Nathan Sealy
58
52
10
0
111.54
Dinura Kalupahana
lbw b Nathan Edward
33
74
1
0
44.59
Sharujan Shanmuganathan
lbw b Nathan Edward
36
105
2
0
34.29
Diniru Abeywickramasinghe
c Devonie Joseph b Isai Thorne
1
4
0
0
25.00
Malsha Tharupathi
c Nathan Edward b Nathan Sealy
70
49
6
4
142.86
Vihas Thewmika
not out
31
38
3
0
81.58
Kaveesha Piyumal
b Nathan Sealy
1
4
0
0
25.00
Ruvishan Perera
lbw b Nathan Sealy
6
10
1
0
60.00
| | |
| --- | --- |
| Extras | 6 (b 1 , lb 4 , nb 1, w 0, pen 0) |
| Total | 326/10 (77.5 Overs, RR: 4.19) |
| Bowling | O | M | R | W | Econ |
| --- | --- | --- | --- | --- | --- |
| Isai Thorne | 20 | 3 | 64 | 2 | 3.20 |
| Deshawn James | 10 | 2 | 39 | 1 | 3.90 |
| Tarrique Edward | 17 | 2 | 75 | 2 | 4.41 |
| Nathan Sealy | 20.5 | 1 | 82 | 4 | 4.00 |
| Tamarie Redwood | 8 | 1 | 53 | 0 | 6.62 |
| Mavendra Dindyal | 1 | 0 | 5 | 0 | 5.00 |
| Jordan Johnson | 1 | 0 | 3 | 0 | 3.00 |


Batsmen
R
B
4s
6s
SR
Stephan Pascal
c Sharujan Shanmuganathan b Kaveesha Piyumal
25
30
4
0
83.33
Steve Wedderburn
c Sineth Jayawardena b Vihas Thewmika
37
84
4
1
44.05
Jordan Johnson
not out
157
163
20
1
96.32
Mavendra Dindyal
c Sharujan Shanmuganathan b Ruvishan Perera
15
39
1
0
38.46
Devonie Joseph
c & b Vihas Thewmika
16
18
3
0
88.89
Joshua Dorne
lbw b Malsha Tharupathi
16
35
2
0
45.71
Nathan Sealy
c & b Vihas Thewmika
1
7
0
0
14.29
Tarrique Edward
c Sharujan Shanmuganathan b Malsha Tharupathi
0
5
0
0
0.00
Isai Thorne
lbw b Kaveesha Piyumal
1
9
0
0
11.11
Tamarie Redwood
run out (Sharujan Shanmuganathan)
2
22
0
0
9.09
Deshawn James
run out (Sharujan Shanmuganathan)
0
2
0
0
0.00
| | |
| --- | --- |
| Extras | 7 (b 0 , lb 6 , nb 1, w 0, pen 0) |
| Total | 277/10 (68.5 Overs, RR: 4.02) |
| Bowling | O | M | R | W | Econ |
| --- | --- | --- | --- | --- | --- |
| Kaveesha Piyumal | 16 | 5 | 57 | 2 | 3.56 |
| Vihas Thewmika | 21.5 | 2 | 63 | 3 | 2.93 |
| Sineth Jayawardena | 8 | 1 | 31 | 0 | 3.88 |
| Dinura Kalupahana | 2 | 0 | 26 | 0 | 13.00 |
| Malsha Tharupathi | 12 | 2 | 51 | 2 | 4.25 |
| Ruvishan Perera | 9 | 0 | 43 | 1 | 4.78 |


Batsmen
R
B
4s
6s
SR
Pulindu Perera
run out (Nathan Sealy)
3
11
0
0
27.27
Sineth Jayawardena
c Nathan Sealy b Isai Thorne
30
14
5
1
214.29
Malsha Tharupathi
c Isai Thorne b Nathan Edward
2
7
0
0
28.57
Rusanda Gamage
not out
21
43
3
0
48.84
Ruvishan Perera
not out
17
37
1
0
45.95
| | |
| --- | --- |
| Extras | 8 (b 8 , lb 0 , nb 0, w 0, pen 0) |
| Total | 81/3 (18.4 Overs, RR: 4.34) |
| Bowling | O | M | R | W | Econ |
| --- | --- | --- | --- | --- | --- |
| Isai Thorne | 6 | 1 | 29 | 1 | 4.83 |
| Deshawn James | 1 | 0 | 14 | 0 | 14.00 |
| Tarrique Edward | 6.4 | 0 | 16 | 1 | 2.50 |
| Nathan Sealy | 5 | 1 | 14 | 0 | 2.80 |