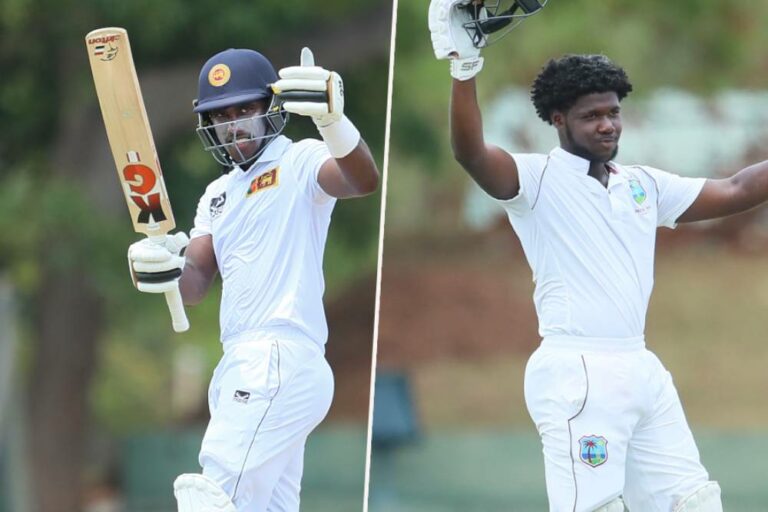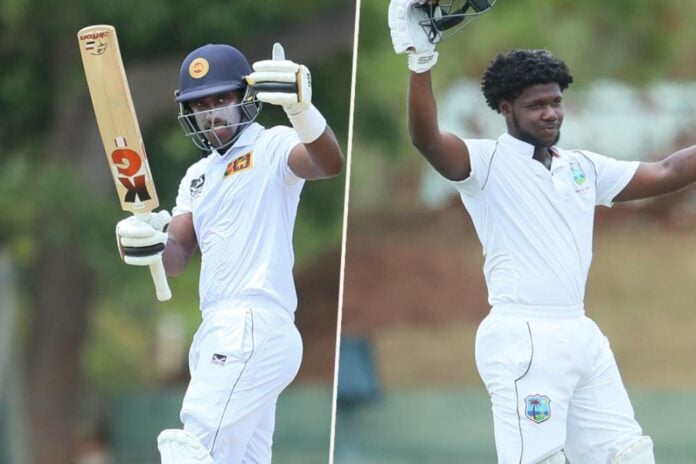 Jordan Johnson smashes his second Youth Test century to delay Sri Lanka's series win after the home side claimed 8 wickets of the visitors' second innings on the second day of the 2nd Youth Test between the sides played today (13th September) at Dambulla International Cricket Stadium.
Sri Lanka resumed day two in a strong position with a score of 191/4 on the board but had a shaky start in the morning session, losing 3 quick wickets for 42 runs, including the overnight batters Dinura Kalupahana (33) and Sharujan Shanmuganathan (36).
>>Vihas Thewmika takes five to dent West Indies U19s
However, Sri Lankan tail-enders didn't give up as Malsha Tharupathi and Vihas Thewmika built a quick-fire 81-run stand for the 8th wicket to rejuvenate the innings. Tharupathi came up with a batting assault, scoring 70 runs off 49 balls with 6 fours and 4 sixes to put the opposition on the back foot.
Sri Lanka's No. 9 batter Thewmika, also contributed with a useful 31 runs as Sri Lanka posted 326 runs for their first innings. Nathan Sealy was the pick of the bowlers for West Indies as he grabbed 4 wickets for 82 runs.
West Indies began their second innings 199 runs behind, and once again, Jordan Johnson had to play a lone warrior act with the bat for the visitors as the rest of the batters had no answers to Sri Lanka's disciplined bowling effort.
>>India qualifies for the Final despite Dunith Wellalage heroics
Johnson, who made a century in the last game, went on to score another brilliant ton as the visitors posted 251/8 at the end of the second day's play with just a 52-run lead. The off-spinner Vihas Thewmika continued to impress with the ball, scalping 3 more wickets after claiming a five-fer in the first innings.
326/10 (77.5) & 81/3 (18.4)
127/10 (36.4) & 277/10 (68.5)


Batsmen
R
B
4s
6s
SR
Stephan Pascal
lbw b Vihas Thewmika
28
69
4
0
40.58
Steve Wedderburn
c Pulindu Perera b Vihas Thewmika
24
45
3
0
53.33
Joshua Dorne
run out (Sharujan Shanmuganathan)
3
10
0
0
30.00
Jordan Johnson
c Pulindu Perera b Vihas Thewmika
52
49
6
2
106.12
Mavendra Dindyal
c Sineth Jayawardena b Kaveesha Piyumal
0
12
0
0
0.00
Devonie Joseph
st Sharujan Shanmuganathan b Vihas Thewmika
0
2
0
0
0.00
Nathan Sealy
lbw b Malsha Tharupathi
2
9
0
0
22.22
Tarrique Edward
c Sineth Jayawardena b Vihas Thewmika
0
6
0
0
0.00
Isai Thorne
lbw b Malsha Tharupathi
1
16
0
0
6.25
Deshawn James
c Rusanda Gamage b Malsha Tharupathi
0
1
0
0
0.00
Tamarie Redwood
not out
0
1
0
0
0.00
| | |
| --- | --- |
| Extras | 17 (b 8 , lb 9 , nb 0, w 0, pen 0) |
| Total | 127/10 (36.4 Overs, RR: 3.46) |
| Bowling | O | M | R | W | Econ |
| --- | --- | --- | --- | --- | --- |
| Ruvishan Perera | 5 | 3 | 9 | 0 | 1.80 |
| Dinura Kalupahana | 2 | 0 | 10 | 0 | 5.00 |
| Kaveesha Piyumal | 13 | 3 | 32 | 1 | 2.46 |
| Vihas Thewmika | 11.4 | 1 | 43 | 5 | 3.77 |
| Malsha Tharupathi | 5 | 1 | 16 | 3 | 3.20 |


Batsmen
R
B
4s
6s
SR
Pulindu Perera
run out (Devonie Joseph)
41
47
6
1
87.23
Sineth Jayawardena
c Nathan Sealy b Deshawn James
0
8
0
0
0.00
Ravindu De Silva
c Nathan Sealy b Isai Thorne
43
77
5
1
55.84
Rusanda Gamage
lbw b Nathan Sealy
58
52
10
0
111.54
Dinura Kalupahana
lbw b Nathan Edward
33
74
1
0
44.59
Sharujan Shanmuganathan
lbw b Nathan Edward
36
105
2
0
34.29
Diniru Abeywickramasinghe
c Devonie Joseph b Isai Thorne
1
4
0
0
25.00
Malsha Tharupathi
c Nathan Edward b Nathan Sealy
70
49
6
4
142.86
Vihas Thewmika
not out
31
38
3
0
81.58
Kaveesha Piyumal
b Nathan Sealy
1
4
0
0
25.00
Ruvishan Perera
lbw b Nathan Sealy
6
10
1
0
60.00
| | |
| --- | --- |
| Extras | 6 (b 1 , lb 4 , nb 1, w 0, pen 0) |
| Total | 326/10 (77.5 Overs, RR: 4.19) |
| Bowling | O | M | R | W | Econ |
| --- | --- | --- | --- | --- | --- |
| Isai Thorne | 20 | 3 | 64 | 2 | 3.20 |
| Deshawn James | 10 | 2 | 39 | 1 | 3.90 |
| Tarrique Edward | 17 | 2 | 75 | 2 | 4.41 |
| Nathan Sealy | 20.5 | 1 | 82 | 4 | 4.00 |
| Tamarie Redwood | 8 | 1 | 53 | 0 | 6.62 |
| Mavendra Dindyal | 1 | 0 | 5 | 0 | 5.00 |
| Jordan Johnson | 1 | 0 | 3 | 0 | 3.00 |


Batsmen
R
B
4s
6s
SR
Stephan Pascal
c Sharujan Shanmuganathan b Kaveesha Piyumal
25
30
4
0
83.33
Steve Wedderburn
c Sineth Jayawardena b Vihas Thewmika
37
84
4
1
44.05
Jordan Johnson
not out
157
163
20
1
96.32
Mavendra Dindyal
c Sharujan Shanmuganathan b Ruvishan Perera
15
39
1
0
38.46
Devonie Joseph
c & b Vihas Thewmika
16
18
3
0
88.89
Joshua Dorne
lbw b Malsha Tharupathi
16
35
2
0
45.71
Nathan Sealy
c & b Vihas Thewmika
1
7
0
0
14.29
Tarrique Edward
c Sharujan Shanmuganathan b Malsha Tharupathi
0
5
0
0
0.00
Isai Thorne
lbw b Kaveesha Piyumal
1
9
0
0
11.11
Tamarie Redwood
run out (Sharujan Shanmuganathan)
2
22
0
0
9.09
Deshawn James
run out (Sharujan Shanmuganathan)
0
2
0
0
0.00
| | |
| --- | --- |
| Extras | 7 (b 0 , lb 6 , nb 1, w 0, pen 0) |
| Total | 277/10 (68.5 Overs, RR: 4.02) |
| Bowling | O | M | R | W | Econ |
| --- | --- | --- | --- | --- | --- |
| Kaveesha Piyumal | 16 | 5 | 57 | 2 | 3.56 |
| Vihas Thewmika | 21.5 | 2 | 63 | 3 | 2.93 |
| Sineth Jayawardena | 8 | 1 | 31 | 0 | 3.88 |
| Dinura Kalupahana | 2 | 0 | 26 | 0 | 13.00 |
| Malsha Tharupathi | 12 | 2 | 51 | 2 | 4.25 |
| Ruvishan Perera | 9 | 0 | 43 | 1 | 4.78 |


Batsmen
R
B
4s
6s
SR
Pulindu Perera
run out (Nathan Sealy)
3
11
0
0
27.27
Sineth Jayawardena
c Nathan Sealy b Isai Thorne
30
14
5
1
214.29
Malsha Tharupathi
c Isai Thorne b Nathan Edward
2
7
0
0
28.57
Rusanda Gamage
not out
21
43
3
0
48.84
Ruvishan Perera
not out
17
37
1
0
45.95
| | |
| --- | --- |
| Extras | 8 (b 8 , lb 0 , nb 0, w 0, pen 0) |
| Total | 81/3 (18.4 Overs, RR: 4.34) |
| Bowling | O | M | R | W | Econ |
| --- | --- | --- | --- | --- | --- |
| Isai Thorne | 6 | 1 | 29 | 1 | 4.83 |
| Deshawn James | 1 | 0 | 14 | 0 | 14.00 |
| Tarrique Edward | 6.4 | 0 | 16 | 1 | 2.50 |
| Nathan Sealy | 5 | 1 | 14 | 0 | 2.80 |