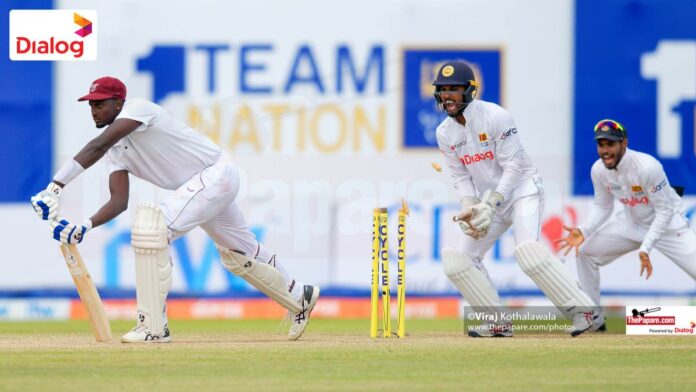 The West Indies lost any hope of chasing 348 in the first Test against Sri Lanka, losing 6 wickets in the final session of day 4 for just 56 runs.
After a wayward performance early on day 3, off-spinner Ramesh Mendis came back with renewed discipline and wreaked havoc on the visitors' batting line-up, picking up 4/17 to put the visitors out of the contest.
The off-spinner was the most impressive of Sri Lanka's bowler, making the most of the conditions with his high-arm action, to trouble the batters. But most of the damage was done not by the considerable amount of spin on offer from the track, but though the straighter deliveries, with the Windies batters playing for the spin more often than not and missing the straighter deliveries.
Kraigg Brathwaite missed a short delivery off Mendis, while Shai Hope, Kyle Mayers, Roston Chase and Jason Holder were all deceived by the straighter deliveries.
Lasith Embuldeniya was impressive as well, finally getting into his groove and was rewarded for his efforts, with the wickets of Chase and Blackwood.
The visitors were in real danger of being dismissed for their lowest total in Test cricket, being reduced to 18/6, but Joshua Da Silva and Nkrumah Bonner combined to put on 34 unbeaten runs, taking them past that mark (47) and to stumps.
Earlier in the day, Sri Lanka wasted no time in finishing off the West Indies 1st innings, with Praveen Jayawickrama picking up the final wicket to end with figures of 4/40, just 5 overs into the day.
Sri Lanka came into bat with intent but things got tricky with the pitch producing plenty of spin and bounce for the Windies spinners. Yet again it was Dimuth Karunaratne who shone with the bat, making 83 of Sri Lanka's 191 runs. Unfortunately, he missed out on getting to his 2nd century of the game; he would have become the 1st Sri Lankan since Kumar Sangakkara made 319 and 105 against Bangladesh in 2014. The left hander was handed a reprieve by the visitors though, as they failed to review an LBW off Rakheem Cornwall when he was on 34 – he was dropped on 14 in the 1st innings as well.
Angelo Mathews also returned to form with an excellent 69, his highest score in Test cricket since the 110 he made against England at the same venue in January.
In dire straights, West Indies will have to hope that the weather Gods intervene on Day 5 if they have any chance of saving the game.
230/10 (85.5) & 160/10 (79)
386/10 (133.5) & 191/4 (40.5)


Batsmen
R
B
4s
6s
SR
Pathum Nissanka
c Rahkeem Cornwall b Shannon Gabriel
56
140
7
0
40.00
Dimuth Karunaratne
st Joshua Da Silva b Roston Chase
147
300
15
0
49.00
Oshada Fernando
c Nkrumah Bonner b Roston Chase
3
27
0
0
11.11
Angelo Mathews
c Jason Holder b Roston Chase
3
25
0
0
12.00
Dhananjaya de Silva
hit-wicket b Shannon Gabriel
61
95
5
0
64.21
Dinesh Chandimal
c Rahkeem Cornwall b Roston Chase
45
83
5
0
54.22
Ramesh Mendis
c Joshua Da Silva b Jomel Warrican
13
49
2
0
26.53
Suranga Lakmal
lbw b Jomel Warrican
11
44
2
0
25.00
Dushmantha Chameera
c Kraig Brathwaite b Jomel Warrican
3
0
0
0
0.00
Lasith Embuldeniya
c Jermaine Blackwood b Roston Chase
17
0
1
1
0.00
Praveen Jayawickrama
not out
8
0
1
0
0.00
| | |
| --- | --- |
| Extras | 19 (b 5 , lb 6 , nb 8, w 0, pen 0) |
| Total | 386/10 (133.5 Overs, RR: 2.88) |
| Fall of Wickets | 1-139 (49.1) Pathum Nissanka, 2-164 (57.3) Oshada Fernando, 3-170 (65.1) Angelo Mathews, 4-281 (94.4) Dhananjaya de Silva, 5-296 (99.5) Dimuth Karunaratne, 6-331 (112.6) Ramesh Mendis, 7-355 (124.4) Suranga Lakmal, 8-361 (127.4) Dinesh Chandimal, 9-361 (128.1) Dushmantha Chameera, 10-386 (133.5) Lasith Embuldeniya, |
| Bowling | O | M | R | W | Econ |
| --- | --- | --- | --- | --- | --- |
| Shannon Gabriel | 19 | 2 | 68 | 2 | 3.58 |
| Jason Holder | 19 | 9 | 24 | 0 | 1.26 |
| Rahkeem Cornwall | 27 | 3 | 91 | 0 | 3.37 |
| Kyle Mayers | 3 | 0 | 9 | 0 | 3.00 |
| Jomel Warrican | 32 | 5 | 87 | 3 | 2.72 |
| Roston Chase | 28.5 | 3 | 83 | 5 | 2.91 |
| Jermaine Blackwood | 1 | 0 | 6 | 0 | 6.00 |
| Kraig Brathwaite | 4 | 0 | 6 | 0 | 1.50 |


Batsmen
R
B
4s
6s
SR
Kraig Brathwaite
c Pathum Nissanka b Ramesh Mendis
41
115
7
0
35.65
Jermaine Blackwood
lbw b Lasith Embuldeniya
20
44
1
1
45.45
Nkrumah Bonner
c Dhananjaya de Silva b Praveen Jayawickrama
1
11
0
0
9.09
Shai Hope
c Oshada Fernando b Ramesh Mendis
10
31
0
0
32.26
Roston Chase
c Oshada Fernando b Ramesh Mendis
2
24
0
0
8.33
Jomel Warrican
c Dinesh Chandimal b Praveen Jayawickrama
1
8
0
0
12.50
Kyle Mayers
c Dimuth Karunaratne b Dhananjaya de Silva
45
62
8
0
72.58
Jason Holder
c Dushmantha Chameera b Praveen Jayawickrama
36
60
3
2
60.00
Joshua Da Silva
b
15
88
1
0
17.05
Rahkeem Cornwall
c Ramesh Mendis b Suranga Lakmal
39
58
5
1
67.24
Shannon Gabriel
lbw b Praveen Jayawickrama
2
11
0
0
18.18
| | |
| --- | --- |
| Extras | 18 (b 3 , lb 10 , nb 2, w 3, pen 0) |
| Total | 230/10 (85.5 Overs, RR: 2.68) |
| Fall of Wickets | 1-46 (20.1) Jermaine Blackwood, 2-51 (23.5) Nkrumah Bonner, 3-80 (31.6) Kraig Brathwaite, 4-83 (33.1) Shai Hope, 5-86 (36.6) Jomel Warrican, 6-100 (39.6) Roston Chase, 7-163 (57.1) Kyle Mayers, 8-175 (60.4) Jason Holder, 9-224 (79.6) Rahkeem Cornwall, 10-230 (85.5) Shannon Gabriel, |
| Bowling | O | M | R | W | Econ |
| --- | --- | --- | --- | --- | --- |
| Suranga Lakmal | 6 | 1 | 10 | 1 | 1.67 |
| Dushmantha Chameera | 8 | 0 | 14 | 0 | 1.75 |
| Lasith Embuldeniya | 32 | 11 | 67 | 1 | 2.09 |
| Praveen Jayawickrama | 19.5 | 6 | 40 | 4 | 2.05 |
| Ramesh Mendis | 17 | 1 | 75 | 3 | 4.41 |
| Dhananjaya de Silva | 3 | 0 | 11 | 1 | 3.67 |


Batsmen
R
B
4s
6s
SR
Pathum Nissanka
c Shai Hope b Rahkeem Cornwall
3
11
0
0
27.27
Dimuth Karunaratne
c Jermaine Blackwood b Rahkeem Cornwall
83
103
9
0
80.58
Oshada Fernando
lbw b Jomel Warrican
14
32
1
0
43.75
Angelo Mathews
b
69
83
6
0
83.13
Dhananjaya de Silva
c & b Jomel Warrican
1
7
0
0
14.29
Dinesh Chandimal
b
10
8
0
0
125.00
| | |
| --- | --- |
| Extras | 11 (b 8 , lb 2 , nb 1, w 0, pen 0) |
| Total | 191/4 (40.5 Overs, RR: 4.68) |
| Fall of Wickets | 1-4 (2.3) Pathum Nissanka, 2-39 (11.5) Oshada Fernando, 3-162 (36.3) Dimuth Karunaratne, 4-163 (38.1) Dhananjaya de Silva, |
| Bowling | O | M | R | W | Econ |
| --- | --- | --- | --- | --- | --- |
| Rahkeem Cornwall | 15.5 | 0 | 60 | 2 | 3.87 |
| Jason Holder | 5 | 0 | 19 | 0 | 3.80 |
| Roston Chase | 6 | 1 | 28 | 0 | 4.67 |
| Jomel Warrican | 9 | 0 | 42 | 2 | 4.67 |
| Shannon Gabriel | 4 | 0 | 23 | 0 | 5.75 |
| Kraig Brathwaite | 1 | 0 | 9 | 0 | 9.00 |


Batsmen
R
B
4s
6s
SR
Kraig Brathwaite
lbw b Ramesh Mendis
0
14
0
0
0.00
Jermaine Blackwood
c Angelo Mathews b Lasith Embuldeniya
9
18
0
0
50.00
Nkrumah Bonner
not out
68
220
0
0
30.91
Shai Hope
b Ramesh Mendis
3
9
0
0
33.33
Roston Chase
b Lasith Embuldeniya
1
7
0
0
14.29
Kyle Mayers
lbw b Ramesh Mendis
2
5
0
0
40.00
Jason Holder
b Ramesh Mendis
0
1
0
0
0.00
Joshua Da Silva
c Dhananjaya de Silva b Lasith Embuldeniya
54
129
0
0
41.86
Rahkeem Cornwall
c Suranga Lakmal b Praveen Jayawickrama
13
46
0
0
28.26
Jomel Warrican
c Avishka Fernando b Lasith Embuldeniya
1
21
0
0
4.76
Shannon Gabriel
c Dhananjaya de Silva b Lasith Embuldeniya
0
6
0
0
0.00
| | |
| --- | --- |
| Extras | 9 (b 0 , lb 5 , nb 2, w 2, pen 0) |
| Total | 160/10 (79 Overs, RR: 2.03) |
| Fall of Wickets | 1-3 (3.4) Kraig Brathwaite, 2-11 (6.4) Jermaine Blackwood, 3-14 (9.1) Shai Hope, 4-15 (10.2) Roston Chase, 5-18 (11.3) Kyle Mayers, 6-18 (11.4) Jason Holder, |
| Bowling | O | M | R | W | Econ |
| --- | --- | --- | --- | --- | --- |
| Lasith Embuldeniya | 29 | 12 | 46 | 5 | 1.59 |
| Ramesh Mendis | 31 | 5 | 64 | 4 | 2.06 |
| Praveen Jayawickrama | 14 | 6 | 28 | 1 | 2.00 |
| Dhananjaya de Silva | 1 | 0 | 5 | 0 | 5.00 |
| Dushmantha Chameera | 4 | 0 | 12 | 0 | 3.00 |