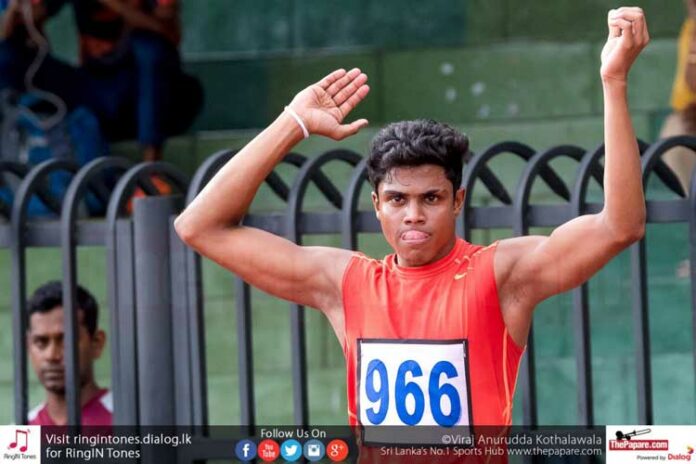 Sri Lanka's champion High Jumper Ushan Thiwanka has opted out of the squad for Commonwealth Games 2022 which is scheduled to be held in Birmingham, England from 28 July to 8 August 2022, citing personal reasons.
Ushan has been in top form for the last 2 years, shattering the Sri Lanka record (2.30m) and Sri Lanka indoor record (2.27m) for fun. He managed to produce the 16th best jump (2.30m) in 2021 in the World and currently, he has produced the 12th best jump (2.27m) this year (2022).
But unfortunately, the qualification process for World Events is so tough as it requires participating in higher-grade competitions to gain more placing points for athletes' performances. Ushan wasn't able to participate in any competition higher than the 'F category' (Which is the worst category in terms of placing points) in 2021 and 2022 which meant he couldn't secure a better world ranking and thereby failed to qualify for either Olympics 2020 (in 2021) or World Championship 2022.
It is unfortunate that the Sri Lanka Athletics Association has failed to provide him at least one higher grade competition when there was a clear opportunity for him to qualify for both Olympics and World Championships. The 24-year-old athlete missed two golden opportunities at a very young age which could have been a turning point in his career.
Ushan has said to Ceylon Athletics that he did receive some assistance from the Ministry of Sports, but it did not come when he needed it most, and could not compete in earlier scheduled competitions. Hence, he will miss out from the World Championship which will be held in Oregon, USA next month.
Ushan opting out of the Commonwealth Games squad will be a big blow for Sri Lanka's medal chances as he has the 3rd best performance in 2022 out of the athletes who are representing Commonwealth Nations.
Sri Lanka's athletics squad for the 2022 Commonwealth Games consisted of 8 athletes but later the officials dropped her from the contingent. With Ushan's unavailability, the squad is now reduced to only 6 athletes.
Current Athletics squad for Commonwealth Games 2022

Nilani Ratnayake (3000m SC), Gayanthika Abeyratne (800m), Sarangi Silva (Long Jump), Yupun Abeykoon (100m), Kalinga Kumarage (400m), Sumedha Ranasinghe (Javelin Throw)