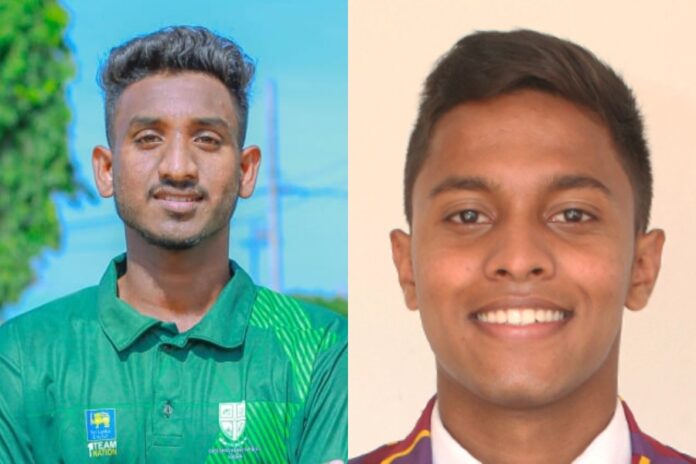 Eight games of the Schools U19 Division One Tournament ended today (26th), with the clear highlight being the end of the unbeaten streak of St. Joseph's College after suffering a 5-wicket loss against Trinity College.
In their 50 overs, St. Joseph's College scored 197 runs for the loss of 9 wickets, with opener Sadeesh Jayawardene top-scoring with 78. In reply, Trinity College managed to chase it down in 45 overs with 5 wickets in hand. Janith Ravishka (38), Manula Kularatne (37) & Rahal Amarasinghe were the key contributors for them in the run chase.
Prince of Wales College pulled off a great win against Nalanda College as they chased down 221 with 23 balls to spare, and 5 wickets in hand. Rusiru Vilochana of Nalanda College scored a brilliant century with 104 runs, but unfortunately had to end up in the losing side of this encounter. For Prince of Wales, Omesh Mendis top-scored with a phenomenal 87, while Tharindu Amarasinghe also crossed the half ton mark.
St. Servatius' College continued their impressive tournament as they made short work of Moratu Maha Vidyalaya, as the latter were bowled out for 79 runs. St. Servatius' chased it down inside 15 overs to make it 5 wins out of 5, with 5 bonus points. Viran Chamuditha, who was unplayable with the ball in hand, was the chief destroyer of Moratu Maha Vidyalaya with a spell of 4 for 11.
Manuga Yonal of St. Thomas' College also shone as a bowler today against St. Anne's College, Kurunegala, after taking 4 wickets for just 11 runs, which played a huge role in them bundling out St. Anne's for just 70 runs. St. Thomas' later chased this down quite easily to win by 5 wickets.
Brief Scores
Isipathana College, Colombo Vs Dharmasoka College, Ambalangoda
Dharmasoka College 108/10 (30.4)
Randul Samarahewa 47, Akash Mendis 11
Sithuka Gunawardene 3/18, Yesith Kalupahana 3/17
Isipathana College 111/7 (27.5)
Yuneth Seneviratne 36*, Naveen Kanishka 13
Pathum Malitha 3/39, Ishan Anuradha 2/24
Isipathana College won by 3 wickets
Dharmaraja College, Kandy Vs Lumbini College, Colombo
Lumbini College 156/10 (37)
Nabeel Rajudeen 41, Shahan Kaushalya 25
Dulara Bandulasena 4/15, Rusiru Sri Bandara 3/40
Dharmaraja College 94/10 (27.4)
Chandima Mahagedara 24(33), Pulindu Perera 16
Malith Kavindu 3/10, Pasindu Mahisha 2/17
Lumbini College won by 62 runs
St. Joseph's College, Colombo Vs Trinity College, Kandy
St. Joseph's College 197/9 (50)
Sadeesh Jayawardene 78, Hiran Jayasundara 30
Theeraka Ranathunga 3/36, Dinuka Tennakoon 3/39
Trinity College 199/5 (45)
Janith Ravishka 38, Manula Kularatne 37, Rahal Amarasinghe 35
Kaven Pathirana 2/23, Dinuk Serasinghe 1/22
Trinity College won by 5 wickets
Nalanda College, Colombo Vs Prince of Wales College, Moratuwa
Nalanda College 220/6 (50)
Rusiru Vilochana 104, Kushmitha Silva 26
Meshith Silva 2/37, Uneth Peiris 2/57
Prince of Wales College 224/5 (46.1)
Omesh Mendis 87, Tharindu Amarasinghe 56, Sumalka Fernando 32*
Minod Caldera 2/26, Sadew Samarasinghe 1/27
Prince of Wales College won by 5 wickets
Moratu Maha Vidyalaya Vs St. Servatius College, Matara
Moratu Maha Vidyalaya 79/10 (37.0)
Deneth Sithumina 36, Isuru Nidarshana 11
Viran Chamuditha 4/11, Thisan Dewmith 2/19
St. Servatius' College 82/3 (14.3)
Denuwan Pramod 45*
Kavishka Peiris 2/17
St. Servatius' College won by 7 wickets
Gurukula College, Kelaniya Vs St. Anthony's College, Katugasthota
Gurukula College 131/10 (49.2)
Janitha Shehan 24, Mohomed Murshad 18
Induwara Galapitage 4/16, Kaveesha Piyumal 4/2
St. Anthony's College 135/4 (19.2)
Lahiru Abeysinghe 60, Janith Rathnasiri 26
Thathsara Eshan 1/18, Mohomed Murshad 1/18
St. Anthony's College won by 6 wickets
St. Anne's College, Kurunegala Vs St. Thomas College, Matara
St. Anne's College 70/10 (29.4)
Chamith Sasenjana 13, Buddhima Nandasiri 11
Manuga Yonal 4/11, Senura Perera ⅖
St. Thomas' College 73/5 (26/1)
Ochintha Chamika 20, Pramudith Rashmika 16
Manaan Muzammil 3/18, Kevin Nanayakkara ⅙
St. Thomas' College won by 5 wickets
Thurstan College, Colombo Vs Devapathiraja College, Rathgama
Thurstan College 145/10 (40)
Azeem Mohomed 51, Kaushala Balasooriya 26
Irushka Thimira 4/33, Pawan Sandesh 3/17
Devapathiraja College 93/5 (31.5)
Darshaka Sandeep 33, Sandaru Theekshana 13
Thenuka Devapriya 3/15, Miyura Navodya 2/9
Thurstan College won by 52 runs