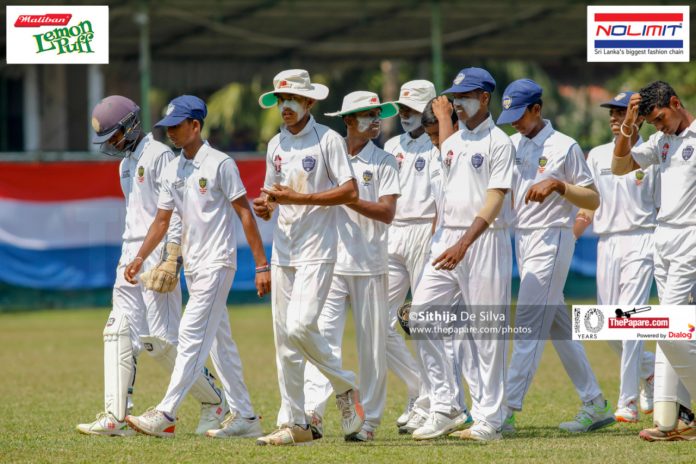 Another week of Singer U19 Division II cricket saw the successful completion of 12 games in various parts of the island with just 4 of them producing results.
The match between Piliyandala Central College and Sri Dharmaloka College Kelaniya worked off at Piliyandala ended being truly extraordinary. The home team scored a massive 400/9d after being asked to bat first and compiled 309 more runs in the 2nd innings after bundling out the visitors for just 131. Jamith Dilshan who scored 80 in the 1st innings behind Ruchira Adikari's 103 went on to reach the missed ton by scoring 163 in the 2nd innings.
ThePapare.com | Viraj Kothalawala | 11/07/2019 Editing and re-using images without permissioN…….
Three more centuries were hit during the week with all three of them being in drawn encounters. Ashan Wagarachchi's 109 for Presidents College against Sri Rahula College Kandy went in vain as the game ended with no decision while Ayon Heshara scored an unbeaten ton for St. Sebastian's College Katuneriya in the 2nd innings after they sealed a 1st innings win over P. De S. Kularathna College. Rashmika Hirushan also scored a century for Christ King College in their traditional game against Maris Stella College Thimbirigaskatuwa.
In bowling 22 five-wicket hauls were recorded while Rahul Chandrasekara of Asoka Vidyalaya, who claimed two in the two games played. The star with the ball was once again Manuja Dulneth of Rahula College. Repeating his heroics from last week's game claimed 10 wickets to guide his team to a win over Asoka Vidyalaya by an innings and 36 runs. Thiyagarasa Vinojan also bagged 10 wickets for St. John's College Jaffna in their 1st innings win over Galahitiyawa Central College.
Fifteen more games of the Singer U19 Division II cricket tournament worked off during the past week, with nine…….
Taxila Central College and Siri Piyarathana MMV registered wins over St. Mary's College Chilaw and Dudley Senanayake Central College in tournament games while Sri Sumangala College defeated Holy Cross College in a traditional game. 
Sri Rahula College, Katugastota vs Presidents College, Kotte – Group A
(Jan 20-21 | Naula Public Grounds | Toss – Sri Rahula)
Presidents College, Kotte – 294/9d (62.4) Ashan Wagarachhchi 109, Akila Roshan 83, Vikum Kalhara 52, Dilshan Arabegedara 5/103, Thilanka Kumarathunga 3/70

Sri Rahula College, Katugastota – 186/3 (48) Janith Mahipita 83, Kushan Senarathne 75*, Thushan Senarathne 42

Result – MATCH DRAWN 
(POINTS: SRI RAHULA – 6.61 | PRESIDENTS – 5.97)
---
Christ King College, Ja-Ela vs Maris Stella College, Thimbirigaskatuwa – Traditional
(Jan 20-21 | MB Grounds, Godigamuwa | Toss – Christ King)
Christ King College, Ja-Ela – 204 (56.2) Rashmika Hirushan 100, Udan Ravindu 20, Vidath Suriyabandara 4/24, Mishen Rashmina 4/42 & 261 (60.1) Rashmika Hirushan 49, Pathum Nethsara 45, Jude Roshan 83, Thavindu Heshan 3/45, Pasindu Prabashwara 3/55

Maris Stella College, Thimbirigaskatuwa – 96 (40.1) Thenuk Dinvara 22, Dinuka Nimesh 21, Rajkumar Suriyaarachchi 5/20, Udan Ravindu 5/24 & 54/2 (23) Dinuka Nimesh 32*

Result – MATCH DRAWN
---
Ananda Sastralaya College, Kotte vs Asoka Vidyalaya, Colombo – Traditional
(Jan 21-22 | Ananda Sastralaya Grounds, Kotte | Toss – Ananda Sastralaya)
Ananda Sastralaya College, Kotte – 261 (76.1) Dhanaja Sandalindu 66, SA Azeem 59, Hasith Hansidu 44, Dulanja Pahasara 26, Janula Idusara 4/55, Rahul Chandrasiri 3/74 & 188/7 (43) SA Azeem 50*, Dhanaja Sandalindu 31, Dulanja Pahasara 29, Hasitha Sansidu 26*, Rahul Chandrasekara 5/89

Asoka Vidyalaya, Colombo – 179 (70.1) Vihanga Sanilka 39, Sanush Nadeesha 32, Janula Indusara 29, Omesh Madushan 24, Sanchala Sandeepana 21, Venuk Hettiarachchi 4/77, Hirusha Piyumal 2/19, Dhanuja Sandalidu 2/24

Result – MATCH DRAWN
---
Sri Devananda College, Ambalangoda vs St. Peter's College, Negombo – Group A
(Jan 21-22 | Teachers Training College Grounds, Balapitiya | Toss – Sri Devananda)
St. Peter's College, Negombo – 217 (63) Pramod Kavindu 62, Chanuka Nimesh 34, Pasindu Navod 27, Hirusha Akash 3/18, Chamika Perera 2/46, Milaksha Senarathne 2/60, & 195 (47.5) Brian Jullian 76, Shane Maleesha 35, Pasindu Navod 30, Samudu Prabod 3/29, Chamika Perera 3/77, Kaveesha Kalpana 2/17

Sri Devananda College, Ambalangoda – 184 (42.5) Kaveesha Kalpana 44, Sasindu Silva 41, Buddhi Silva 26, Dineth Sathsara 5/85, Isuru Uthpala 3/34 & 127/9 (40) Milaksha Senarathne 47, Shehan Wickramasinghe 24*, Sasindu De Silva 22, Isuru Uthpala 3/20, Dineth Sathsara 3/67, Brian Jullian 2/11

Result – MATCH DRAWN 
(POINTS: ST. PETER'S – 16.37 | SRI DEVANANDA – 10.11)
---
Piliyandala Central College vs Sri Dharmaloka College, Kelaniya – Traditional
(Jan 23-24 | Piliyandala Central College Grounds | Toss – Sri Dharmaloka)
Piliyandala Central College – 400/9d (82) Ruchira Adikari 103, Jamith Dilshan 80, Lasitha Kularathne 79, Sandun Sathsara 53, Nethma Ashen 31, Supun Malindu 4/79, Helanka Viduranga 2/56, Hasindu Prabod 2/113 & 309/9 (66) Jamith Dilshan 163, Sasanka Lakshan 44, Nethma Ashen 27, Ushan Deemantha 23*, Pahan Shanuka 3/33, Supun Malindu 2/70, Kavindu Malshan 2/71

Sri Dharmaloka College, Kelaniya – 131 (39.2) Hasindu Piyamal 43, Tharaka Rajasuriya 35, Sandun Sathsara 5/26, Ushan Deemantha 4/45

Result – MATCH DRAWN
---
Galahitiyawa Central College, Ganemulla vs St. John's College, Jaffna – Group C
(Jan 23-24 | MB Grounds, Godigamuwa | Toss – St. John's)
Galahitiyawa Central College, Ganemulla – 180 (61) Nimsara Sadupa 40, Shenesh Nadeeshan 30, Runada Thenumika 22, Thiyagarasa Vinojan 5/51, Yogathas Vithushan 2/46, Anton Saraan 2/30 & 191/9 (72) Nimsara Sadupa 58*, Imalka Dakshina 23, Ashan Dilumika 21, Thiyagarasa Vinojan 5/60, Yogathas Vithushan 3/60

St. John's College, Jaffna – 271 (60.2) Thiyagaraja Vinojan 65, Nagendraraja Saumyan 59, Theiuerthiran Dinoshan 54, Anthoniya Pillai Sukethan 20, Sandaruwan Chinthaka 5/89, Yasith Rashmika 2/21, Minsara Sadupa 2/44

Result – MATCH DRAWN 
(POINTS: ST. JOHN'S – 15.355 | GALAHITIYAWA CENTRAL – 8.71)
---
Kalutara Vidyalaya vs Sri Jayawardenepura Maha Vidyalaya, Kotte – Group D
(Jan 23-24 | Kalutara Esplanade | Toss – Sri Jayawardenepura)
Kalutara Vidyalaya – 177 (49.2) Prabodh Wanigasingha 63, Deshapproya Perera 3/18, Chamod Supun 3/30 & 177 (38.5) Kavindu Jayawickrama 72, Krishan Viranga 32, Hiruna Madushan 25, Chamod Supun 5/72, Deshapproya Perera 4/46

Sri Jayawardanapura Maha Vidyalaya, Kotte – 153 (70.4) Jayasundara Senevirathna 44*, Chamod Supun 28, Gihan Botheju 21, Kavindu Jayawickrama 6/43, Sadeep Fernando 3/25 & 86/6 (37) Jayasundara Senevirathna 25*, Akash Kumara 21, Krishan Viranga 2/10, Sadeep Fernando 2/14

Result – MATCH DRAWN 
(POINTS: KALUTARA VIDYALAYA – 15.04 | SRI JAYAWARDENEPURA – 9.89)
---
St. Mary's College, Chilaw vs Taxila Central College, Horana – Group A
(Jan 23-24 | Harendra Koraya Grounds, Chilaw | Toss – St. Mary's)
St. Mary's College, Chilaw – 77 (29.3) Thisara Sachinthana 5/12, Rasindu Tharaka 2/16 & 131 (49.3) Channa Malith 35, Thisara Sachinthana 4/17, Vidushan Yasintha 3/29, Sasanka Adeepa 2/24

Taxila Central College, Horana – 140 (39.3) Seneth Vinvidu 59, Charuka Tharindu 5/38, Chamodya Fernando 3/41, Minon Deshan 2/20 & 70/6 (26.4) Sasanka Adeepa 29, Charuka Tharindu 5/27

Result – TAXILA CENTRAL WON BY 4 WICKETS
(POINTS: TAXILA CENTRAL – 19.6 | ST. MARY'S – 7.08)
---
P. De S. Kularathna College, Ambalangoda vs St. Sebastian's College, Katuneriya – Group D
(Jan 24-25 | Rathgama Public Grounds | Toss – P. De S. Kularathna)
St. Sebastian's College, Katuneriya – 188 (74.1) Sithum Akilanka 48, Dulaj Ashen 26, Thisara Madushan 20, Ravishan Nethsara 4/32, Kaveesh Sathsara 3/42 & 173/4 (36) Ayon Heshara 103*, Sithum Akilanka 21, Kaveesh Sathsara 4/69

P. De S. Kularathna College, Ambalangoda – 171 (85.2) Kumindu Nilhara 50, Tharindu Harshana 44, Sithum Akilanka 5/62, Dulaj Ashen 4/44

Result – MATCH DRAWN 
(POINTS: ST. SEBASTIAN'S – 14.11 | P. DE S. KULARATHNA – 7.21)
---
Rahula College, Matara vs Asoka Vidyalaya, Colombo – Group D
(Jan 24-25 | Uyanwatte Stadium, Matara | Toss – Rahula)
Asoka Vidyalaya, Colombo – 54 (23.3) Manuja Dulneth 5/08, Chamod Battage 2/15 & 111 (47.4) Panchala Sandeepana 66*, Manuja Dulneth 5/58, Ovin Bopage 3/31

Rahula College, Matara – 201 (43.3) Binara Sanketh 63, Sulakshana Ashan 53, Ravindu Dilshan 22, Rahul Chandrasekara 5/66, Janula Indusara 3/23

Result – RAHULA WON BY AN INNINGS & 36 RUNS
(POINTS: RAHULA – 22.01 | ASOKA – 4.65)
---
Sri Sumangala College, Panadura vs Holy Cross College, Kalutara – Traditional
(Jan 25-26 | Panadura Esplanade | Toss – Holy Cross)
Holy Cross College, Kalutara – 91 (34.3) Vishwa Kumara 5/21, Charuka Jayathilaka 2/05 & 93 (51) Dilshan Madusanka 25, Aathif Siddhique 21, Vidusha Peiris 5/18, Anuk Jayasinghe 2/31

Sri Sumangala College, Panadura – 153 (37.3) Satheera Fernando 44, Sasindu De Silva 29, Dilhara Nanayakkara 5/42, Hansaja Brian 4/37 & 32/0 (8.3)

Result – SRI SUMANGALA WON BY 10 WICKETS
---
Dudley Senanayake Central College, Tholangamuwa vs Siri Piyarathana MMV, Padukka – Group B
(Jan 25-26 | Army Camp Grounds, Ambepussa | Toss – Holy Cross)
Dudley Senanayake Central College, Tholangamuwa – 94 (42) Ramesh Chanaka 39*, Asanka Sandaruwan 23, Yasiru Dineth 5/27, Kavinda Eshwara 3/17, Madushan Peiris 2/12 & 103 (54.5) Maduranga Dissanayake 27, Kavinda Eshwara 5/37, Madushan Peiris 3/46

Siri Piyarathana MMV, Padukka – 160 (45.2) Manindu Shamal 27, Rasindu Hansaka 24, Pasindu Lochana 20, Kavishka Tharusha 4/34, Ramesh Chanaka 3/43, Lahiru Mahesh 2/36 & 38/0 (8.1) Kavinda Eshwara 27*

Result – SIRI PIYARATHANA WON BY 10 WICKETS
(POINTS: SIRI PIYARATHANA – 19.98 | DUDLEY SENANAYAKE CENTRAL – 4.47)