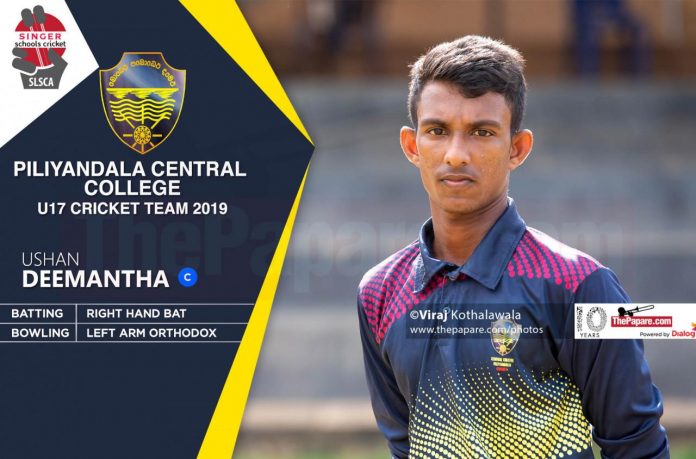 Here is the roundup of the 2nd week of October in the Singer Schools 'Under 19 Division II' Two Day Cricket Tournament 2019/20 worked off across the island. 
Starting off the week, Piliyandala Central College recorded a commanding victory over St. Thomas' College, Matale. Ushan Deemantha was the star of the match as he scored an unbeaten century with the bat while picking up 3 wickets for 14 runs with the ball. In another match of the same group, Kegalu Vidyalya was comprehensively beaten by Galahitiyawa Central College. 
Abishek and Uvindu star as Trinity register an innings victory
Sri Dharmaloka College, Kelaniya got the better of Royal College, Panadura registering an innings victory. Chamod Sulakshana's match bag of 9 wickets with the ball was the highlight of the match. Ashan Dilhara's all-round skills helped St. John's College register a 212-run victory over St. Mary's College, Kegalle. 
Kavindu Jayawickrama, who starred with both bat and ball, guided Kalutara Vidyalya to victory against Revatha College. Piliyandala Central College registered their second win in the week while Henegama Central College and Bandaranayake College managed to register wins in their respective encounters.  In addition, three encounters ended in draws. 
St. Thomas College, Matale vs Piliyandala Central College, Piliyandala 
At Naula Public Ground (Toss – St. Thomas College)
Brief scores

St.Thomas College – 67 (37.3) Inuka Ekanayake 20, Sandun Abewardane 3/16, Ushan Deemantha 3/14, Sithum Nimalka 2/06 & 78 (45.4) Kavindu Kaushalya 23, Sithum Nimalka 5/06 

Piliyandala Central College – 228/5d (57.4) Ushan Deemantha 100*, Chamodh Sandaru 53, Janith Dilshan 27, Inuka Ekanayake 2/86

Result – Piliyandala Central College won by an innings & 83 runs 
---
Galahitiyawa Central College vs Kegalu Vidyalaya, Kegalle  
At Arons Cricket Club Ground (Toss – Kegalu Vidyalaya) 
Brief scores

Galahitiyawa Central College – 139 (57.3) Sandaruwan Chinthaka 31, Manod Kumara 31, Ayesh Tharaka 4/22, Malaka Kavishka 2/27, Punsara Gimhana 2/37 & 103/4d (21.5) Sandaruwan Chinthaka 58, Sanudha Bandara 2/18 

Kegalu Vidyalaya – 61 (25.3) Lochana Charith 16, Minsara Sadupa 5/15, Sandaruwan Chinthaka 4/08 & 46 (21.3) Pulasthi Athapaththu 21, Sandaruwan Chinthaka 7/25, Minsara Sadupa 3/09 

Result – Galahitiyawa Central College won by 136 runs 
---
Royal College, Panadura vs Sri Dharmaloka College, Kelaniya  
At M B Ground, Godigamuwa (Toss – Sri Dharmaloka College) 
All-rounder Nipun Dhananjaya guides St. Joseph Vaz to victory
Brief scores

Royal College – 110 (41.5) Gavindu Salinda 38, P R Senathilake 26, Piyumika Madawaththa 21, Chamod Sulakshana 5/27, Supun Malindu 2/20 & 32 (22.1) Piumika Medawatte 6/18, Chamod Sulakshana 4/10 

Sri Dharmaloka College – 183 (79.2) Uditha Shehan 29, Hasindu Piyumal 28, Subuthi Nishan 27, Chamath Sulakshana 21*, Rusiru Randunu 20, P R Senathilake 4/32, Thilina Lakshan 2/29, M M S Fernando 2/43 

 Result – Sri Dharmaloka College won by an innings & 41 runs  
---
St. Johns College, Panadura vs St. Marys College, Kegalle
At St. Johns College Ground, Panadura (Toss – St. Johns College) 
Brief scores

St. Johns College – 142 (43.1) Dilsha Madushan 37, Sasitha Manupriya 32, Maleesha Senanayake 4/37, Praveen Liyanage 3/34 & 262/7d (50) Reshan Malith 68, Amila Thuruwan 55, Ashan Dilhara 41, Sachin Dananjaya 33, Ishan Weerasuriya 2/50 

St. Marys College – 122 (46.3) Kaveesha Madushan 39, Ravishan Rathnasinghe 29, Varuna Udara 22, Ashan Dilhara 4/27, Chathushka Shamod 2/17, Amila Thuruwan 2/18 & 70 (31.2) Sasitha Manupriya 3/29, Ashan Dilhara 2/14, Amila Thuruwan 2/17

Result – St. Johns College won by 212 runs 
---
Kalutara Vidyalaya, Kalutara vs Revatha College, Balapitiya 
At Public Ground, Kalutara (Toss – Kalutara Vidyalaya) 
Brief scores

Kalutara Vidyalaya -128 (27.1) Kavindu Jayawickrama 52, Vishmika Costa 27, Kushan Manjuka 3/23, Navindu Pahasara 2/22, Chamara Priyadarshana 2/37 & 191 (49.1) Isuru Udara 50, Ishara Fernando 34, Krishen Viranga 29, Pasindu Dilshan 3/36, Chamara Priyadarshana 2/29, Kushan Manjuka 2/31 

Revatha College – 98 (32.1) Pasindu Dilshan 23, Kavindu Jayawickrama 6/22, Vishmika Costha 3/42 & 132 (41.1) Kasun Kawya 77, Kushan Manjuka 23, Sadeesh Fernando 4/26, Vishmitha Costa 2/32

Result – Kalutara Vidyalaya won by 89 runs 
---
Piliyandala Central College, Piliyandala vs St. Marys College, Kegalle 
At Piliyandala Central College Ground (Toss – St. Mary's College) 
Yasiru and Dilmin star as Thomians register innings victory
Brief scores

St. Marys College – 98 (34.5) Ishan Weerasooriya 35, Ushan Deemantha 4/18, Sithum Nimalka 2/18 & 74 (37.4) Kaveesha Madushan 16, Sandun Abeywardhane 4/28, Ushan Deemantha 2/24 

Piliyandala Central College – 156 (41.1) Damith Dilshan 102, Shehan Madushanka 3/19, Praveen Liyanage 2/27 & 19/0 (1.3) Damith Dilshan 10*

Result – Piliyandala Central College won by 10 wickets 
---
Henegama Central College, Henegama vs St. Johns College, Jaffna  
At St. John's College Ground, Jaffna (Toss – St. John's College) 
Photos: St John's College, Jaffna vs Henegama Central College | U19 Division II Cricket Tournament 2019/20
Brief scores

St. Johns College – 142 (43.2) Prasanna Thanujan 35, Mahindran Premathushan 20, Shehan Lakshan 4/35, Pabasara Adhikara 2/13, Samith Wijenayake 2/14 & 36 (16.4) Samith Wijenayake 6/21, Shehan Lakshan 3/06 

Henegama Central College -175 (53.3) Janith Maduhansa 59, Thilina Chathuranga 48, Yogathash Vidushan 3/42, Anton Abishek 2/16 & 4/1 (2.3)

Result – Henegama Central College won by 9 wickets 
---
Christ King College, Ja-Ela vs Vidyaloka College, Galle   
At Galle International Cricket Stadium (Toss – Christ King College) 
Brief scores

Christ King College – 153 (61.1) Roshan Dinel 39, Shashan Rashmika 38, Ruchira Nirmal 32, Nadeera Ishan 4/44, Umanga Imanjana 3/39 & 104/4 (32) Udan Ravindu 42, Nadeera Ishan 2/31, Umanga Imanjana 2/35 

Vidyaloka College – 210/8d (70.4) Ramuditha Disal 46, Sachindu Saumya 46, Hansaka Kamosh 36, Dulara Nimasara 20, Nadeera Ishan 23*, Ameesha Viduranga 3/53 , Shashan Rashmika 2/10

Result – Match Drawn (Vidyaloka College won first innings points)  
---
Tissa Central College, Kalutara vs Holy Cross College, Kalutara    
At Tissa Central College Ground (Toss – Holy Cross College) 
Naveen earns outright win in season opener for Maris Stella
Brief scores

Tissa Central College -195 (50.2) Randula Dasun 67, Harsha Madushanka 38, Chamal Saranga 23, Nilaksha Kasun 5/73, Dinal Trevam 3/15 & 148 (54.2) Harsha Madushanka 79, Dinal Trevam 5/24, Dilshan Madusanka 3/22 

Holy Cross College – 147 (42.4) Pathum Fernando 62, Sasindu Kaushan 28, Chamal Saranga 4/17, Danuka Nishad 3/31, Nikil Sahashnika 2/33 & 19/0 (4)

Result – Match Drawn (Tissa Central College won first innings points) 
---
Revatha College, Balapitiya vs Taxila Central College, Horana      
At Taxila Central College Ground (Toss – Revatha College) 
Brief scores

Revatha College – 179 (51.1) Pahasara Silva 52, Pahan Sadusha 26, Dilshan Mendis 24, Chamara Priyadharshana 20, Thisara Sachinthana 4/55, Rasindu Tharuka 2/21

Taxila Central College – 246/9 (98) Vidushan Yasmitha 76, Gihan Madubashana 63, Chamara Priyadarshana 7/74

Result – Match Drawn (Taxila Central College won first innings points) 
---
Presidents College, Kotte vs Bandaranayake College, Gampaha       
At Presidents College Ground (Toss – Presidents College)  
Brief scores

Presidents College – 144 (24.2) Sehan Keshara 74, Avishka Jayawardhane 3/47, Sahan Hasintha 2/21, Rithik Irosh 2/29 & 114 (27.3) Thiran Perera 38, Dinith Nethmina 3/19, Kavishka Jayawardena 3/19, Rithik Inosh 2/30 

Bandaranayake College – 209 (51) Dushan Saranga 65, Sandaru Parhirana 37*, Rusith Kavishka 27, Chamod Rathnayake 20, Pahan Britto 7/40 & 50/6 (14.2) Pahan Brito 3/15, Ashan Wanniarachchi 2/04

Result – Bandaranayake College won by 4 wickets