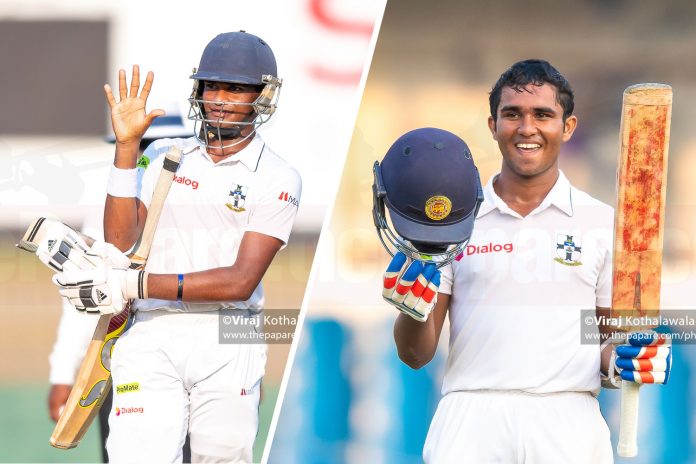 S. Thomas' College's ruthless batting effort in the first semi-final of the Singer U19 Division 1 Cricket Tournament 2018/19 against Nalanda College sealed them a spot at the finals. The match was worked off on the 3rd and 4th of April at the Sinhalese Sports Club, Colombo.
S. Thomas' College, Mount Lavinia Vs Nalanda College, Colombo – Semi Final S. Thomas' College qualified for the semifinals by winning the encounter against Mahinda College on bonus points and Nalanda got the better of Thurstan College to seal a spot in the next stage.
Yesterday, the Thomians' won the toss and elected to bat first to replicate another marathon batting effort just like the last one they fired against Mahinda College.
The Thomians' started day 02 on 311 for 4 with centurion Ravindu de Silva and Umayanga Suwaris in the middle, not thinking of a declaration.
Photos: Nalanda College vs S. Thomas' College | U19 Cricket Tournament 2018/19 | SF
The duo carried on from where they left things yesterday and added one of the biggest partnerships in the history of S. Thomas' College – 338 runs to propel the Thomian innings to the 500+ mark.
Jitesh Wasala finally got the better of Umayanga Suwaris to heal many Nalandian hearts when he was on 155 with 17 fours and 1 six.
Centurion from yesterday, Ravindu de Silva, one-upped his performance today by converting it to a brilliant double century with 22 fours and 1 six.
Later in the day, the Thomian lower order collapsed rapidly before they declared for 551/9. This is the highest total by a S. Thomas' side in their 140-year-old cricketing history. (Previous best was from last week's heroics vs Mahinda College)
Nalanda bolwers toiled hard for almost two days and saw Dinesh Samaraweera & Jithesh Wasala pick up 4 & 3 wickets respectively.
Thomas' College completely dominated day 01 proceedings in the first semi-final of the Singer U19 Division 1 Cricket…
Nalanda College had only 19 overs to work with the bat and they were 61/2 when the umpires called the match off.
As a result of their marathon performance with the bat, S. Thomas' College qualified for the final of the tournament by bonus points.
They will play for the championship against the winner of the second semifinal encounter between St. Sebastian's College and St. Joseph's College.
Replay: Singer U19 Division 1 Tournament – 1st S/F – S. Thomas' vs Nalanda


Batsmen
R
B
4s
6s
SR
Sithara Hapuhinna
c Lakshitha Manasinghe b Chamindu Wijesinghe
6
22
1
0
27.27
Shalin De Mel
c Thanushka Dilhara Polgampola b Jithesh Wasala
68
122
11
0
55.74
Ryan Fernando
c Raveen De Silva b Jithesh Wasala
9
25
1
0
36.00
Yohan Perera
c Ranindu de Silva b Lakshitha Manasinghe
42
119
4
0
35.29
Ravindu De Silva
b Dineth Samaraweera
213
387
22
1
55.04
Umayanga Suwaris
c Anudha Jithwara b Jithesh Wasala
155
304
17
1
50.99
Kalana Perera
c & b Dineth Samaraweera
9
5
0
0
180.00
Dellon Peiris
c Avishka Perera b Dineth Samaraweera
3
7
0
0
42.86
Kishan Munasinghe
not out
6
12
0
0
50.00
Dilmin Rathnayake
lbw b Dineth Samaraweera
0
1
0
0
0.00
| | |
| --- | --- |
| Extras | 40 (b 17 , lb 9 , nb 8, w 6, pen 0) |
| Total | 551/9 (147.4 Overs, RR: 3.73) |
| Fall of Wickets | 1-14 (8.1) Sithara Hapuhinna, 2-39 (14.4) Ryan Fernando, 3-126 (38.2) Shalin De Mel, 4-188 (57.2) Yohan Perera, |
| Bowling | O | M | R | W | Econ |
| --- | --- | --- | --- | --- | --- |
| Chamindu Wijesinghe | 28 | 4 | 85 | 1 | 3.04 |
| Dineth Samaraweera | 16.4 | 5 | 57 | 4 | 3.48 |
| Jithesh Wasala | 20 | 1 | 76 | 3 | 3.80 |
| Ranindu C de Silva | 5 | 0 | 18 | 0 | 3.60 |
| Lakshitha Manasinghe | 28 | 2 | 96 | 1 | 3.43 |
| Raveen De Silva | 23 | 3 | 78 | 0 | 3.39 |
| Kaveesh Madurapperuma | 20 | 5 | 55 | 0 | 2.75 |
| Mahima Weerakoon | 19 | 3 | 49 | 0 | 2.58 |
| Avishka Perera | 6 | 0 | 13 | 0 | 2.17 |


Batsmen
R
B
4s
6s
SR
Avishka Perera
c Sithara Hapuhinna b Kalana Perera
0
5
0
0
0.00
Lakshitha Manasinghe
b Kalana Perera
14
17
0
0
82.35
Ranindu de Silva
not out
26
59
0
0
44.07
Thanushka Dilhara Polgampola
not out
17
33
0
0
51.52
| | |
| --- | --- |
| Extras | 4 (b 4 , lb 0 , nb 0, w 0, pen 0) |
| Total | 61/2 (19 Overs, RR: 3.21) |
| Bowling | O | M | R | W | Econ |
| --- | --- | --- | --- | --- | --- |
| Kalana Perera | 7 | 1 | 21 | 2 | 3.00 |
| Yohan Perera | 5 | 1 | 26 | 0 | 5.20 |
| Dellon Peiris | 4 | 0 | 7 | 0 | 1.75 |
| Shannon Fernando | 1 | 1 | 0 | 0 | 0.00 |
| Dilmin Rathnayake | 2 | 0 | 4 | 0 | 2.00 |
>>>Click here for more Schools Cricket News<<<