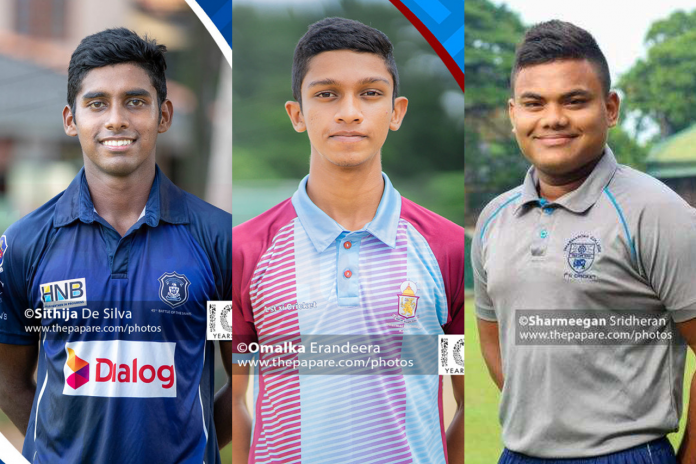 Nine matches in the Singer Schools 'Under 19 Division 1' Two Day Cricket Tournament 2019/20 were conducted today (10), as St Joseph's College made the headlines by securing a win against Mahinda College, Galle
After setting a challenging first innings score of 302 thanks to a Lakshan Gamage special (118), the Josephians knocked over Mahinda College twice during the day for 144 and 213 (f/o), despite the valiant fight back from Sri Lanka U19 opener Navod Paranawithana (58) and Sandev Induwara (22, 83).
Antonians win in Kandy – Lakshan and Navod star in Galle
Paranavithana made a good comeback, taking a 5-fer in the 1st innings apart from the half century following the gloomy World Cup he had in South Africa. The Josephians had to chase only 56 to their 4th victory in the tournament as they did it in style inside 10 overs.
The victory was made possible by extraordinary bowling effort from the birthday boy Ashain Daniel, who also returned to Sri Lanka after the World Cup, as he secured a 10-fer in the contest.
In another game in Kandy, the Nalanda-Dharmaraja battle heated up after the home team was bowled out to 164, granting the visitors a 45-lead. However, the game ultimately ended as a draw. 
The Nalandians managed to put together a score of 213 for the second innings, but the course was made difficult by Rajan's vice captain Upendra Warnakulasooriya, who was responsible for 7 of the 10 wickets in the 2nd innings of Nalanda College.
St. Joseph's College, Colombo vs Mahinda College, Galle
Group – A
Venue – Mahinda College Grounds
Toss – St. Joseph's College
Brief Scores


St. Joseph's College – 302 (72) Lakshan Gamage 118, Miranga Wickramage 24, Sheran Fonseka 32, Dineth Jayakody 28, Sadeesh Jayawardena 25, Johanne De Zilva 24, Miranga Wickramage 24, Navod Paranavithana 5/53 & 56/2 (9.5) Sheran Razool 22, Sheran Fonseka 21*


Mahinda College – 144 (48.2) Navod Paranavithana 58, Sandev Induwara 22, Ashen Daniel 4/46, Mihiranga Wickramage 4/49 & F/O 213 (53.3) Sandev Induwara 83, Ashwika Madusanka 54, Kavindu Lakshan 24, Ashen Daniel 6/80, Viranga Wickramage 2/46


ST JOSEPH'S COLLEGE WON BY 8 WICKETS
 Photos: St. Joseph's College Cricket Team Preview 2019/20
Nalanda College, Colombo vs Dharmaraja College, Kandy
Group – Traditional
Venue – Dharmaraja College Grounds
Toss – Nalanda College
Brief Scores


Nalanda College – 209 (56.5) Raveen De Silva 82, Jithesh Wasala 29, Moksha Sankalpa 20, Dulaj Bandara 3/35, Chethiya Kasun 3/56, Yasitha Samararathna 2/14 & 228 (63.2) Moksha Sankalpa 80, Avishka Perera 72, Mahima Weerakoon 52, Upendra Warnakulasooriya 7/76


Dharmaraja College – 164 (51) Dulaj Bandara 48, Chethiya Kasun 30, Jithesh Wasala 4/23, Chamindu Wijesingha 4/60


MATCH DRAWN 
Photos: Dharmaraja College Vs Nalanda College | U19 Cricket Tournament 2019/20
Apart from these two fixtures, another 6 matches commenced today as well. Here are a few notable performances of the day.
Lohan de Zoysa – 7/62




Pathum Vihanga 5/26




Avishka Tharindu 110*
---
S. Thomas' College, Mount Lavinia vs St. Peter's College, Colombo
Group – B
Venue – S. Thomas' College Grounds
Toss – S. Thomas' College
Photos: S. Thomas' College, Mt. Lavinia vs St. Peter's College – Day 1 | Singer U19 Division 1 Cricket Tournament 2019/20
Brief Scores


S. Thomas' College – 265 (71.2) Yasiru Rodrigo 59*, Ryan Fernando 57, Gavin Botheju 49, Dulmin Rathnayake 26, Danal Hemananda 3/42, Ruvin Senevirathna 2/55, Kanishka Maduwantha 2/75


St. Peter's College – 83/2 (21) Rishika Santhush 50*, G Canistan 2/23


Stumps – Day 01
Live – S. Thomas' College vs St. Peter's College – Singer U19 Cricket Tournament 2019/2020
St. Anthony's College, Kandy vs Dharmasoka College, Ambalangoda
Group – B
Venue – Galle ICS
Toss – Dharmasoka College
Brief Scores


St. Anthony's College – 185 (75.2) Krishantha Bandara 73, Prabashwara Wanninayaka 43, Tharindu Hewage 22, Lohan De Zoysa 7/62, Kavindu Nadeeshan 2/45


Dharmasoka College – 82/3 (18) Sanula Sameen 30, Hasitha Rajapaksha 23


Stumps – Day 01
---
Devapathiraja College, Rathgama vs St. Anthony's College, Wattala
Group – C
Venue – St. Anthony's College Grounds
Toss – St. Anthony's College
Brief Scores


Devapathiraja College – 109 (53.1) Matheesha Saranga 26*, Tharindu Rukshan 24, Pathum Vihaga 5/26, Kaveesha Dulanjana 2/23


St. Anthony's College – 193/3 (43) Avishka Tharindu 110*, Gihan Sathmika 30, Avishka Tharindu 26*, Romesh Suranga 21


Stumps – Day 01
Video – Spirit of Cricket at its best: St. John's Jaffna boys carrying injured Piliyandala Central batsman
St. Sylvester's College, Kandy vs Mahanama College, Colombo
Group – C
Venue – Rangiri Dambulu International Cricket Stadium
Toss – Mahanama College, Colombo
Brief Scores


St. Sylvester's College – 220 (89.2) Maleesha Silva 79, Abhishek Kumar 37, Sadeepa Halangoda 29, Sadishan Chamodya 4/30, Nisal Akash 2/25, Devindu Kekirideniya 2/40


Mahanama College – 20/0 (4)


Stumps – Day 01
---
Ananda College, Colombo vs St. Sebastian's College, Moratuwa
Group – D
Venue – St. Sebastian's College Grounds
Toss – St. Sebastian's College
Brief Scores


Ananda College – 216 (63.4) Nethma Karunarathne 77, Anuda Jayaweera 36, Janidu Jayawardene 32, Kalana Wijesiri 24, Sasika Perera 3/21, Nadeera Fernando 2/43, Kalana Sandeep 2/51


St. Sebastian's College – 101/5 (30) Dunith Jayathunga 48, Bihanga Mendis 36, Shashika Umayanga 2/19


Stumps – Day 01
---
St. Aloysius' College, Galle vs Isipathana College, Colombo
Group – A
Venue – BRC Grounds, Colombo
Toss – Isipathana College
Brief Scores


St. Aloysius' College – 109 (38) Harshana Nadeesha 31, Omal Sandith 20, Sithuka Gunawardhane 3/44, Thevindu Dikwella 2/06, Yasiru Kasthuriarachchi 2/23 & 10/1 (7)

Isipathana College – 132 (41.2) Thevindu Dickwella 28, Kavindu Amantha 20, Ravindu Rathnayake 31, Sandun Madushanka 3/12, Adithya Yapa 2/14, Dulmina Dasun 2/26


Stumps – Day 01