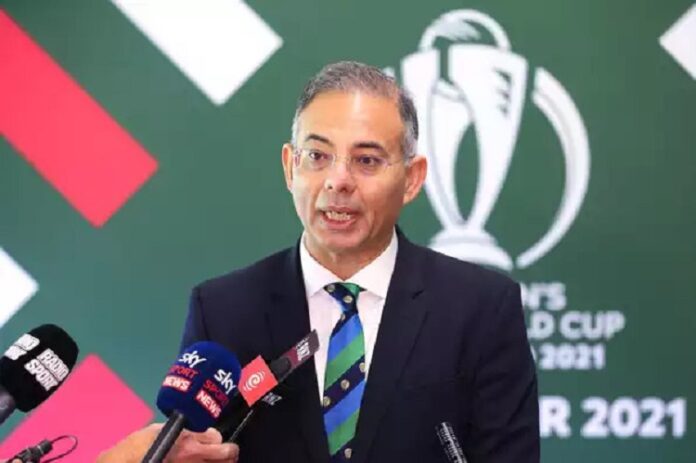 The ICC Board announced on Thursday (July 8) that Manu Sawhney will leave as the CEO with immediate effect. The decision was taken by the board at an emergency meeting chaired by Greg Barclay. Meanwhile, Geoff Allardice will continue as Acting CEO.
"Chief Executive Manu Sawhney will leave the organisation with immediate effect. Geoff Allardice will continue as Acting CEO supported by the Leadership Team working closely with the ICC Board," the ICC said in a release.
The decision follows Sawhney's strongly-worded letter on Wednesday demanding his case be heard by an independent Ethics Tribunal. In the letter, he made serious allegations against the ICC as well as against its chairman, Barclay.
After receiving the letter, Barclay called the emergency meeting of the Board. The New Zealander is believed to have sought the opinion on terminating the employment of Sawhney with immediate effect and the overall view, apparently, was unanimous. Sourav Ganguly represented the Board of Control for Cricket in India (BCCI).
Incidentally, when Sawhney was suspended on March 9, at least one board member was not in favour of action against the CEO.
As per Sawhney's employment contract, the chairman is the authority to take action against him as Sawhney himself had admitted in his mail. With the exit of Sawhney, there is little chance of the controversial PwC report, which had indicted him in its cultural review, to be tabled. The ICC has been maintaining that it cannot make the report public as it is not in the interest of the concerned person himself (in this case Sawhney).
Sawhney was suspended on the allegations of targeted acts of bullying the staff, physical aggression, fist banging, impacting the individuals' health and wellbeing through his behaviour, and implementing decisions without consulting the Board. These charges followed the findings of PwC, which was 'tasked with undertaking an independent cultural assessment into the ICC.' A disciplinary hearing was held on June 17 and the whole process culminated with his sacking on July 8.
With Sawhney gone, the obvious question is who will be the next CEO. For the time being, Allardice will remain in charge but Cricbuzz understands that it is not a long-term arrangement. The ICC generally engages with a head-hunting firm to zero in on the top officials.
Tom Harrison of England and Wales Cricket Board (ECB), James Sutherland, former CEO of Cricket Australia, and Steve Elworthy, former South Africa cricketer with a lot of administrative experience, are believed to be in the fray. From India, Ravneet Gill, a former CEO of Yes Bank, is also said to be in contention.
Source – Cricbuzz