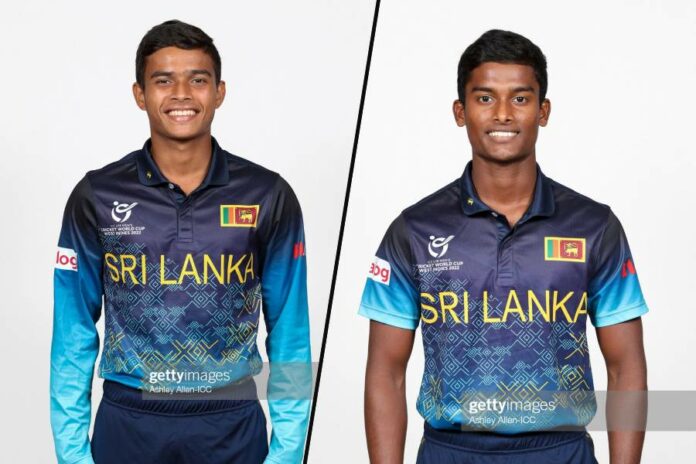 Sri Lanka U19 got their World Cup campaign off to a solid start as they beat Scotland U19 by 40 runs in their first game of the ICC U19 World Cup today (14th January).   
Having won the toss, Sri Lanka Skipper Dunith Wellalage chose to bat first at Everest Cricket Club Grounds in Georgetown. The left-handed duo Chamindu Wickramasinghe and Shevon Daniel opened the batting for Sri Lanka, but their stand lasted for only 1.5 overs as the in-form batter Daniel ran himself out for just 4 runs.
Wickramasinghe and number three batter Sadisha Rajapaksa then added a vital 52-run partnership for the second wicket before the former was dismissed for 28 runs in the 10th over. After the dismissal of Wickramasinghe, the islanders witnessed a batting collapse as they lost half of the side for just 78 runs in 13 overs.
The left-hand batter Sakuna Liyanage and Skipper Dunith Wellalage tried to rescue the innings, but they were unable to add only 21 runs as the latter departed for just 10 runs, putting pressure on the tail-enders to deliver with the bat.
Liyanage and Raveen De Silva built a match defining 77-run partnership for the 7th wicket as Sri Lanka U19 posted a respectable 218 runs on the board. Liyanage top-scored with 85 runs off 85 balls, with 3 fours and 4 sixes.
In reply, Scotland got off to a slow start as they made only 25 runs for 1 wicket in the first 10 overs. The Sri Lankan bowlers continued to put screws on the opposition as the batters found it difficult to accelerate with the asking rate climbing high.
The Scotland U19s were eventually restricted to 178 runs, handing a 40-run victory for the islanders. The Skipper Wellalage was the pick of the bowlers for Sri Lanka as he snared 5 wickets for 27 runs.
Brief Scores
Sri Lanka U19 218 (45.2) Sakuna Liyanage 85, Raveen De Silva 30, Chamindu Wickramasinghe 28, Sadisha Rajapaksa 24, Sean Fischer-Keogh 3/56

Scotland U19 178 (48.4) Jack Jarvis 55, Dunith Wellalage 5/27, Shevon Daniel 2/16

Result – Sri Lanka U19 won by 40 runs


Batsmen
R
B
4s
6s
SR
Chamindu Wickramasinghe
c & b Jack Jarvis
28
31
1
1
90.32
Shevon Daniel
run out ()
4
4
1
0
100.00
Sadisha Rajapaksa
b Olly Davidson
24
26
2
0
92.31
Pawan Pathiraja
st Charlie Tear b Jack Jarvis
0
2
0
0
0.00
Ranuda Somarathne
lbw b Olly Davidson
5
12
1
0
41.67
Sakuna Nidarshana Liyanage
c & b Sean Fischer-Keogh
79
84
2
4
94.05
Dunith Wellalage
c & b Rafay Khan
10
33
0
0
30.30
Raveen De Silva
b Sean Fischer-Keogh
27
49
3
0
55.10
Yasiru Rodrigo
b Sean Fischer-Keogh
9
14
1
0
64.29
Wanuja Sahan
not out
7
15
0
0
46.67
Matheesha Pathirana
run out ()
4
5
0
0
80.00
| | |
| --- | --- |
| Extras | 12 (b 0 , lb 0 , nb 3, w 9, pen 0) |
| Total | 209/10 (45.2 Overs, RR: 4.61) |
| Fall of Wickets | 1-8 (1.5) Shevon Daniel, 2-60 (9.2) Chamindu Wickramasinghe, 3-61 (9.4) Pawan Pathiraja, 4-63 (10.3) Sadisha Rajapaksa, 5-78 (12.6) Ranuda Somarathne, 6-99 (22.3) Dunith Wellalage, 7-167 (36.6) Raveen De Silva, 8-191 (40.6) Sakuna Nidarshana Liyanage, 9-198 (42.6) Yasiru Rodrigo, |
| Bowling | O | M | R | W | Econ |
| --- | --- | --- | --- | --- | --- |
| Sean Fischer-Keogh | 9 | 0 | 56 | 3 | 6.22 |
| Charlie Peet | 6 | 0 | 30 | 0 | 5.00 |
| Jack Jarvis | 8.2 | 0 | 25 | 2 | 3.05 |
| Olly Davidson | 8 | 0 | 44 | 2 | 5.50 |
| Lyle Robertson | 8 | 2 | 15 | 0 | 1.88 |
| Rafay Khan | 4 | 0 | 27 | 1 | 6.75 |
| Jamie Cairns | 2 | 0 | 12 | 0 | 6.00 |


Batsmen
R
B
4s
6s
SR
Charlie Tear
lbw b Shevon Daniel
17
26
3
0
65.38
Olly Davidson
lbw b Dunith Wellalage
15
56
0
0
26.79
Sam Elstone
c Ranuda Somarathne b Dulith Wellalage
13
50
1
0
26.00
Tom Mackintosh
lbw b Matheesha Pathirana
19
30
2
0
63.33
Jack Jarvis
c Raveen De Silva b Dulith Wellalage
55
61
3
3
90.16
Rafay Khan
c Ranuda Somarathne b Dulith Wellalage
7
18
1
0
38.89
Lyle Robertson
c Shevon Daniel b Wanuja Sahan
14
26
0
0
53.85
Charlie Peet
b Dulith Wellalage
10
12
0
0
83.33
Christopher Cole
run out (Shevon Daniel)
3
7
0
0
42.86
Jamie Cairns
not out
1
3
0
0
33.33
Sean Fischer-Keogh
lbw b Shevon Daniel
2
3
0
0
66.67
| | |
| --- | --- |
| Extras | 22 (b 3 , lb 3 , nb 0, w 16, pen 0) |
| Total | 178/10 (48.4 Overs, RR: 3.66) |
| Fall of Wickets | 1-24 (8.1) Charlie Tear, 2-49 (21.4) Olly Davidson, 3-57 (23.1) Sam Elstone, 4-79 (29.2) Tom Mackintosh, 5-103 (35.1) Rafay Khan, 6-151 (43.2) Lyle Robertson, 7-165 (45.3) Jack Jarvis, 8-170 (46.6) Christopher Cole, 9-175 (47.5) Charlie Peet, 10-178 (48.4) Sean Fischer-Keogh, |
| Bowling | O | M | R | W | Econ |
| --- | --- | --- | --- | --- | --- |
| Yasiru Rodrigo | 4 | 1 | 6 | 0 | 1.50 |
| Chamindu Wickramasinghe | 4 | 1 | 22 | 0 | 5.50 |
| Wanuja Sahan | 10 | 2 | 33 | 1 | 3.30 |
| Shevon Daniel | 6.4 | 1 | 16 | 2 | 2.50 |
| Dunith Wellalage | 9 | 0 | 27 | 5 | 3.00 |
| Sadisha Rajapaksa | 2 | 0 | 3 | 0 | 1.50 |
| Raveen De Silva | 8 | 0 | 37 | 0 | 4.62 |
| Matheesha Pathirana | 5 | 0 | 28 | 1 | 5.60 |