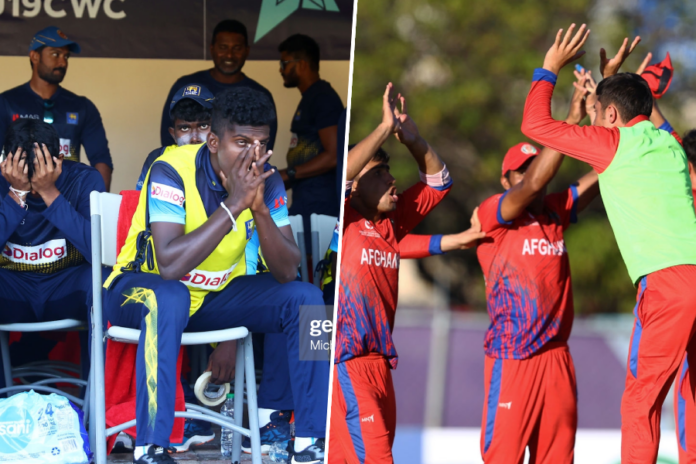 Afghanistan U19s beat Sri Lanka U19s by 4 runs to qualify for the Super League Semi-Finals of ICC U19 World Cup today (27th January).   
Sri Lanka U19s skipper Dunith Wellalage won the all-important toss in the knockout game and invited the Afghan batters to take first lease of the wicket.
The Afghan opening pair got them off to a slow start in the first powerplay putting on 24 runs on the board. But straight after the first 10 overs, Sri Lankan bowlers managed to strike, demolishing the Afghan top order as they took 4 wickets inside the next 5 overs conceding only 4 runs to the opposition.
Abdul Hadi and Allah Noor showed some resistance with the bat adding a 47-run partnership for the 5th wicket. But Sri Lankan bowlers led by speedster Vinuja Ranpul continued to pick up wickets at regular intervals as they restricted Afghanistan to 134 runs in 47.1 overs.
Ranpul was the pick of the bowlers for Sri Lanka as he managed to take a 5-wicket haul for just 10 runs in 9.1 overs. Skipper Wellalage also chipped in with 3 wickets while the off spinner Traveen Mathew bowled a very economic spell giving away only 13 runs in 10 overs with 4 maidens and a wicket to his name.
Chasing 135 runs to win, Sri Lanka got off to a disastrous start losing their first 4 wickets for just 24 runs inside 12 overs. Opening batter Chamindu Wickramasinghe tried to rescue the innings holding one end up but his resistance came to end with an unfortunate runout in the 17th over, putting Sri Lanka under huge pressure at 6 for 49.
Sri Lanka's last hope rested on  skipper Wellalage who tried his best adding a crucial 69-run partnership for the 8th wicket with Raveen De Silva but was unable to pull the islanders over the line as they suffered a nail-biting 4-run defeat.
Sri Lanka's poor running between the wickets cost them the game as they conceded 4 runouts, handing the the spot in the semis to Afghanistan despite the target being only 135 and the Afghans bowling 32 wides.


Batsmen
R
B
4s
6s
SR
Bilal Sayedi
b Matheesha Pathirana
6
34
0
0
17.65
Nangeyalia Kharote
c Anjala Bandara b Vinuja Ranpul
13
33
2
0
39.39
Allah Noor
c Ranuda Somarathne b Dulith Wellalage
25
58
1
0
43.10
Suliman Safi
lbw b Vinuja Ranpul
1
9
0
0
11.11
Ijaz Ahmad Ahmadzai
c Anjala Bandara b Vinuja Ranpul
0
3
0
0
0.00
Abdul Hadi
st Anjala Bandara b Dulith Wellalage
37
97
3
1
38.14
Mohammad Ishaq †
c Shevon Daniel b Yasiru Rodrigo
9
9
0
1
100.00
Noor Ahmad 
c Shevon Daniel b Vinuja Ranpul
30
33
0
4
90.91
Izharulhaq Naveed 
b Vinuja Ranpul
1
3
0
0
33.33
Bilal Sami 
lbw b Dulith Wellalage
1
3
0
0
33.33
Naveed Zadran 
not out
0
1
0
0
0.00
| | |
| --- | --- |
| Extras | 11 (b 1 , lb 2 , nb 0, w 8, pen 0) |
| Total | 134/10 (47.1 Overs, RR: 2.84) |
| Fall of Wickets | 1-24 (10.6) Bilal Sayedi, 2-24 (11.1) Nangeyalia Kharote, 3-26 (13.1) Suliman Safi, 4-26 (13.4) Ijaz Ahmad Ahmadzai, 5-73 (32.4) Allah Noor, 6-84 (35.3) Mohammad Ishaq †, 7-132 (45.6) Noor Ahmad , 8-132 (46.1) Abdul Hadi, 9-134 (46.5) Bilal Sami , 10-134 (47.1) Izharulhaq Naveed , |
| Bowling | O | M | R | W | Econ |
| --- | --- | --- | --- | --- | --- |
| Yasiru Rodrigo | 8 | 1 | 41 | 1 | 5.12 |
| Vinuja Ranpul | 9.1 | 3 | 10 | 5 | 1.10 |
| Treveen Mathews | 10 | 4 | 13 | 1 | 1.30 |
| Chamindu Wickramasinghe | 4 | 0 | 11 | 0 | 2.75 |
| Dunith Wellalage | 10 | 0 | 36 | 3 | 3.60 |
| Raveen De Silva | 3 | 0 | 13 | 0 | 4.33 |
| Shevon Daniel | 3 | 1 | 7 | 0 | 2.33 |


Batsmen
R
B
4s
6s
SR
Chamindu Wickramasinghe
run out (Suliman Safi)
16
53
0
0
30.19
Sadeesh Jayawardena
c Mohammad Ishaq † b Bilal Sami 
0
1
0
0
0.00
Shevon Daniel
lbw b Bilal Sami 
2
9
0
0
22.22
Sakuna Nidarshana Liyanage
run out (Mohammad Ishaq †)
2
13
0
0
15.38
Anjala Bandara
c Mohammad Ishaq † b Naveed Zadran 
1
7
0
0
14.29
Ranuda Somarathne
lbw b Noor Ahmad 
3
10
0
0
30.00
Yasiru Rodrigo
run out (Ijaz Ahmad Ahmadzai)
2
9
0
0
22.22
Dunith Wellalage
b
34
61
0
0
55.74
Ravindu De Silva
b
21
84
0
0
25.00
Vinuja Ranpul
not out
11
14
0
0
78.57
Treveen Mathews
run out ()
4
15
0
0
26.67
| | |
| --- | --- |
| Extras | 34 (b 0 , lb 2 , nb 0, w 32, pen 0) |
| Total | 130/10 (46 Overs, RR: 2.83) |
| Fall of Wickets | 1-2 (0.4) Sadeesh Jayawardena, 2-8 (4.1) Shevon Daniel, 3-20 (10.2) Sakuna Nidarshana Liyanage, 4-24 (11.5) Anjala Bandara, 5-30 (14.2) Ranuda Somarathne, 6-42 (16.1) Chamindu Wickramasinghe, 7-43 (17.1) Yasiru Rodrigo, |
| Bowling | O | M | R | W | Econ |
| --- | --- | --- | --- | --- | --- |
| Bilal Sami  | 10 | 0 | 33 | 2 | 3.30 |
| Naveed Zadran  | 8 | 1 | 19 | 1 | 2.38 |
| Noor Ahmad  | 10 | 2 | 20 | 1 | 2.00 |
| Izharulhaq Naveed  | 10 | 1 | 33 | 1 | 3.30 |
| Nangeyalia Kharote | 8 | 0 | 23 | 1 | 2.88 |