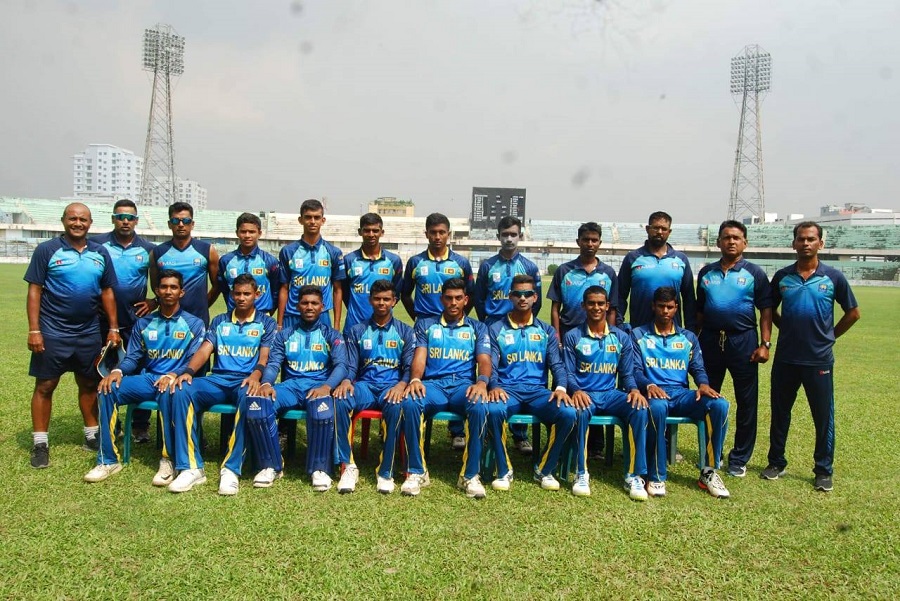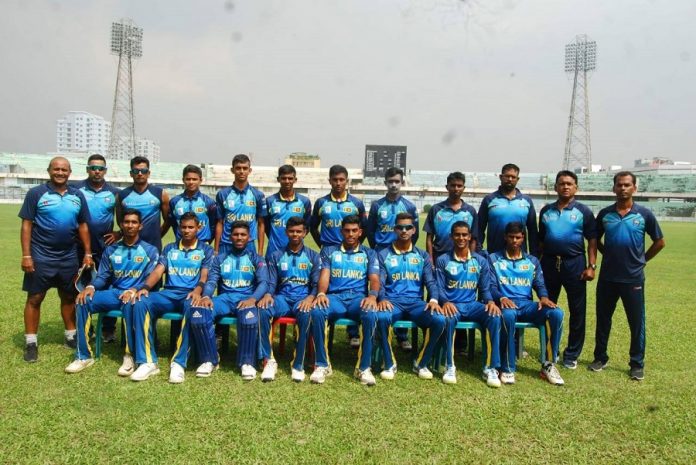 Sri Lanka U19 continued their winning streak in the 5th U19 Asia Cup beating Pakistan U19 by 23 runs today at the M.A. Aziz Stadium in Chittagong, Bangladesh.
Pakistani skipper, wicket-keeper batsman Rohail Nazir won the toss and invited Sri Lanka to bat first. Pakistan lost their previous game against Bangladesh and were in a must-win position to keep their semifinal hopes alive.
Shashika Dulshan's five-fer script Hong Kong thrashing
On the other hand, Sri Lanka had almost qualified for the knock out stage with 2 wins in 2 games with a healthy net run-rate. Notwithstanding any unexpected situation, they were with zero chances of being eliminated.
Sri Lanka with an unchanged playing XI, got off to a decent start as openers Navod Paranavithana and Nishan Madushka scored 63 runs for the first wicket in 12 overs.
Left-handed Paranavithana was the first wicket to fall as he was bowled by right-arm off-spinner Bilal Javed in the 13th over for 26 runs. Madushka soon followed his partner as he was dismissed for 19.
Bilal Javed struck once again to send Kamil Mishara back to the dressing room for 6 runs. Vice-Captain Kalana Perera, who was promoted up the order then took leadership and added 49 valuable runs for 4th wicket together with experienced Nuwanidu Fernando.
Sri Lanka U19s start Asia Cup campaign in style
Eventual Man of the Match, right-arm medium pacer Arshad Iqbal then came into the act by dismissing Kalana for a well made 51. Kalana hit 4 boundaries and 3 sixes during his 61-ball inning.
In his very next over, Iqbal struck twice to dismiss Nuwanidu for 16 and Pasindu Sooriyabandara for a 2-ball duck. He also struck in his next over to dismiss Dunith Wellalage for 2 and put Sri Lanka in deep trouble on 146/7 in the 36th over.
Skipper Nipun Dananjaya and experienced pacer Nipun Malinga then added 39 crucial runs for the 8th wicket before Malinga got out while running. Dananjaya playing a captain's knock was able to push Sri Lanka's total towards the 200-run mark as he fell as the 10th wicket in the 50th over leaving a target of 201 for the Pakistani's to win.
Arshad Iqbal was impressive with the ball as he ripped through the Lankan inning with figures of 6/34 in 8.4 overs.
Pakistan's run-chase had an early blow as opener Saim Ayub was run out by Sooriyabandara in the first over. Jahanzaib Sultan and Saad Khan then added 40 runs for the 2nd wicket before Kalhara Senaratne dismissed Saad Khan with his right-arm off-spin.
Sultan soon followed Saad as he was caught by Paranavithana off a Malinga delivery. Pakistani skipper Nazir who then added 42 runs for the 4th wicket with Waqar Ahmed was out hit wicket off Wellalage's left-arm spin. Wellalage struck again with the wicket of the set batsman Waqar Ahmed.
Number 6 batsman Awaiz Zafar battled alone since then as wickets kept falling on the other end, but he failed to accelerate the scoring rate. Zafar top-scored for Pakistan with 43 runs in 72 balls and was dismissed by Paranavthana in the 49th over.
Pakistan batted off their allotted 50 overs and finished on 177/8. Apart from Zafar, Iqbal too showed some fight in his 31-ball 26 which included 2 boundaries and a six.  
In bowling for Sri Lanka, it was the spinners who did the damage. Dunith Wellalage, Kalhara Senaratne and Navod Paranavithana took 2 wickets each while Man of the Match in the previous game, Shashika Dulshan went wicket-less giving away just 29 runs in his 10 overs.
Sri Lanka will now meet defending champions, Afghanistan in the Semi-Final on the 5th of October at the Sher-e-Bangla National Stadium in Dhaka.
// var socket=io('http://localhost:8080'); var socket=io('http://202.124.184.250:8080');
jQuery( document ).ready(function() { console.log( "ready" ); var prev_bat_team = 0;
socket.on('message',function (message) { message = JSON.parse(message); console.log(message); if( message.data.cric.commentary){ jQuery('#cmt_wrap').prepend('
'+message.data.cric.commentary.event+'
'+message.data.cric.commentary.comment+'
'); } if(message.data.cric.match){ console.log(message.data.cric.match.teams_1_inn2_r[0]); function ove(balls) { var overs = 0; if(balls %6 == 0){ overs = balls/6; }else{ overs = parseInt(balls/6)+"."+(+balls - +parseInt(balls/6)*6); } console.log(overs); return overs; }
if(!message.data.cric.match.teams_1_inn2_r[0]){
jQuery('#score_1_'+message.data.cric.match.teams_1_r[0]['id']).html(message.data.cric.match.teams_1_r[0]['score'] + " / " + message.data.cric.match.teams_1_r[0]['wkts']); jQuery('#over_1_'+message.data.cric.match.teams_1_r[0]['id']).html("("+ove(message.data.cric.match.teams_1_r[0]['balls'])+" overs)"); }else { jQuery('#score_1_'+message.data.cric.match.teams_1_r[0]['id']).html(message.data.cric.match.teams_1_r[0]['score'] + " / " + message.data.cric.match.teams_1_r[0]['wkts']+" & "+message.data.cric.match.teams_1_inn2_r[0]['score']+" / "+message.data.cric.match.teams_1_inn2_r[0]['wkts']); jQuery('#over_1_'+message.data.cric.match.teams_1_r[0]['id']).html("("+ove(message.data.cric.match.teams_1_inn2_r[0]['balls'])+" overs)"); } if(!message.data.cric.match.teams_2_inn2_r[0]){
jQuery('#score_2_'+message.data.cric.match.teams_2_r[0]['id']).html(message.data.cric.match.teams_2_r[0]['score'] + " / " + message.data.cric.match.teams_2_r[0]['wkts']); jQuery('#over_2_'+message.data.cric.match.teams_2_r[0]['id']).html("("+ove(message.data.cric.match.teams_2_r[0]['balls'])+" overs)"); }else { jQuery('#score_2_'+message.data.cric.match.teams_2_r[0]['id']).html(message.data.cric.match.teams_2_r[0]['score'] + " / " + message.data.cric.match.teams_2_r[0]['wkts']+" & "+message.data.cric.match.teams_2_inn2_r[0]['score']+" / "+message.data.cric.match.teams_2_inn2_r[0]['wkts']); jQuery('#over_2_'+message.data.cric.match.teams_2_r[0]['id']).html("("+ove(message.data.cric.match.teams_2_inn2_r[0]['balls'])+" overs)"); }
if(message.data.cric.match.teams_1_r[0]['extras']!=null){ jQuery('#extras_1_r_'+message.data.cric.match.teams_1_r[0]['id']).html("("+ove(message.data.cric.match.teams_1_r[0]['extras'])); } if(message.data.cric.match.teams_2_r[0]['extras']!=null){ jQuery('#extras_2_r_'+message.data.cric.match.teams_1_r[0]['id']).html("("+ove(message.data.cric.match.teams_2_r[0]['extras'])); } if(message.data.cric.match.teams_1_inn2_r[0]['extras']!=null){ jQuery('#extras_1_r_2_'+message.data.cric.match.teams_1_inn2_r[0]['id']).html("("+ove(message.data.cric.match.teams_1_inn2_r[0]['extras'])); } if(message.data.cric.match.teams_2_inn2_r[0]['extras']!=null){ jQuery('#extras_1_r_2_'+message.data.cric.match.teams_2_inn2_r[0]['id']).html("("+ove(message.data.cric.match.teams_2_inn2_r[0]['extras'])); }
//extras_1_r_2_ // if(prev_bat_team != message.data.cric.team_id){ jQuery('#widget_wrapper').load(document.URL + ' #widget_wrapper'); // } // prev_bat_team = message.data.cric.team_id // }
}); });
SL U19 won by 23 runs
Sri Lanka U19's Innings
Batting
R
B
Navod Paranavithana
b B Javed
27
36
Nishan Madushka
lbw by J Khan
19
41
Kamil Mishara
b B Javed
6
19
Kalana Perera
b A Iqbal
51
61
Nuwanidu Fernando
b A Iqbal
16
36
Nipun Dananjaya
b A Iqbal
33
50
Pasindu Sooriyabandara
lbw by A Iqbal
0
2
Dunith Wellalage
c R Nazir b A Iqbal
2
6
Nipun Malinga
(runout) S Khan
23
41
Kalhara Senarathne
c R Nazir b A Iqbal
2
5
Shashika Dulshan
not out
0
4
Total
200/10 (49.4 overs)
Fall of Wickets:
1-63 (N Paranavithana, 12.2 ov), 2-65 (N Madushka, 13.1 ov), 3-91 (K Mishara, 20.3 ov), 4-139 (K Perera, 31.1 ov), 5-140 (N Fernando, 33.2 ov), 6-140 (P Sooriyabandara, 33.4 ov), 7-146 (D Wellalage, 35.1 ov), 8-185 (N Malinga, 45.5 ov), 9-189 (K Senarathne, 47.4 ov), 10-200 (N Dananjaya, 49.4 ov)
| Bowling | O | M | R | W | E |
| --- | --- | --- | --- | --- | --- |
| Mohammed Hasnain | 6 | 2 | 28 | 0 | 4.67 |
| Naseem Shah | 10 | 0 | 38 | 0 | 3.80 |
| Arshad Iqbal | 8.4 | 0 | 35 | 6 | 4.17 |
| Junaid Khan | 9 | 1 | 48 | 1 | 5.33 |
| Bilal Javed | 10 | 2 | 25 | 2 | 2.50 |
| Saim Ayub | 2 | 0 | 10 | 0 | 5.00 |
| Saad Khan | 1 | 0 | 7 | 0 | 7.00 |
| Waqar Ahmad | 3 | 0 | 9 | 0 | 3.00 |
Pakistan U19's Innings
Batting
R
B
Jahanzaib Sultan
c N Paranavithana b N Malinga
22
29
Saim Ayub
(runout) P Sooriyabandara
2
2
Saad Khan
lbw by K Senarathne
22
24
Rohail Nazir
b D Wellalage
18
43
Waqar Ahmad
c K Mishara b D Wellalage
24
57
Awaiz Zafar
b N Paranavithana
43
72
Junaid Khan
lbw by N Paranavithana
9
33
Naseem Shah
c N Paranavithana b K Senarathne
1
7
Arshad Iqbal
not out
26
31
Bilal Javed
not out
1
2
Fall of Wickets:
1-3 (S Ayub, 0.6 ov), 2-43 (S Khan, 8.1 ov), 3-49 (J Sultan, 9.6 ov), 4-91 (R Nazir, 23.4 ov), 5-95 (W Ahmad, 26.6 ov), 6-126 (J Khan, 38.2 ov), 7-129 (N Shah, 39.5 ov), 8-171 (A Zafar, 48.4 ov)
| Bowling | O | M | R | W | E |
| --- | --- | --- | --- | --- | --- |
| Kalana Perera | 6 | 0 | 38 | 0 | 6.33 |
| Nipun Malinga | 5 | 0 | 22 | 1 | 4.40 |
| Kalhara Senarathne | 10 | 2 | 32 | 2 | 3.20 |
| Shashika Dulshan | 10 | 0 | 29 | 0 | 2.90 |
| Dunith Wellalage | 10 | 0 | 28 | 2 | 2.80 |
| Navod Paranavithana | 9 | 3 | 27 | 2 | 3.00 |