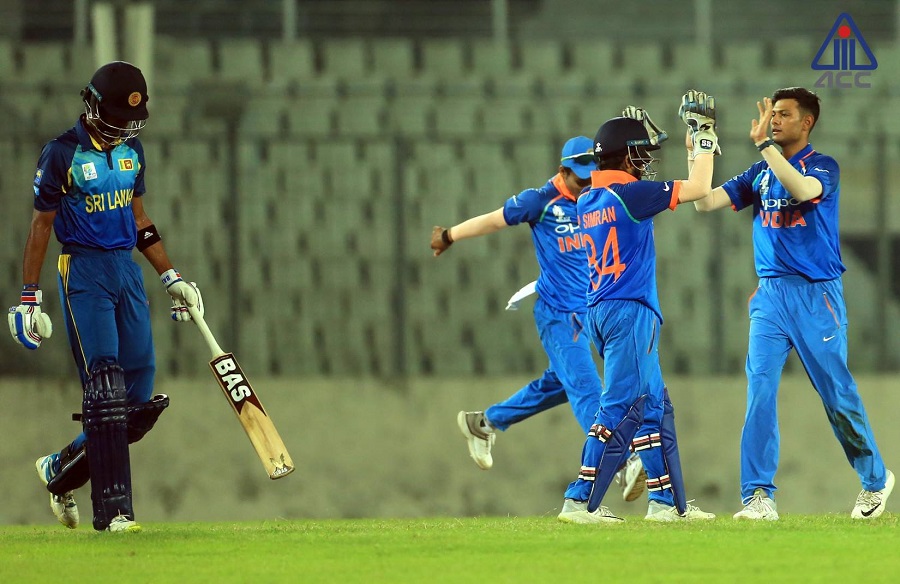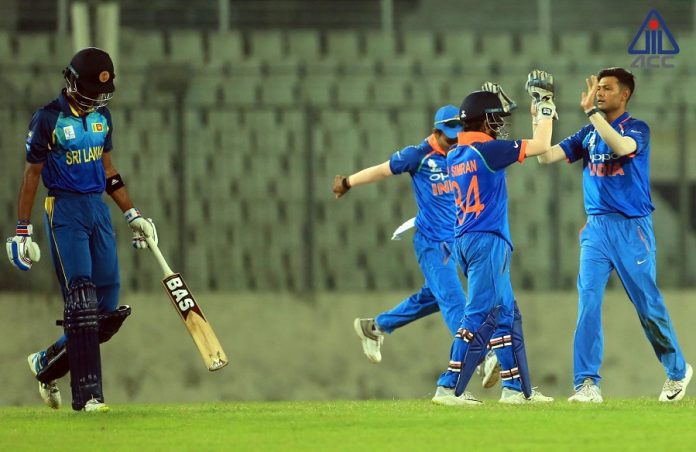 India U19 today beat Sri Lanka comprehensively by 144 runs to clinch the 2018 U19 Asia Cup. The final which was played as a day/night encounter happened at the Shere Bangla National Stadium in Mirpur, Dhaka.

Sri Lanka U19 extended their unbeaten streak at the Asia Cup today as they eliminated the defending U19 Asian Champs…
Stand-in Captain for the India U19s Simran Singh won the toss and elected to bat first on a pitch which looked like a belter to bat on. The Indians fielded a XI with 2 changes to the side which won them the thrilling Semifinal against Bangladesh while Sri Lanka made just 1 change by bringing in all-rounder Sandun Mendis for top-order batsman Kamil Mishara.
The openers for India today, Yashasvi Jaiswal and Anuj Rawat made a brisk start for India as the two left-handers compiled 121 runs for the opening stand batting for half of their allotted 50 overs.
In a stage where Sri Lanka were desperate for a wicket, 15-year old all-rounder Dunith Wellalage got rid of Rawat with his left-arm orthodox spin. Rawat had scored 57 runs off 79 deliveries with 4 boundaries and 3 sixes when he was adjudged out LBW.
Read More: Sri Lanka U19 cruise to semis as table toppers
Jaiswal who accelerated then onwards added 59 runs for the 2nd wicket along with Devdutt Padikkal (another left-hander) in the space of 12.2 overs, setting the stage for the middle order to play freely and accumulate runs as much as possible.
The only period of play where the Lankans seemed to be on top of the Indians was from the 38th over to 41st. During this stretch of play they managed to dismiss both Jaiswal and Padikkal who were on 85 (113b, 8-4s, 1-6) & 31 respectively.
From 194/3 in the 41st over Captain Singh and promising all-rounder Ayush Badoni took over the charge as they put on an unbeaten 110 run stand for the 5th wicket, making full use of the stage set by the top-order.
The Sri Lanka U19s put in a brilliant team effort to win their Youth Asia Cup opener comfortably against the home side…
The entertaining 110 runs came in just 55 deliveries as the duo together smashed 9 sixes during their onslaught. Singh finished on 65 off 37 deliveries while Badoni ended on 52 off just 28 deliveries. With the help of these wonderful innings India set a daunting target of 305 for Sri Lanka to clinch the Youth Asian Cricket Championship.
Talking about Sri Lanka's bowling Kalhara Senaratne can be picked as the best bowler of the inning as he was the only bowler who managed to keep the economy rate under 5 apart from Captain Nipun Dhananjaya who used himself for just 3 overs.
Off-spinner Senaratne ended with figures of 1/45 bowling all his 10 overs. Vice-Captain, left-arm seamer Kalana Perera also did a decent job claiming figures of 1/55 in his 10 overs.
Second highest wicket-taker of the tournament with 11 wickets in 4 matches and Sri Lanka's best bowler in the tournament so far, left-arm spinner Shashika Dulshan went wicket-less giving away 57 runs in 8 overs.
Read More: Shashika Dulshan's five-fer script Hong Kong thrashing
Experienced seamer Nipun Malinga also was expensive as he went for 59 runs in 7 overs. Malinga was hit for some big overs in the death, where the Indian batsmen scored heavily.
The run-chase for Sri Lanka didn't start well either as they lost Captain Nipun Dhananjaya in the 7th over. He seemed to be in good nick as he stroked a couple of boundaries during his 21-ball knock of 12. He was dismissed off left-arm seamer Mohit Jangra.
Pasindu Sooriyabandara who then came in at 3 showed some intent as he played some delightful strokes. Taking the responsibility from opener Nishan Madushka, who looked bit rusty early in the inning, Sooriyabandara raced to 31 in 32 deliveries with 3 boundaries before he fell as left-arm spinner Harsh Tyagi's first victim.
Kalana Perera, who was once again promoted up the order, and in-form Nuwanidu Fernando soon followed Sooriyabandara to the dressing room as they were dismissed by Tyagi within the space of 2 overs. Sri Lanka were struggling on 79/4 in the 20th over when Nuwanidu was sent back.
Usual opener, Navod Paranavithana stepped in at 6 as he was injured while fielding, trying to grab a half-chance in the deep. He too was a bit rusty in the beginning as Nishan Madushka on the other end shook off his rust and stood up tall with some brilliant shots to the rope. The right-hander looked in good touch when he was also dismissed by Tyagi trying to sweep unfortunately on 49.
The Lankan's seemed to be settled for a runner-up slot from then onwards as they kept losing wickets regularly. Paranavithana was the last wicket to fall on 48 as the Indians wrapped up the Lankan inning for 160 in 38.4 overs.
Harsh Tyagi was the star for India with the ball as he finished with impressive figures of 6/38 in his 10 overs.
// var socket=io('http://localhost:8080'); var socket=io('http://202.124.184.250:8080');
jQuery( document ).ready(function() { console.log( "ready" ); var prev_bat_team = 0;
socket.on('message',function (message) { message = JSON.parse(message); console.log(message); if( message.data.cric.commentary){ jQuery('#cmt_wrap').prepend('
'+message.data.cric.commentary.event+'
'+message.data.cric.commentary.comment+'
'); } if(message.data.cric.match){ console.log(message.data.cric.match.teams_1_inn2_r[0]); function ove(balls) { var overs = 0; if(balls %6 == 0){ overs = balls/6; }else{ overs = parseInt(balls/6)+"."+(+balls - +parseInt(balls/6)*6); } console.log(overs); return overs; }
if(!message.data.cric.match.teams_1_inn2_r[0]){
jQuery('#score_1_'+message.data.cric.match.teams_1_r[0]['id']).html(message.data.cric.match.teams_1_r[0]['score'] + " / " + message.data.cric.match.teams_1_r[0]['wkts']); jQuery('#over_1_'+message.data.cric.match.teams_1_r[0]['id']).html("("+ove(message.data.cric.match.teams_1_r[0]['balls'])+" overs)"); }else { jQuery('#score_1_'+message.data.cric.match.teams_1_r[0]['id']).html(message.data.cric.match.teams_1_r[0]['score'] + " / " + message.data.cric.match.teams_1_r[0]['wkts']+" & "+message.data.cric.match.teams_1_inn2_r[0]['score']+" / "+message.data.cric.match.teams_1_inn2_r[0]['wkts']); jQuery('#over_1_'+message.data.cric.match.teams_1_r[0]['id']).html("("+ove(message.data.cric.match.teams_1_inn2_r[0]['balls'])+" overs)"); } if(!message.data.cric.match.teams_2_inn2_r[0]){
jQuery('#score_2_'+message.data.cric.match.teams_2_r[0]['id']).html(message.data.cric.match.teams_2_r[0]['score'] + " / " + message.data.cric.match.teams_2_r[0]['wkts']); jQuery('#over_2_'+message.data.cric.match.teams_2_r[0]['id']).html("("+ove(message.data.cric.match.teams_2_r[0]['balls'])+" overs)"); }else { jQuery('#score_2_'+message.data.cric.match.teams_2_r[0]['id']).html(message.data.cric.match.teams_2_r[0]['score'] + " / " + message.data.cric.match.teams_2_r[0]['wkts']+" & "+message.data.cric.match.teams_2_inn2_r[0]['score']+" / "+message.data.cric.match.teams_2_inn2_r[0]['wkts']); jQuery('#over_2_'+message.data.cric.match.teams_2_r[0]['id']).html("("+ove(message.data.cric.match.teams_2_inn2_r[0]['balls'])+" overs)"); }
if(message.data.cric.match.teams_1_r[0]['extras']!=null){ jQuery('#extras_1_r_'+message.data.cric.match.teams_1_r[0]['id']).html("("+ove(message.data.cric.match.teams_1_r[0]['extras'])); } if(message.data.cric.match.teams_2_r[0]['extras']!=null){ jQuery('#extras_2_r_'+message.data.cric.match.teams_1_r[0]['id']).html("("+ove(message.data.cric.match.teams_2_r[0]['extras'])); } if(message.data.cric.match.teams_1_inn2_r[0]['extras']!=null){ jQuery('#extras_1_r_2_'+message.data.cric.match.teams_1_inn2_r[0]['id']).html("("+ove(message.data.cric.match.teams_1_inn2_r[0]['extras'])); } if(message.data.cric.match.teams_2_inn2_r[0]['extras']!=null){ jQuery('#extras_1_r_2_'+message.data.cric.match.teams_2_inn2_r[0]['id']).html("("+ove(message.data.cric.match.teams_2_inn2_r[0]['extras'])); }
//extras_1_r_2_ // if(prev_bat_team != message.data.cric.team_id){ jQuery('#widget_wrapper').load(document.URL + ' #widget_wrapper'); // } // prev_bat_team = message.data.cric.team_id // }
}); });
India U19 won by 144 runs
India U19's Innings
Batting
R
B
Yashasvi Jaiswal
lbw by K Perera
85
113
Anuj Rawat
lbw by D Wellalage
57
79
Devdutt Padikkal
b K Senarathne
31
43
Prabhsimran Singh
not out
65
37
Ayush Badoni
not out
52
28
Extras
14 (b 2, lb 3, w 9)
Fall of Wickets:
1-121 (A Rawat, 25.1 ov), 2-180 (Y Jaiswal, 37.3 ov), 3-194 (D Padikkal, 40.5 ov)
| Bowling | O | M | R | W | E |
| --- | --- | --- | --- | --- | --- |
| Kalana Perera | 10 | 0 | 55 | 1 | 5.50 |
| Nipun Malinga | 7 | 0 | 59 | 0 | 8.43 |
| Kalhara Senarathne | 10 | 1 | 45 | 1 | 4.50 |
| Sandun Mendis | 8 | 0 | 46 | 0 | 5.75 |
| Shashika Dulshan | 8 | 0 | 57 | 0 | 7.13 |
| Dunith Wellalage | 4 | 0 | 24 | 1 | 6.00 |
| Nipun Dananjaya | 3 | 0 | 13 | 0 | 4.33 |
Sri Lanka U19's Innings
Batting
R
B
Nishan Madushka
c P Singh b H Tyagi
49
67
Nipun Dananjaya
c A Rawat b M Jangra
12
21
Pasindu Sooriyabandara
c S Choudhary b H Tyagi
31
32
Kalana Perera
c Y Jaiswal b H Tyagi
0
2
Nuwanidu Fernando
lbw by H Tyagi
4
7
Navod Paranavithana
lbw by S Desai
48
61
Dunith Wellalage
c A Badoni b S Desai
7
29
Nipun Malinga
(runout) M Jangra
0
0
Sandun Mendis
b H Tyagi
1
2
Kalhara Senarathne
c A Rawat b H Tyagi
1
5
Shashika Dulshan
not out
2
7
Extras
5 (b 2, w 2, nb 1)
Total
160/10 (38.4 overs)
Fall of Wickets:
1-20 (N Dananjaya, 6.1 ov), 2-66 (P Sooriyabandara, 15.3 ov), 3-69 (K Perera, 17.2 ov), 4-79 (N Fernando, 19.2 ov), 5-104 (N Madushka, 23.5 ov), 6-126 (D Wellalage, 31.6 ov), 7-127 (N Malinga, 32.1 ov), 8-133 (S Mendis, 33.2 ov), 9-141 (K Senarathne, 35.3 ov), 10-160 (N Paranavithana, 38.4 ov)
| Bowling | O | M | R | W | E |
| --- | --- | --- | --- | --- | --- |
| Mohit Jangra | 7 | 2 | 18 | 1 | 2.57 |
| Rajesh Mohanty | 4 | 1 | 18 | 0 | 4.50 |
| Ajay Goud | 2 | 0 | 14 | 0 | 7.00 |
| Siddharth Desai | 8.4 | 0 | 37 | 2 | 4.40 |
| Harsh Tyagi | 10 | 0 | 38 | 6 | 3.80 |
| Ayush Badoni | 7 | 0 | 33 | 0 | 4.71 |