Trail is a 670 km, 28-day long walk from Point Pedro in the North to Dondra Head in the South of Sri Lanka, with the objective of honouring and helping those fighting cancer.
The founders of Trail, Nathan Sivagananathan and Sarinda Unamboowe will walk the entire distance from October 6th to November 2nd joined by several other Trail Blazers who intend walking the entire 670 km.   Trail 2016 aims to raise five million US Dollars to build a cancer treatment facility at the Karapitiya Teaching Hospital in Galle.
Trail was brought to life because of Nathan and Sarinda's shared vision of uniting as a nation and improving access for cancer treatment in Sri Lanka. For Sarinda, it was fulfilling a promise that he had made to walk the length of the country if the separatist war that plagued Sri Lanka came to an end, a mark of his commitment to peace. For Nathan the cause was a dear one, having lost his sister to cancer. Founded in 2011, Trail was Sri Lanka's largest ever crowd funded charitable initiative, which raised 2.6 million US Dollars in its first year to build the Tellippalai Trail Cancer Hospital. Over the course of 27 days, they were joined by over 30,000 people who wanted to be a part of the important message that Trail stood for; 30,000 people who walked hundreds of kilometers despite the heat and humidity, all because they wanted to be a part of this cause and hoped to make a difference for our nation.
The overwhelming generosity of the Sri Lankan people from all walks of life was one of the most awe-inspiring aspects of that 670 km journey.  Some of the most humbling experiences that touched those who walked will remain forever etched in their memories – a wayside banana seller, an elderly lady who gave her cart of fruit, her entire day's earnings to the walkers; a 5-year old eagerly awaiting Mahela's arrival by the roadside, and with sparkling eyes he gifted his collection till towards the fund; two little girls no more than 6 and 7 years old who stood in front of a small temporary UN shelter in the North to donate their precious 100 rupees. These and many more stories are what brought tears to their eyes and inspired them during that long walk, back in 2011.
Over LKR 7 million was raised solely through till donations as thousands of people walked from the South of Sri Lanka to the North. There were so many people who wanted to help the cause; they put the needs of those suffering with cancer above their own adversity. This generosity was the same across the whole nation, and directly resulted in the completion and opening of the Tellippalai Trail Cancer Hospital in January 2014.   It is a testimony to a nation's collective fight against cancer.
The Tellippalai Trail Cancer Hospital is a state-of-the-art cancer hospital housing 120 beds across 3 wards, including a pediatric ward. The hospital also provides chemotherapy and iodine treatment facilities and has treated over 4,500 patients to date from the Northern and North-Eastern regions of Sri Lanka.
The success of Trail 2011 highlighted the powerful impact created when communities across the country are united.   Nathan and Sarinda are passionate about this cause and had promised themselves when they completed that incredibly fulfilling and inspiring first journey that they would walk back and continue to do their part in the ongoing fight against cancer to improve treatment facilities in Sri Lanka.  So this year they are set to retrace their steps from North to South and raise funds to expand the Karapitiya Teaching Hospital, Galle. Established in 1982, the hospital is the 3rd largest national hospital in the country.
In 2015, the hospital recorded its highest number of cancer related deaths and has seen a dramatic influx of patients traveling from surrounding regions for treatment. Trail's dream to expand this hospital will improve both access to cancer treatment in Sri Lanka, as well as the quality of care. Last year TRAIL was graced by the likes of Sri Lanka's former Cricket captain Mahela Jayawardena, the current captain Angelo Mathews and Dian Gomes. Along with many others from different walks of life.
Nathan and Sarinda's message to everyone is to become involved and fight back against a disease that has already taken too much.  You can join the Walk starting on the 6th of October from Point Pedro to collectively fight our nation's battle against cancer. Participants can choose to walk the whole journey of 28 days, or elect to join at any point on the route at the time of registration.  In addition, participants can join the walk along the route at no cost to show support for Trail.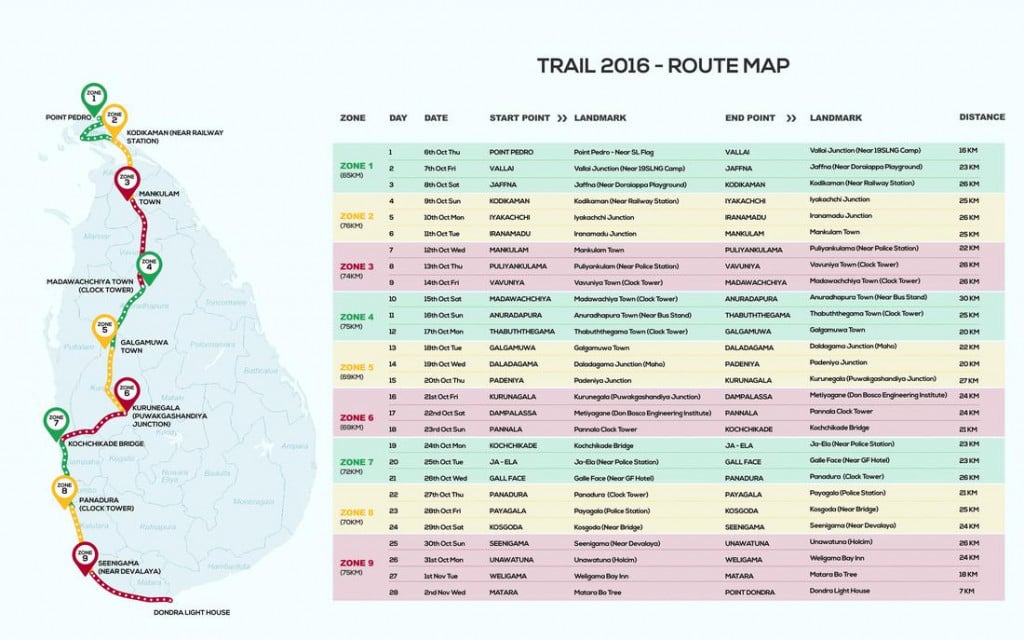 Trail is one of the largest charity walks in the country to raise funds for better cancer treatment facilities in Sri Lanka. For details on the route map, or to register and donate, please visit www.trailsl.com.
The organization behind Trail, the Colours of Courage Trust (COC), a non-profit organization dedicated to uplifting treatment facilities at the National Cancer Institute, Maharagama was founded in 2008. To-date the Colours of Courage Trust has carried out several fund raising initiatives, the funds of which have been utilized to build the Medical and Surgical Intensive Care Units at the National Cancer Institute. For more information on the Colours of Courage Trust visit www.coloursofcourage.com.