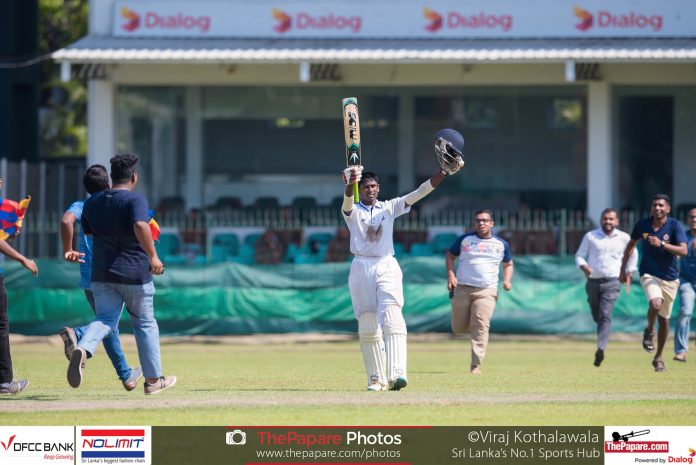 An unbeaten 125 by fresher Jayavihan Pradeepta propelled Thurstan College to a massive 314 runs in their first innings in the 55th Battle of the Brothers against Isipathana College at SSC grounds on Friday. 
With the inclusion of the 60-over rule in the first innings, the Battle of the Brothers was livened up this year. Isipathana College skipper Ayana Siriwardana won the toss and elected to field first. The seamers started off with a good burst but the fielders let them down with a few chances gone begging. 
However, a collapse after the opening stand saw Thurstan in a spot of bother at 33 for 3. Jayavihan Pradeepta and Nimesh Perera managed to see off the new ball and take their team to lunch at 79 for 3. 
Photos: Thurstan College vs Isipathana College | 55th Battle of the Brothers – Day 1
After lunch, with the wicket easing out, batting got much easier. Both Jayavihan and Nimesh took control of proceedings and stepped on the gas. Jayavihan was the first to his half century and Nimesh followed shortly after. Nimesh couldn't continue after reaching his half century as he sustained an injury and had to be carried out of the ground. 
The injury was a blessing in disguise for Thurstan as it paved the way for a brilliant knock from Sawan Prabash. He came in and absolutely bludgeoned the ball all around the park. His knock of 50 came off 25 deliveries and included 3 boundaries and 4 sixes. 
On the other end, Jayavihan slowly but steadily chipped his way through to a magnificent century. He came in at a pressure situation and carried the bat through the innings. Towards the latter part of the innings, a few lusty blows from Skipper Nipun Lakshan and Jayavihan helped Thurstan reach 314 for 5 in their allocated 60 overs. 
Isipathana came into bat in the third and final session. Their openers looked good early on but a lack of concentration from Thevindu Dickwella saw him top edging one straight to cover. Sanjula Bandara and Leshan Amarasinghe followed shortly and put Isipathana in trouble at 31 for 3. 
Former U19 National cap Sanjula Abeywickrama got together with Ashen Gunawardane and consolidated but Ashen failed to capitalize on his start as he got himself run out for 14. 
Isipathana was feeling the heat and it was up to the two most senior batters Sanjula Abeywickrama and Skipper Ayana Siriwardana to keep the ship sailing for the green army. They were successful as they took the team to the end of play. However Isipathana are still trailing by 194 runs, needing 95 runs from 21 overs to avoid the follow on. 
Match drawn
Thurstan College's 1st Innings
BATSMEN
R
B
Imesh Viranga
lbw by Kaliq Amath
12
28
Yeshan Wickramararac
lbw by Shamika Wickramathilaka
14
30
Nimesh Perera
not out
52
106
Nimesh Lakshan
lbw by Kaliq Amath
0
5
Jayavihan Pradeepta
not out
125
146
Sawan Prabash
b Dinath Dissanayake
50
25
Nipun Lakshan
c Ashen Lakshitha b Ayana Siriwardana
38
18
Pansilu Deshan
not out
9
10
| BOWLING | O | M | R | W | ECON |
| --- | --- | --- | --- | --- | --- |
| Dinath Dissanayake | 11 | 1 | 77 | 1 | 7.00 |
| Kaliq Amath | 13 | 2 | 56 | 2 | 4.31 |
| Shamika Wickramathil | 8 | 3 | 23 | 1 | 2.88 |
| Sanjula Bandara | 5 | 1 | 15 | 0 | 3.00 |
| Madushika Sadaruwan | 9 | 1 | 42 | 0 | 4.67 |
| Ayana Siriwardana | 12 | 1 | 80 | 1 | 6.67 |
| Sanjula Abeywickrama | 2 | 0 | 17 | 0 | 8.50 |
Isipathana College's 1st Innings
BATSMEN
R
B
Ayana Siriwardana
c Jayavihan Pradeepta b Sawan Prabash
52
103
Sanjula Bandara
b Nipun Lakshan
12
22
Sanjula Abeywickrama
c Pansilu Deshan b Sawan Prabash
69
144
Leshan Amarasinghe
c & b Nipun Lakshan
0
3
Ashen Lakshitha
(runout) Sandaru Dias
14
30
Thevidu Dickwella
c & b Yeshan Wickramararachi
10
20
Shamika Wickramathil
not out
3
11
Eshan Fernando
c Pansilu Deshan b Sawan Prabash
4
11
Kaliq Amath
lbw by Sandaru Dias
1
3
Madushika Sadaruwan
c Rashmika Ravihara b Sawan Prabash
1
7
Dinath Dissanayake
not out
0
0
| BOWLING | O | M | R | W | ECON |
| --- | --- | --- | --- | --- | --- |
| Sawan Prabash | 14 | 3 | 41 | 4 | 2.93 |
| Nipun Lakshan | 12 | 0 | 57 | 2 | 4.75 |
| Yeshan Wickramararac | 6 | 1 | 19 | 1 | 3.17 |
| Janushka Fernando | 2 | 0 | 8 | 0 | 4.00 |
| Ayesh Harshana | 9 | 1 | 28 | 0 | 3.11 |
| Sandaru Dias | 17 | 4 | 38 | 1 | 2.24 |
Thurstan College's 2nd Innings
BATSMEN
R
B
Nimesh Lakshan
c Leshan Amarasinghe b Kaliq Amath
22
45
Yeshan Wickramararac
c Eshan Fernando b Dinath Dissanayake
32
23
Jayavihan Pradeepta
c Eshan Fernando b Kaliq Amath
3
11
Sawan Prabash
b Shamika Wickramathilaka
8
7
Nipun Lakshan
c & b Kaliq Amath
14
12
Pansilu Deshan
not out
25
28
Nimesh Perera
not out
16
14
| BOWLING | O | M | R | W | ECON |
| --- | --- | --- | --- | --- | --- |
| Ayana Siriwardana | 6 | 1 | 38 | 0 | 6.33 |
| Dinath Dissanayake | 5 | 0 | 18 | 1 | 3.60 |
| Kaliq Amath | 5 | 0 | 30 | 3 | 6.00 |
| Shamika Wickramathil | 5 | 0 | 27 | 1 | 5.40 |
| Sanjula Bandara | 1 | 0 | 3 | 0 | 3.00 |
| Madushika Sadaruwan | 1 | 0 | 9 | 0 | 9.00 |
Isipathana College's 2nd Innings
BATSMEN
R
B
Thevidu Dickwella
b Janushka Fernando
27
80
Sanjula Bandara
b Ayesh Harshana
25
51
Sanjula Abeywickrama
c Yeshan Wickramararachi b Ayesh Harshana
48
73
Leshan Amarasinghe
c Sandaru Dias b Ayesh Harshana
5
30
Kaliq Amath
c Nimesh Lakshan b Ayesh Harshana
0
2
Shamika Wickramathil
b Janushka Fernando
15
27
Ayana Siriwardana
c Sawan Prabash b Janushka Fernando
0
2
Ashen Lakshitha
not out
5
33
Eshan Fernando
not out
0
28
| BOWLING | O | M | R | W | ECON |
| --- | --- | --- | --- | --- | --- |
| Nipun Lakshan | 6 | 1 | 12 | 0 | 2.00 |
| Sawan Prabash | 7 | 1 | 20 | 0 | 2.86 |
| Sandaru Dias | 7 | 2 | 14 | 0 | 2.00 |
| Ayesh Harshana | 19 | 6 | 52 | 4 | 2.74 |
| Janushka Fernando | 12 | 1 | 43 | 3 | 3.58 |
| Pansilu Deshan | 1 | 1 | 0 | 0 | 0.00 |