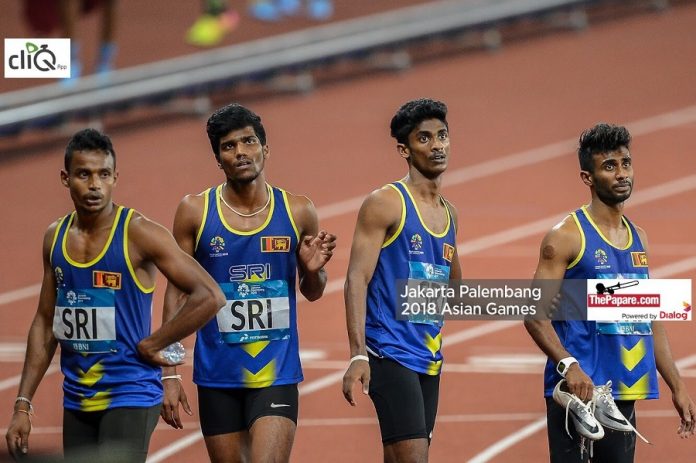 Sri Lanka's prime medal prospects in athletics, the men's 4X400m relay team missed out on a podium finish, finishing 4th in the Men's 400m final, which worked out as the final athletic event today (30th August) at the 18th Asian Games.
Sri Lankan quartet of Aruna Darshana, Ajith Premakumara, Pasindu Kodikara and Kalinga Kumarage were handed the difficult 8th lane despite having clocked the fifth best timing in the qualification rounds. Young Aruna Darshana was handed the responsibility of running the lead lap alongside the Asian record holder in the Men's 400m hurdles –  Abederrahman Samba of Qatar. As expected Samba took off with a terrific start but was given a run for his money by the young Aruna Darshana who despite running in the outside lane managed to keep on Samba's shoulder with a terrific run resulting in Sri Lanka being placed second in the first baton change. Ajith Premakumara who was picked to run the second lap over experienced Dilip Ruwan did not have a great run as he dropped down to the fifth place on the lap and could not make head way into the bunch.
Another up and coming junior athlete, Pasindu Kodikara who shouldered the responsibility of running the 3rd lap showcased terrific pace and determination as he managed to catch up with the race leader running arguably the best lap out of the quartet. 400m finalist Kalinga Kumarage anchored Sri Lanka with a terrific run momentarily pulling close to the Japanese athlete ahead of him but was too much at the end and had to settle for a 4th place finish.
Sri Lankan team, despite missing out on a podium finish clocked a remarkable time of 3:02.74 a mere 0.03secs shy of the 18-year national record of 3:02.71 in the event. Qatar, the eventual winner who were equipped with four athletes who had transferred their alliance to the Middle eastern nation managed to run an Asian record time of 3:00.54, while India was placed second clocking 3:01.85 while Japan took the Bronze medal clocking 3:01.94.