Rex Clementine in Port Elizabeth
Medium paceman Suranga Lakmal, Sri Lanka's hero on Boxing Day in the first Test against South Africa at St. George's Park here in Port Elizabeth has stressed the need to support rural cricket to unearth raw talents like him.
Lakmal, the first Test cricketer from Hambantota, performed  exceptionally well in the opening day of the first Test to finish with career best figures of four for 62 as he helped Sri Lanka to wrestle back the initiative after South Africa's openers posted 104 for the first wicket.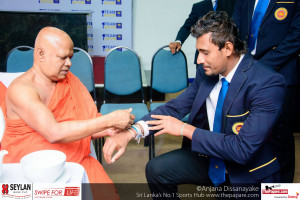 Lakmal dismissed both openers after lunch as he changed ends and operated from Duck Pond End. He took two more wickets in the final session as he dismissed Hashim Amla and captain Francois du Plessis to reduce the Proteas to 267 for six at stumps.
"We have been hard at training for the last two weeks and we were well prepared for the challenge today. Conditions here certainly are different from what we get in Sri Lanka," Lakmal told journalists.
Right-arm seamer Suranga Lakmal produced his best bowling performance to help Sri Lanka's resurgence against South Africa in their first Test match
Lakmal emerged from Debarawewa Maha Vidyalaya at Hambantota. The school did well at cricket a few years ago, but lack of funding has seen them fade away more recently.
"Cricket at Debarawewa is at a very sad state at the moment. Cricketers there face lot of difficulties. There are some outstanding cricketers at Hambantota and if we can invest more on outstation cricket, there will be better players and better results as well," Lakmal added.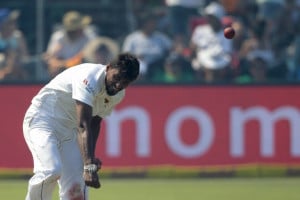 "If you take Dhananjaya de Silva, he too started playing his cricket at Debarawewa MV. Currently there's a player in the under-19 team from my village. About five players who played alongside me are playing First Class cricket at the moment.  There are many more talented players and we need to support them. Some of these players are struggling to make ends meet."
"I remember when I was playing, there was someone called Mr. Rathnapala, who helped us immensely. He was a bank officer and he spent his money and took care of us and the game in the area. More than the administration, that individual helped to uplift cricket."
Renowned Cricket Commentator, Roshan Abeysinghe brings you an exclusive audio analysis on Cricketry on day one of the first Test match between Sri Lanka and South Africa in Port Elizabeth.
"I go whenever I can to my school and help. If we are keen on unearthing raw talents there has to be a conscious effort in the large scale to support cricket at Hambantota."
This is Lakmal's second tour to South Africa and his first series here was with Sri Lanka 'A in 2008'. "It was a series where I did quite well and my performances in that series helped me to get a break into the national side," Lakmal added.
Successive Sri Lankan teams have firmly held onto the view that of all cricket grounds in South Africa,
Lakmal has been inspired by South African fast bowling great Dale Steyn.
"My favourite bowler is Dale Steyn. He is a crafty bowler and I watch a lot of videos of him and try to observe how he outsmarts the batsmen."