St. Peter's College emerged victorious beating S. Thomas' College in the Boys segment while Ladies College defeated Vishaka Vidyalaya to win the Girls segment of the Under 17 Schools' Tennis Championship 2017.
 Boys Segment
The tournament consisted of 8 boy's schools' and 7 girls schools' as teams from around the Island took part in this tournament.
Day one of the tournament saw the round robin stage and the semi finals take place at the Sri Lanka Tennis Association courts.
St. Peter's College was the first to play on day one, taking on St. Benedict's College in the quarter final. The Peterites cruised through winning 2-0 to make their way through to the semi finals.
Royal College made easy work of Kudiy Iruppu Kalaimahal College, winning 2-0 to book a place in the semi final against St. Peter's.
Ananda were made to work for their win by St. Joseph's College as the two schools from Maradana fought it out for a place in the semi-final. Anada prevailed 2-1 while S. Thomas' cruised past St. John's College winning 2-0.
The semi finals were won with ease by St. Peter's and S. Thomas' beating Royal and Ananda with similar scorelines of 2-0.
St. Peter's cruised toward the championship beating the Thomians 2-0 to secure the boys segment of the tournament.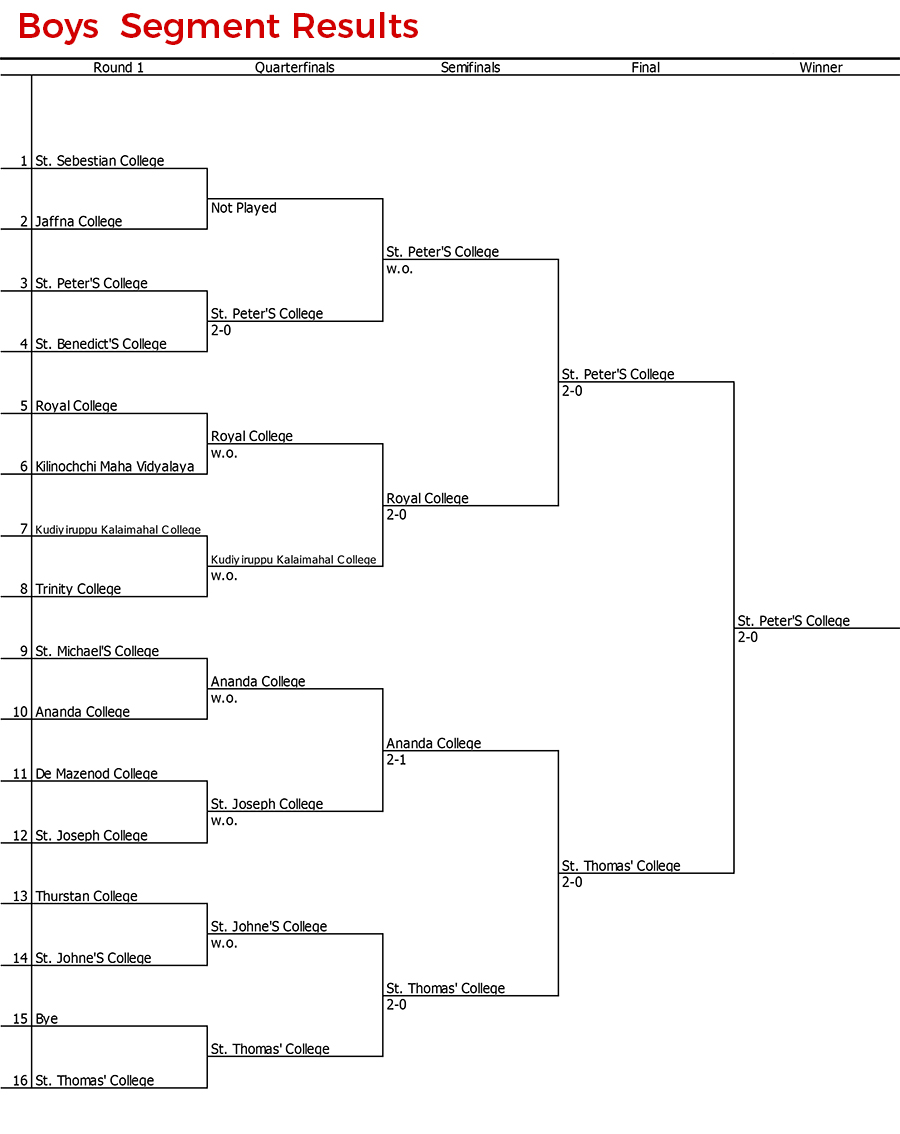 Girls Segment
Seven teams took to the courts in the bid to win the under 17 championship.
Holy Family was the first to play the first round tie against Chundikuli Girls College. The Familian beat the team from Jaffna 2-0 advancing to the quarter final.
Bishop's College demolished Methodist College 2-0 to make their way to the Semi Final.
Ladies College and Vishaka Vidyalaya did not play a single tie as they were granted walkovers, directly to the semi-final. Vishaka and Ladies played Musaeus and Bishops respectively in the semi's.
Vishaka eased their way to victory beating Musaeus 2-0 while Ladies were made to work for their 2-1 win against Bishops, setting up a Vishaka, Ladies final
The final was a keenly contested affair between the arch rivals. Vishaka pushed Ladies to the brink however the girls held their nerve to win 2-1 and the Girls Championship.