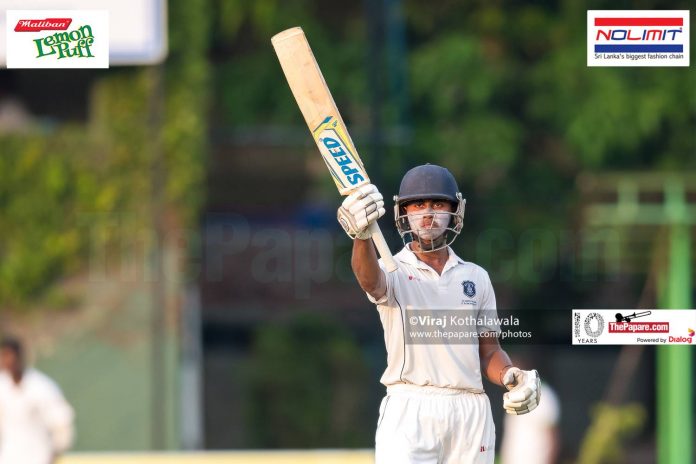 A bold batting display by the Josephians led by their ace run getter Dineth Jayakody put them in the box seat at the 85th Battle of the Saints against arch rivals St. Peter's College.
The 84th Battle of the Saints cricket encounter between St. Joseph's College and St. Peter's…
The Josephians won the toss on a gloomy morning at the P. Sara Oval and as expected asked the Peterites to take first lease of the wicket.
Ashan de Alwis trapped Peterite opener Bhanuka de Silva in front to put the Josephians on top, but a solid 59 run partnership for the second wicket between Santhush Gunathilake – who was dropped on 00 – and Dinith Anjula(41) revived the Peterite innings.
Skipper Ranmith Jayasena and his deputy Nipunaka Fonseka made useful 20's but it was Gunathilake who held the key as he went past his half century after a few nervy moments early on.
Photo Album :  St. Joseph's College vs St. Peter's College | 85th Battle of the Saints – Day 1
The Peterites had set themselves up for a big finish but a brain fade from the experienced Gunathilake who fell after attempting a reverse sweep off Josephian skipper Ashian Daniel, opened the flood gates of the boys from Bambalapitiya.
Skipper Daniel went on to capture three wickets in a game changing spell as the Peterites lost their last seven wickets for 57 runs to be bowled out for 219 in their allotted 60 overs. Shalinda Seneviratne and Lakshan Gamage also captured two wickets apiece for the Josephians
The Darley Road boys came out all guns blazing as Johanne De Zilva hit an explosive 45 at the top of the order in an opening stands of 72 with wicket-keeper Sheran Fonseka.
Kanishka Maduwantha who dismissed De Zilva then trapped Shevone Daniel in front for a duck, as the Peterites clawed their way back in to the match. Fonseka too fell to a lose stroke with the score on nelson before Dineth Jayakody took matters to his hands along with Dilesh Perera in an unbroken stand of 78* for the four wicket.
The 84th Battle of the Saints ended in a draw as St. Peter's College took major honours in their annual…
Jayakody used the slog sweep to very good effect in his unbeaten 62* off 85 balls, while Dilesh Perera looked solid in his unbeaten 37* as the Josephians ended the day on 189/3, 30 runs behind the Peterites with 16 overs remaining (first innings limited to 60 overs per team).
Kanishka Maduwantha captured 2/51 in his 12 overs for the Peterites while skipper Jayasena picked up the only other wicket to fall.
219/10 (60.0) & 317/6 (79.0)


Batsmen
R
B
4s
6s
SR
Banuka de Silva
lbw b Ashan De Alwis
5
21
0
0
23.81
Dinith Anjula
c Miranga Wickramage b Dunith Wellalage
41
74
4
2
55.41
Santhush Gunathilake
c Dilesh Perera b Ashen Daniel
72
105
6
0
68.57
Ranmith Jayasena
b Shalinda Senevirathne
21
27
1
0
77.78
Nipunaka Fonseka
lbw b Ashen Daniel
21
63
1
0
33.33
Shivan Perera
c Sachintha Ravindu b Ashen Daniel
9
13
1
0
69.23
Shannon Fernando
c Shevon Fonseka b Shalinda Senevirathne
0
4
0
0
0.00
Kanishka Maduwantha
c Shevon Fonseka b Lakshan Gamage
10
18
0
0
55.56
Wanuja Sahan
run out
26
28
1
0
92.86
Ruwin Senevirathne
b Lakshan Gamage
0
2
0
0
0.00
Tariq Saboor
not out
1
6
0
0
16.67
| | |
| --- | --- |
| Extras | 13 (b 7 , lb 3 , nb 1, w 2) |
| Total | 219/10 (60.0 Overs, RR: 3.65) |
| Bowling | O | M | R | W | Econ |
| --- | --- | --- | --- | --- | --- |
| Lakshan Gamage | 10.0 | 1 | 38 | 2 | 3.80 |
| Ashan De Alwis | 7.0 | 0 | 20 | 1 | 2.86 |
| Shalinda Senevirathne | 13.0 | 2 | 43 | 2 | 3.31 |
| Johanne De Zilva | 4.0 | 2 | 8 | 0 | 2.00 |
| Ashen Daniel | 15.0 | 1 | 58 | 3 | 3.87 |
| Dunith Wellalage | 11.0 | 1 | 43 | 1 | 3.91 |


Batsmen
R
B
4s
6s
SR
Shevon Fonseka
c Nipunaka Fonseka b Ranmith Jayasena
37
69
4
0
53.62
Johanne De Zilva
c Santhush Gunathilake b Kanishka Maduwantha
45
56
4
1
80.36
Shevon Daniel
lbw b Kanishka Maduwantha
0
2
0
0
0.00
Dineth Jayakody
b Shivan Perera
77
110
6
2
70.00
Dilesh Perera
c Shivan Perera b Tariq Saboor
62
80
4
0
77.50
Lakshan Gamage
b Tariq Saboor
1
2
0
0
50.00
Sachintha Ravindu
c Wanuja Sahan b Ranmith Jayasena
22
15
0
0
146.67
Dunith Wellalage
c Nipunaka Fonseka b Santhush Gunathilake
19
15
0
0
126.67
Ashen Daniel
not out
5
6
0
0
83.33
Shalinda Senevirathne
not out
9
9
0
0
100.00
| | |
| --- | --- |
| Extras | 9 (b 0 , lb 4 , nb 4, w 1) |
| Total | 286/8 (60.0 Overs, RR: 4.77) |
| Bowling | O | M | R | W | Econ |
| --- | --- | --- | --- | --- | --- |
| Tariq Saboor | 11.0 | 0 | 51 | 2 | 4.64 |
| Santhush Gunathilake | 12.0 | 1 | 56 | 1 | 4.67 |
| Wanuja Sahan | 6.0 | 0 | 27 | 0 | 4.50 |
| Shivan Perera | 4.0 | 1 | 23 | 1 | 5.75 |
| Kanishka Maduwantha | 12.0 | 1 | 51 | 2 | 4.25 |
| Ruwin Senevirathne | 8.0 | 0 | 41 | 0 | 5.12 |
| Ranmith Jayasena | 7.0 | 0 | 33 | 2 | 4.71 |


Batsmen
R
B
4s
6s
SR
Banuka de Silva
c Dunith Wellalage b Ashan De Alwis
4
11
0
0
36.36
Dinith Anjula
c Johanne De Zilva b Ashen Daniel
6
22
0
0
27.27
Santhush Gunathilake
not out
161
190
11
0
84.74
Shannon Fernando
c & b Shalinda Senevirathne
25
47
3
0
53.19
Ranmith Jayasena
st Sheran Fonseka b Ashen Daniel
3
13
0
0
23.08
Nipunaka Fonseka
b Lakshan Gamage
11
39
1
0
28.21
Shivan Perera
run out
12
16
2
0
75.00
Kanishka Maduwantha
not out
89
138
7
0
64.49
| | |
| --- | --- |
| Extras | 6 (b 3 , lb 0 , nb 2, w 1) |
| Total | 317/6 (79.0 Overs, RR: 4.01) |
| Bowling | O | M | R | W | Econ |
| --- | --- | --- | --- | --- | --- |
| Lakshan Gamage | 8.0 | 0 | 22 | 1 | 2.75 |
| Ashan De Alwis | 7.0 | 0 | 36 | 1 | 5.14 |
| Ashen Daniel | 23.0 | 2 | 65 | 2 | 2.83 |
| Dunith Wellalage | 14.0 | 1 | 59 | 0 | 4.21 |
| Shalinda Senevirathne | 18.0 | 1 | 66 | 1 | 3.67 |
| Johanne De Zilva | 7.0 | 0 | 58 | 0 | 8.29 |
| Shevon Daniel | 2.0 | 0 | 8 | 0 | 4.00 |