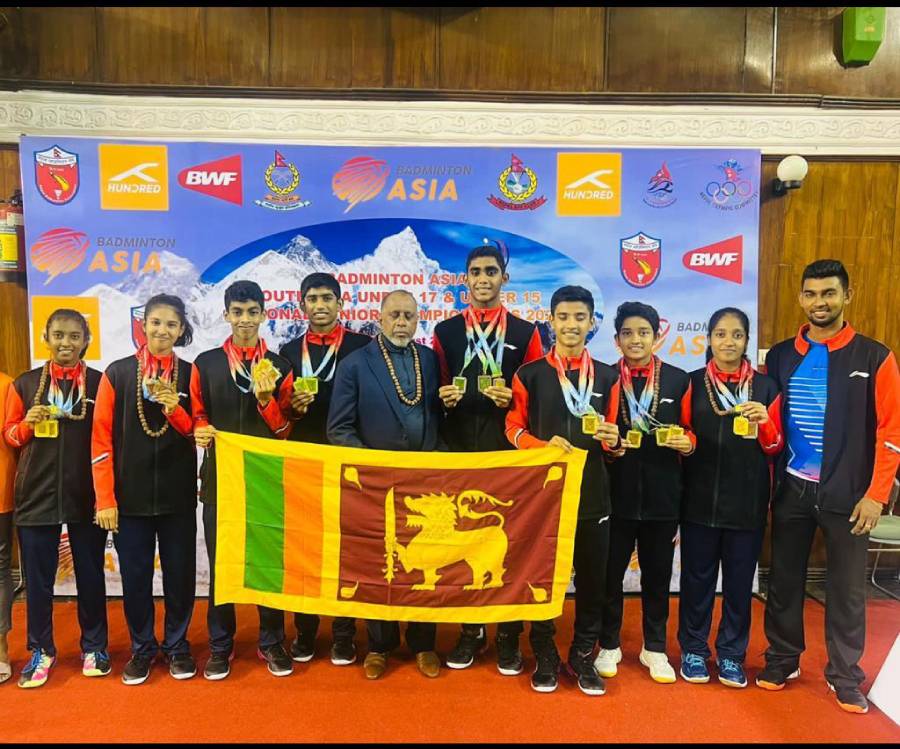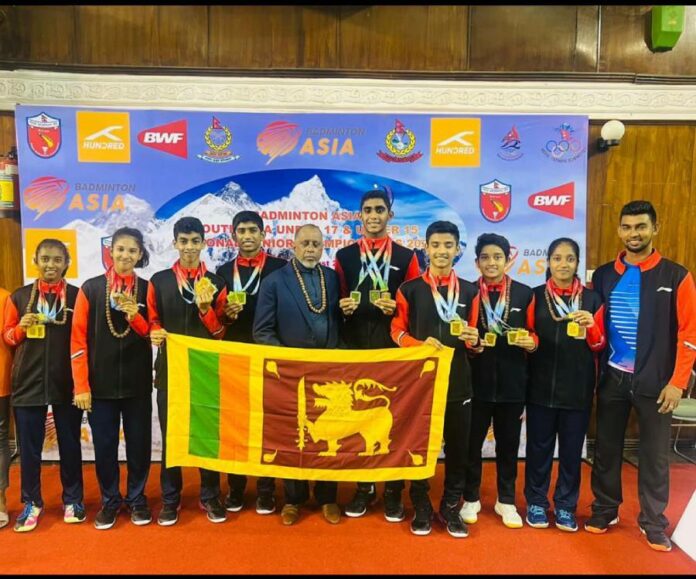 In a display of exceptional skill and determination, Sri Lankan Badminton players showcased their prowess at the Badminton Asia (South Asia) Regional Championships 2023 (Individual Event) held in Kathmandu, Nepal.  
The championship, organized by the Badminton World Federation (BWF) and Badminton Asia Confederation, saw Sri Lanka's shuttlers dominate the competition across various categories. The under-15 and under-17 Girls' singles categories were particularly impressive, with Sri Lankan players demonstrating their dominance in the finals. 
In an all-Sri Lankan Under-15 Singles final, Nethmi Ratnayake triumphed over Sithuli Ranasinghe with a convincing score of 21-13, 21-10.  
The Girls' Under-17 Singles final also witnessed another double victory for Sri Lanka, as Ranithma Liyanage secured the title by defeating compatriot Ranumi Manage with an impressive score of 21-6, 21-8. 
The Sri Lankan prowess extended to the doubles events as well. The Under-15 and Under-17 Mixed Doubles categories witnessed the country's duos seizing victory. In the Under-15 mixed doubles, Senuth Sethmitha Perera and Nethmi Ratnayake collaborated effectively to defeat their fellow Sri Lankan opponents Keneth Aruggoda and Sithuli Ranasinghe with a score of 21-20, 21-12.  
Meanwhile, in the Under-17 mixed doubles, Thidasa Weragoda and Ranithma Liyange secured their victory by triumphing over Hiruka Aluthpatabendige and Ranumi Manage with a score of 21-14, 21-16. 
The Boys' Under-15 doubles category added yet another feather to Sri Lanka's cap. Keneth Aruggoda and Senuth Sethmitha Perera displayed impeccable teamwork and determination as they managed to clinch a thrilling victory against Bangladesh's Mostakim Hossain and WaliUllah with a nail-biting score of 21-15, 19-21, 23-21. 
The Girls' Under-15 and Under-17 doubles categories witnessed Sri Lankan duos continuing their streak. Sithuli Ranasinghe and Nethmi Ratnayake collaborated seamlessly to secure victory in the Girls' Under-15 doubles final, defeating Nepal's Dilasha Rana and Rihanna Sherchan with a score of 21-12, 21-4. The Girls' Under-17 doubles final saw Ranumi Manage and Ranithma Liyanage overpowering their opponents, Ashath Zoya Hussain and Mohamed Shareef Shaiba from Maldives, with a dominating score of 21-6, 21-1. 
Among the other notable achievements, Thidasa Weragoda emerged as the runner-up in the Boys' Under-17 Singles category. Additionally, Sri Lankan players Keneth Aruggoda and Hiruka Aluthpatabendige secured third places in the Boys' Under-15 Singles and Boys' Under-17 Singles categories, respectively. The Boys' Under-17 Doubles category also saw a third-place finish by the duo of Hiruka Aluthpatabendige and Thidasa Weragoda. 
This remarkable performance by Sri Lankan shuttlers at the Badminton Asia Regional Championships 2023 came few days after the Under-15 and 17 boys and girls clinched titles at the Team Championships of the same tournament in Kathmandu on August 20.