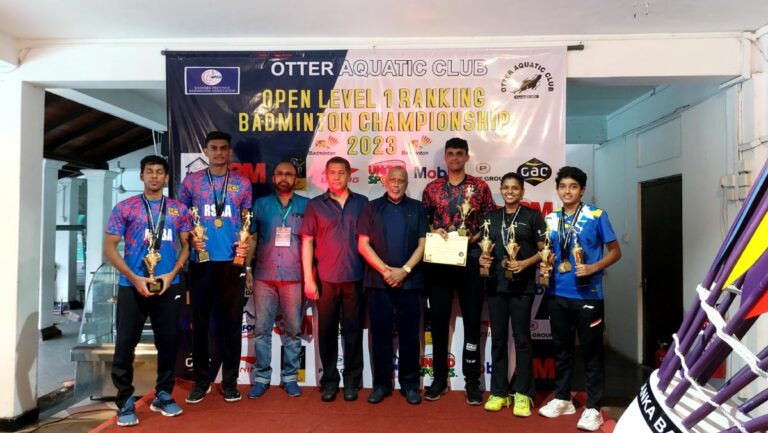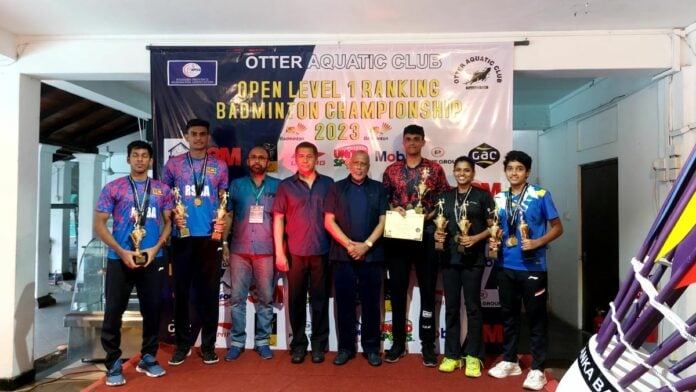 In an exhilarating display of skill and determination, Viren Nettasinghe and Ranithma Liyanage clinched the Men's and Women's Open Singles titles of the Otters Aquatic Club Open 2023, which came to a conclusion at the Club courts, Sri Lanka Badminton (SLB) and the Mercantile Badminton Association courts, on Sunday (18).
The tournament, organized jointly by Otters and Western Province Badminton Association and held under the auspices of Sri Lanka Badminton, witnessed some exceptional performances from the country's top badminton players.
The Men's Singles Final was a captivating encounter between Peterite Nettasinghe and Savinaka Weerasekara from the RSBA Academy. In a fiercely fought match, Nettasinghe emerged as the victor, showcasing his prowess on the court.
The Women's Singles Final witnessed an extraordinary display of skill and determination from SLB's Liyanage, who overcame the challenges posed by Varangana Himsarani Jayawardana from YBA to claim the title.
The Women's Doubles Final witnessed fierce competition as Liyanage and Kavidi Ishadika Sirimannage, both from SLB, displayed their exceptional skills and emerged victorious when they outplayed the duo of Anurangi Hansamali Masakorala and Vidara Suhasni Vidanage from SLIIT in a thrilling contest.
In the Men's Doubles Final, the crowd was treated to a battle of titans. Buwaneka Goonethilleka, partnered with Savinaka Weerasekara from the RSBA Academy, showcased their dominance on the court, triumphing over Lochana De Silva and Siyath Dulneth Senaratne from YBA.
The Mixed Doubles Final was a nail-biting encounter that kept spectators on the edge of their seats. Goonethilleka and Sirimannage, representing the Sri Lanka Army and SLB respectively, showcased their remarkable teamwork and defeated the formidable pair of Lochana and Nadeesha Gayanthi from HNB.
The winners were honoured with well-deserved accolades and certificates during a ceremony chaired by Sri Lanka Badminton President Rohan De Silva. The event was graced by the presence of officials from the Otter Aquatic Club Badminton Association and the President of the Western Province Badminton Association.