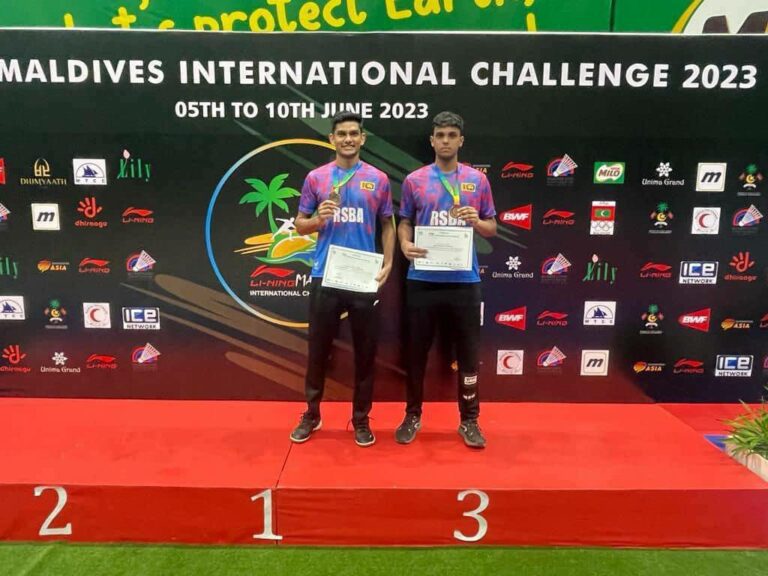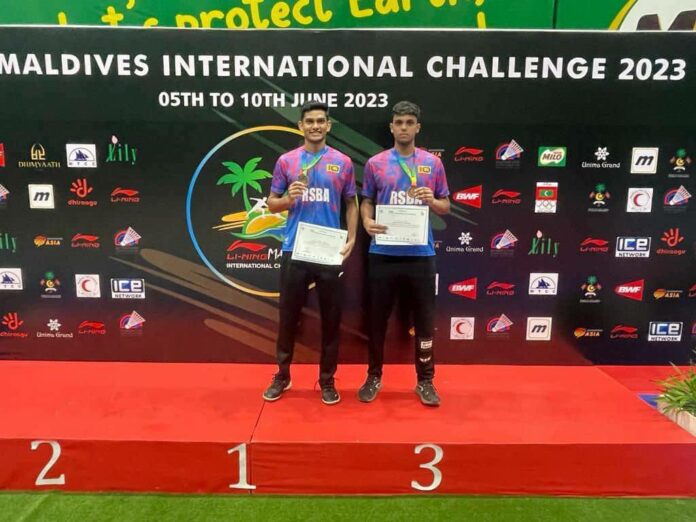 Sri Lanka's star shuttlers Buwaneka Goonethilleka and Viren Nettasinghe put up commendable performances against top opponents to clinch the Bronze medal in the Men's Doubles at the LI-NING Maldives International Challenge 2023, in Male, over the weekend.
After eliminating some of the best pairs in the tournament in the Maldivian capital, the duo lost to formidable Malaysian pair of Low Hang Yee and Masng Eng Cheong. Despite their best efforts, Goonethilleka and Nettasinghe were outmatched by their Malaysian opponents in the semi-final which ended with a score-line of 11-21, 10-21, favoring Yee and Cheong. The Malaysian World No. 98 pair eventually fell to Thailand's Pharanyu Kaosamaang and Thaworrapol Thongsa-Nga who went on to clinch the doubles title with a 21-19,21-16 win in the Final.
In the opening round of the tournament, Goonethilleka and Nettasinghe faced a formidable Indian pair, Deep Rambhiya and Akshan Shetty and displayed great resilience and determination, eventually securing a hard-fought victory with a score-line of 21-15, 13-21, 21-17.
Building on their initial success, Goonethilleka and Nettasinghe faced the Thai pair Pongsakorn Thongkham and Wongsathorn Thongkham in a nail-biting Round 2 encounter. The match went down to the wire, with both teams displaying incredible skill and tenacity and the Sri Lankan pair eventually emerged triumphant with a close score-line of 21-19, 17-21, 21-19.
Advancing to the quarter-finals, they faced the Canadian top seeds Kevin Lee and Ty Alexander Lindeman. The match proved to be an intense battle, with each pair fighting tooth and nail for every point. After an exhilarating three-game contest, the Sri Lankan pair emerged victorious with a final score of 15-21, 21-15, 21-19, securing their spot in the semifinals.
Although they fell short in the semifinals, Goonethilleka and Nettasinghe's performances throughout the LI-NING Maldives International Badminton Challenge 2023 were highly commendable as they displayed exceptional skill, determination, and sportsmanship.