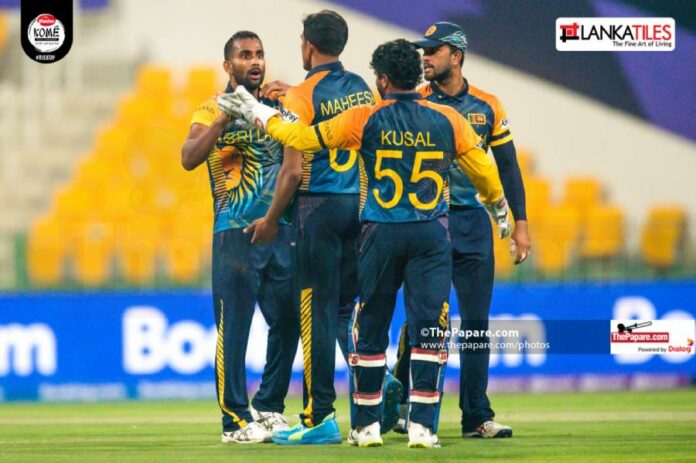 In the latest communication by the International Cricket Council (ICC), a minor rule affecting the Super 12 qualifications has been amended by the tournament organizers. Interestingly, this rule change will directly affect Sri Lanka's qualification group in the Super 12s.
In a previous press release published by ICC, it was announced that Sri Lanka and Bangladesh will be assigned A1 and B1 seedings (only if these teams manage to finish within the top 2 places of their groups) irrespective of where they finish in their respective groups.
The ICC Media release published in August 2021 said, "If Sri Lanka and Bangladesh qualify from the first round, they will retain the seedings of A1 and B1 respectively for the Super 12s. The top two teams from each group of the Super 12s will make the knockouts, the matchups being – A1 v B2 and B1 v A2,".
Read :
However according to the latest communication from the ICC, the previous seedings allocated for Sri Lanka and Bangladesh are redundant and the teams who will top Group A and Group B in Round 01 will retain the seedings as A1 and B1 while the runners up of the respective groups will be A2 & B2.
WATCH – "Chandimal is a fine player, Nissanka is a 'Work In Progress" – Mickey Arthur
The ICC Media release (2021/10/20) says, "The teams that finish top of the standings in Group A and Group B, will take the position of A1 and B1 in the Super 12s. Therefore, A2 and B2 will be taken by the second-place teams in each group respectively. It is not done on Round 1 group seedings."
This means that Sri Lanka are no longer assured of A1 seedings and they could either slot in Group 01 or Group 02 in the Super 12 Round according to their placings in Round 01.
If Sri Lanka finishes as the top team in Group A in Round 01, they will be grouped with Australia, South Africa, West Indies, England and B2 in the Super 12s while if they finish in 2nd place in Group A (Round 01), they will have to face India, Pakistan, Afghanistan, New Zealand and B1 in the Super 12s.
Since Bangladesh lost to Scotland in their Group B fixture, there's a chance that Sri Lanka and Bangladesh could end up in the same Super 12 group.
The islanders will be playing a crucial fixture against Ireland today (20th) and their final Round 01 fixture against Netherlands on the 22nd.
Keep it logged in to ThePapapre.com for all the latest updates, photos, news, videos and everything you need on the ongoing T20 World Cup.
>> Visit the ICC Men's T20 World Cup 2021 Hub <<