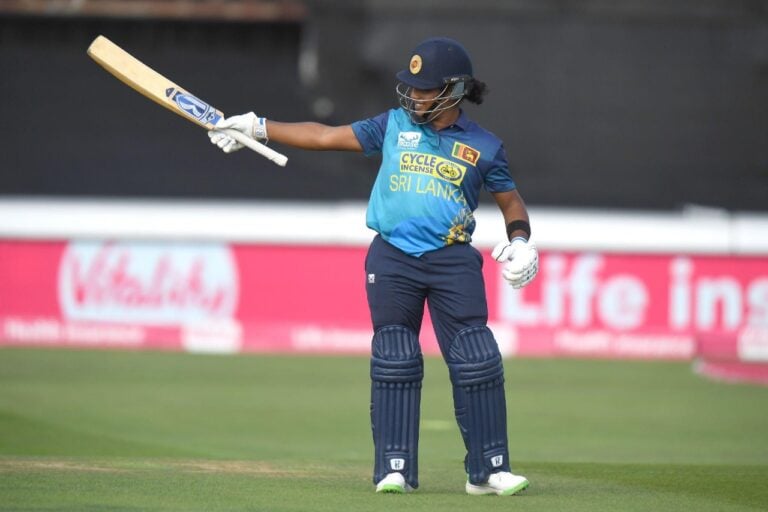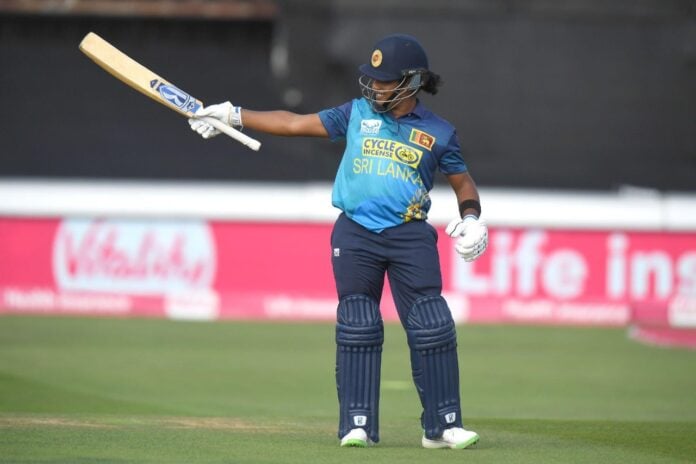 Sri Lanka Women registered a convincing 8-wicket win over England Women, their first ever T20I win against the side, in the second match of the 3-match series played today (2nd September) at Chelmsford. With this win, Sri Lanka managed to draw level the series, 1-1.
Having won the toss, Sri Lankan Skipper Chamari Athapaththu invited the opposition to take the first lease of the wicket. After a disappointing performance with the ball in the first T20I, Athapaththu asked for a better showing from her bowlers, and they duly delivered with an outstanding bowling effort.
Sri Lanka started off brilliantly with the ball as Athapaththu dismissed the dangerous Danni Wyatt for 1 run in the very first over of the innings. Sri Lanka never looked back from there onwards as they continued to pick up wickets at regular intervals, pushing the hosts onto the backfoot.
Udeshika Prabodhani, Inoshi Priyadarshani, Kavisha Dilhari and Inoka Ranaweera starred with the ball for the visitors, picking up 2 wickets each as England were skittled for just 104 runs.
Athapaththu then set the tone with the bat as well, crunching a 26-ball half-century to ensure there would be no wobbles in the run-chase. Athapaththu top-scored with a knock of 55 runs of 31 balls with 8 fours and 2 sixes as the visitors cruised to the target in the 14th over with 8 wickets in hand.
The third and final T20I match of the series will be played on the 6th of September at County Grounds, Derby.
Brief Scores
England Women – 104 (18) Charlie Dean 34, Inoshi Priyadharshani 2/16, Kavisha Dilhari 2/17, Udeshika Prabodhani 2/19, Inoka Ranaweera 2/25

Sri Lanka Women – 110/2 (13.2) Chamari Athapaththu 55, Harshitha Samarawickrama 30*, Vishmi Gunaratne 18*

Result – Sri Lanka Women won by 8 wickets


Batsmen
R
B
4s
6s
SR
Danni Wyatt
b Chamari Athapaththu
1
4
0
0
25.00
Maia Bouchier
c Kavisha Dilhari b Inoshi Priyadarshani
12
10
2
0
120.00
Alice Capsey
c Inoshi Priyadarshani b Kavisha Dilhari
3
9
0
0
33.33
Heather Knight
b Inoka Ranaweera
14
16
2
0
87.50
Amy Jones
lbw b Inoka Ranaweera
12
12
2
0
100.00
Freya Kemp
st Anushka Sanjeewani b Kavisha Dilhari
2
2
0
0
100.00
Danielle Gibson
c Inoka Ranaweera b Inoshi Priyadarshani
9
11
1
0
81.82
Charlie Dean
b Udeshika Prabodhani
34
26
4
0
130.77
Sarah Glenn
c Anushka Sanjeewani b Kavisha Dilhari
0
4
0
0
0.00
Issy Wong
b Udeshika Prabodhani
13
12
1
0
108.33
Kate Cross
not out
1
2
0
0
50.00
| | |
| --- | --- |
| Extras | 3 (b 0 , lb 0 , nb 0, w 3, pen 0) |
| Total | 104/10 (18 Overs, RR: 5.78) |
| Bowling | O | M | R | W | Econ |
| --- | --- | --- | --- | --- | --- |
| Chamari Athapaththu | 3 | 0 | 11 | 1 | 3.67 |
| Udeshika Prabodhani | 3 | 0 | 19 | 2 | 6.33 |
| Inoshi Priyadarshani | 4 | 0 | 16 | 2 | 4.00 |
| Sugandika Kumari | 2 | 0 | 16 | 1 | 8.00 |
| Inoka Ranaweera | 3 | 0 | 25 | 2 | 8.33 |
| Kavisha Dilhari | 3 | 0 | 17 | 2 | 5.67 |


Batsmen
R
B
4s
6s
SR
Chamari Athapaththu
c Kate Cross b Alice Capsey
55
31
0
0
177.42
Anushka Sanjeewani
c Charlie Dean b Danielle Gibson
1
4
0
0
25.00
Harshitha Samarawickrama
not out
30
35
0
0
85.71
Vishmi Gunaratne
not out
18
15
0
0
120.00
| | |
| --- | --- |
| Extras | 6 (b 0 , lb 0 , nb 5, w 1, pen 0) |
| Total | 110/2 (13.2 Overs, RR: 8.25) |
| Fall of Wickets | 1-3 (1) Harshitha Samarawickrama, 2-8 (2) Chamari Athapaththu, |
| Bowling | O | M | R | W | Econ |
| --- | --- | --- | --- | --- | --- |
| Kate Cross | 2.2 | 0 | 33 | 0 | 15.00 |
| Danielle Gibson | 1 | 0 | 9 | 1 | 9.00 |
| Charlie Dean | 2 | 0 | 19 | 0 | 9.50 |
| Issy Wong | 2 | 0 | 24 | 0 | 12.00 |
| Sarah Glenn | 3 | 0 | 11 | 0 | 3.67 |
| Alice Capsey | 3 | 0 | 14 | 1 | 4.67 |