Sri Lanka Wheelchair Tennis took the world by the wheels once again, winning the Kaohsiung Open Wheelchair Tennis Championship held in Chinese Taipei.
Watch their journey: යුධ විරුවන් දෙදෙනෙකුගේ නොනවතින මෙහෙයුම – On your Wheels – සිංහල Documentary
War veterans Suresh Dharmasena and R Ranaweera claimed the Men's Open Doubles Championship in this ITF 3 series tournament. Participation from world class wheelers were seen in the main draws of the tournament, but the Lankan duo overcame all obstacles to clinch the final in straight sets.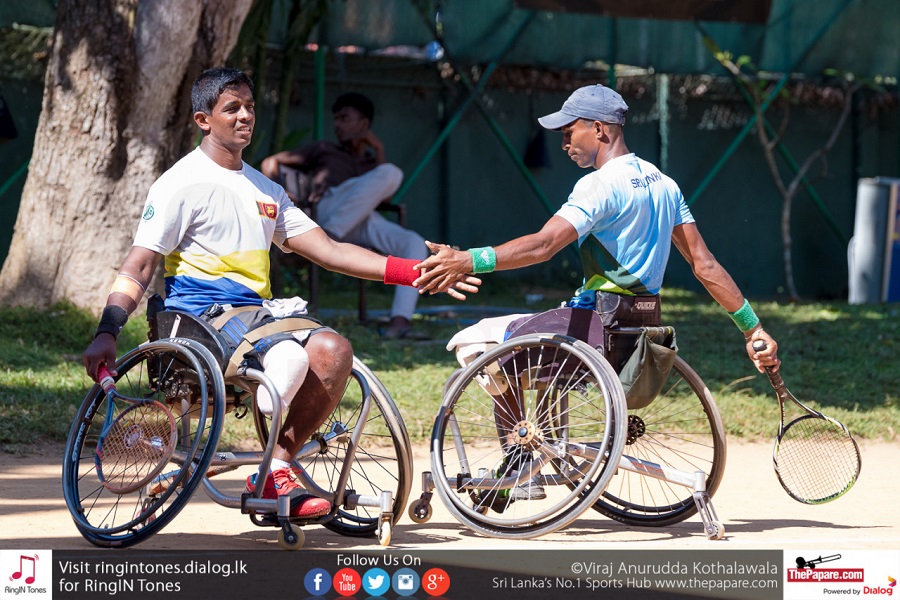 The pair faced a tough semifinal match against tournament bottom seeds Satoshi Saida and Hiroyuki Takeda of Japan who leveled sets and pushed the match into a third super tie break set. Sri Lanka came up on top after the 10-point battle scoring 10 points to Japan's 5.
5-time Sri Lanka National champion and former Davis Cup player, Dineshkanthan …
The final between the tournament top seeds was a simpler task for Ranaweera and Dharmasena. They took on another pair from Japan, Daisuke Arai and Yoshinobu Fujimoto. The final score was a clean straight set victory of 7/5, 6/3.
Suresh Dharmasena tried his hand in the Men's Open Singles event but fell one victory short of gold. Making his way to the semifinal stage he was faced with tournament top seeds Yoshinobu Fujimoto.
Defeating Fojimoto in straight 7/5, 6/2 sets, Dharmasena reached the final to play Suthi Khlongrua of Thailand. In an unfortunate turn of events, Dharmasena fell short (6/2, 7/5) at the hands of Khlongrua and had to settle with a runner-up finish.
>>Click here for all things Tennis<<