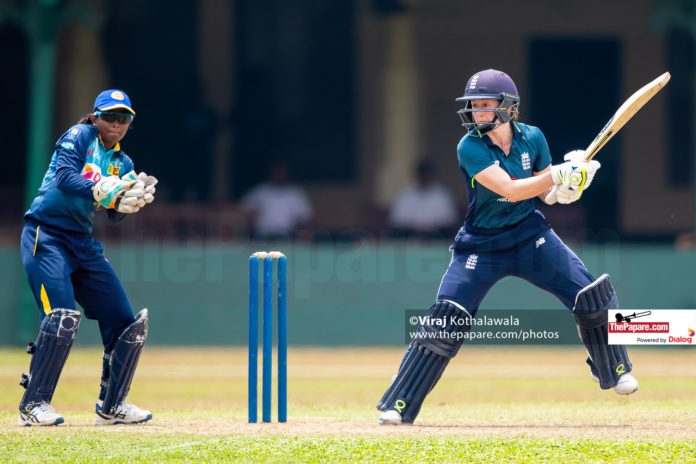 Amy Jones registered her 3rd half century in as many games, as the visiting English swept the 3 match Women's Championship series against Sri Lanka 3-0, at the Marians Cricket Grounds in Katunayake earlier today.
England needed just 26.1 overs to chase down the 174 set by Sri Lanka, as Jones and her partner at the top of the order, Tammy Beaumont put on 127 for the 1st wicket.
The 2nd Women's Championship ODI between Sri Lanka and England concluded at the Mahinda Rajapakse International Cricket…
It was a characteristically laborious effort with the bat by the hosts after skipper Chamari Atapattu won the toss and elected to set a target for England. The visitors have found a way to keep Atapattu quiet and without the left hander making any sort of significant contribution with the bat, her team which relies largely on her for runs, has struggled.
Today was no different as Kate Cross saw to both openers early on and Sri Lanka found themselves in the all too familiar position of being unable to get enough runs on the board, despite batting out their overs.
Photos: Sri Lanka Women vs England Women | 3rd ODI
Youngsters Harshitha Samarawickrama (42) and Hansima Karunaratne (28), who have had a decent series, once again managed to resurrect the Lankan innings somewhat, while OShadi Ranasinghe hit a few boundaries at the death to take Sri Lanka to 174.
All the English bowlers used by skipper Heather Knight returned good figures, with Cross, Anya Schrubsole and Alex Hartley picking up 2 wickets apiece.
Nat Sciver smoked a 73-ball 93, before Katherine Brunt tore through Sri Lanka's top order to hand the touring English side…
Sri Lanka have not looked penetrative with the ball and they struggled to counter the English openers once again. The duo took the hosts to the cleaners, cantering to 127 in just over 18 overs. The dismissal of Jones and then Beaumont didn't slow the visitors down as they got home with nearly half their overs to spare.
Shashikala Siriwardene was the only Lankan bowler amongst the wickets, but by the time she struck, England were well on their way to finishing up the run-chase.
With the win, England secured 2 more points to their ICC Women's Championship campaign, making it a total of 6 from this series. They have now moved to Number 2 on the table, behind Australia. Sri Lanka remain in 8th spot.
// var socket=io('http://localhost:8080'); var socket=io('http://202.124.184.250:8080');
jQuery( document ).ready(function() { console.log( "ready" ); var prev_bat_team = 0;
socket.on('message',function (message) { message = JSON.parse(message); console.log(message); if( message.data.cric.commentary){ jQuery('#cmt_wrap').prepend('
'+message.data.cric.commentary.event+'
'+message.data.cric.commentary.comment+'
'); } if(message.data.cric.match){ console.log(message.data.cric.match.teams_1_inn2_r[0]); function ove(balls) { var overs = 0; if(balls %6 == 0){ overs = balls/6; }else{ overs = parseInt(balls/6)+"."+(+balls - +parseInt(balls/6)*6); } console.log(overs); return overs; }
if(!message.data.cric.match.teams_1_inn2_r[0]){
jQuery('#score_1_'+message.data.cric.match.teams_1_r[0]['id']).html(message.data.cric.match.teams_1_r[0]['score'] + " / " + message.data.cric.match.teams_1_r[0]['wkts']); jQuery('#over_1_'+message.data.cric.match.teams_1_r[0]['id']).html("("+ove(message.data.cric.match.teams_1_r[0]['balls'])+" overs)"); }else { jQuery('#score_1_'+message.data.cric.match.teams_1_r[0]['id']).html(message.data.cric.match.teams_1_r[0]['score'] + " / " + message.data.cric.match.teams_1_r[0]['wkts']+" & "+message.data.cric.match.teams_1_inn2_r[0]['score']+" / "+message.data.cric.match.teams_1_inn2_r[0]['wkts']); jQuery('#over_1_'+message.data.cric.match.teams_1_r[0]['id']).html("("+ove(message.data.cric.match.teams_1_inn2_r[0]['balls'])+" overs)"); } if(!message.data.cric.match.teams_2_inn2_r[0]){
jQuery('#score_2_'+message.data.cric.match.teams_2_r[0]['id']).html(message.data.cric.match.teams_2_r[0]['score'] + " / " + message.data.cric.match.teams_2_r[0]['wkts']); jQuery('#over_2_'+message.data.cric.match.teams_2_r[0]['id']).html("("+ove(message.data.cric.match.teams_2_r[0]['balls'])+" overs)"); }else { jQuery('#score_2_'+message.data.cric.match.teams_2_r[0]['id']).html(message.data.cric.match.teams_2_r[0]['score'] + " / " + message.data.cric.match.teams_2_r[0]['wkts']+" & "+message.data.cric.match.teams_2_inn2_r[0]['score']+" / "+message.data.cric.match.teams_2_inn2_r[0]['wkts']); jQuery('#over_2_'+message.data.cric.match.teams_2_r[0]['id']).html("("+ove(message.data.cric.match.teams_2_inn2_r[0]['balls'])+" overs)"); }
if(message.data.cric.match.teams_1_r[0]['extras']!=null){ jQuery('#extras_1_r_'+message.data.cric.match.teams_1_r[0]['id']).html("("+ove(message.data.cric.match.teams_1_r[0]['extras'])); } if(message.data.cric.match.teams_2_r[0]['extras']!=null){ jQuery('#extras_2_r_'+message.data.cric.match.teams_1_r[0]['id']).html("("+ove(message.data.cric.match.teams_2_r[0]['extras'])); } if(message.data.cric.match.teams_1_inn2_r[0]['extras']!=null){ jQuery('#extras_1_r_2_'+message.data.cric.match.teams_1_inn2_r[0]['id']).html("("+ove(message.data.cric.match.teams_1_inn2_r[0]['extras'])); } if(message.data.cric.match.teams_2_inn2_r[0]['extras']!=null){ jQuery('#extras_1_r_2_'+message.data.cric.match.teams_2_inn2_r[0]['id']).html("("+ove(message.data.cric.match.teams_2_inn2_r[0]['extras'])); }
//extras_1_r_2_ // if(prev_bat_team != message.data.cric.team_id){ jQuery('#widget_wrapper').load(document.URL + ' #widget_wrapper'); // } // prev_bat_team = message.data.cric.team_id // }
}); });
ENGW won by 8 wickets
Sri Lanka Women's Innings
Batting
R
B
Hasini Perera
b Cross
4
14
Chamari Athapatthu
lbw by Cross
6
29
Anushka Sanjeewani
c Marsh b Hartley
15
37
Shashikala Siriwardena
c Wilson b Marsh
11
20
Harshitha Madavi
c & b Hartley
42
72
Hansima Karunarathne
lbw by Shrubsole
28
54
Nilakshi de Silva
(runout) Jones
18
26
Oshadi Ranasinghe
(runout) Knight
29
25
Achini Kulasuriya
not out
8
15
Sugandika Kumari
b Shrubsole
3
7
Inoshi Priyadarshani
(runout) Jones
1
2
Extras
9 (lb 1, nb 1, w 7)
Fall of Wickets:
1-6 (GWHM Perera, 3.4 ov), 2-18 (AC Jayangani, 9.5 ov), 3-33 (HASD Siriwardene, 14.5 ov), 4-52 (MAA Sanjeewani, 19.3 ov), 5-105 (H Karunaratne, 35.2 ov), 6-127 (H Madavi, 40.2 ov), 7-162 (OU Ranasinghe, 45.4 ov), 8-162 (NND de Silva, 45.6 ov), 9-170 (BMSM Kumari, 49.2 ov), 10-174 (SIP Fernando, 49.6 ov)
| Bowling | O | M | R | W | E |
| --- | --- | --- | --- | --- | --- |
| A Shrubsole | 9 | 1 | 30 | 2 | 3.33 |
| KL Cross | 10 | 1 | 25 | 2 | 2.50 |
| LA Marsh | 10 | 1 | 41 | 1 | 4.10 |
| NR Sciver | 7 | 2 | 22 | 0 | 3.14 |
| A Hartley | 8 | 0 | 39 | 2 | 4.88 |
| HC Knight | 6 | 0 | 16 | 0 | 2.67 |
England Women's Innings
Batting
R
B
AE Jones
b S Siriwardene
76
58
TT Beaumont
b S Siriwardene
63
66
L Winfield
not out
29
28
HC Knight
not out
3
5
Fall of Wickets:
1-127 (AE Jones, 18.1 ov), 2-164 (TT Beaumont, 24.1 ov)
| Bowling | O | M | R | W | E |
| --- | --- | --- | --- | --- | --- |
| Achini Kulasuriya | 5 | 1 | 17 | 0 | 3.40 |
| Inoshi Priyadarshani | 3 | 1 | 21 | 0 | 7.00 |
| Oshadi Ranasinghe | 1 | 0 | 10 | 0 | 10.00 |
| Hansima Karunarathne | 1 | 0 | 10 | 0 | 10.00 |
| Sugandika Kumari | 7 | 0 | 45 | 0 | 6.43 |
| Shashikala Siriwardene | 7.1 | 0 | 56 | 2 | 7.89 |
| Chamari Athapatthu | 2 | 0 | 15 | 0 | 7.50 |