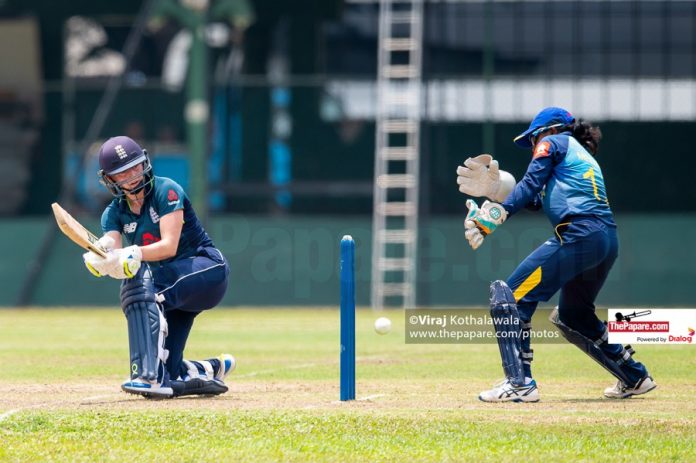 The 2nd Women's Championship ODI between Sri Lanka and England concluded at the Mahinda Rajapakse International Cricket Stadium, Suriyawewa earlier today. England won the game by 6 wickets, thereby taking an unassailable 2-0 lead in the 3-match series.
It was an all-round performance from the visitors once again, as the bowlers set the game up, restricting Sri Lanka to 187/9 in their 50 overs before the batters cruised to the target in 33.3 overs.
Nat Sciver smoked a 73-ball 93, before Katherine Brunt tore through Sri Lanka's top order to hand the touring English side a
Sri Lanka got off to a decent start after skipper Chamari Atapattu won the toss and elected to bat first. England had posted 319 in the previous game at the same venue and Sri Lanka would have hoped that they could get close to that kind of total when they took first lease of the track.
Despite not picking up a wicket within the 1st powerplay, the English bowlers kept things tight and did not allow the hosts to get away with things. The pressure created by the opening quicks Anya Schrubsole and Kate Cross was capitalized on by Laura Marsh, who came on as first change, as the off-spinner accounted for both Lankan openers Prasadini Weerakkody and Atapattu within a couple of overs of coming into the attack.
ThePapare.com | Viraj Kothalawala | 13/03/2019 Editing and re-using images without permission of ThePapare.com
Sri Lanka lost wickets at regular intervals, before youngsters Harshitha Samarawickrama (42) and Hansima Karunaratne (28) came together to put on a 72-run partnership for the 5th wicket. The duo had also stood out during the practice game, where the former scored a half century. Sri Lanka were not really allowed to get going at any stage of the game and a couple of wickets in the last over by Alex Hartly saw them finish on 187.
Tammy Beaumont and Amy Jones got the visitors off to the perfect start, cantering to 69 within the 1st 10 overs. Sri Lanka never really looked threatening and although they picked up 4 wickets, England got home comfortably, with 99 deliveries remaining.
With the win, England are now 2-0 ahead in the series, with one game to come – on the 21st of March at the Marians Cricket Club Grounds in Katunayake.
ENGW won by 6 wickets
Sri Lanka Women's Innings
Batting
R
B
Prasadini Weerakkody
c Jones b Marsh
17
41
Chamari Athapatthu
c Winfield b Marsh
22
45
Anushka Sanjeewani
b Hartley
14
33
Shashikala Siriwardena
c Scriver b Shrubsole
13
34
Harshitha Madavi
c Knight b Shrubsole
42
46
Hansima Karunarathne
(runout) Jones
28
60
Nilakshi de Silva
c Wilson b Hartley
19
21
Oshadi Ranasinghe
lbw by Cross
10
16
Achini Kulasuriya
c Cross b Hartley
5
4
Inoshi Priyadarshani
not out
0
0
Extras
17 (b 2, lb 8, w 7)
Fall of Wickets:
1-41 (PM Weerakkody, 12.6 ov), 2-47 (AC Jayangani, 14.3 ov), 3-71 (MAA Sanjeewani, 23.6 ov), 4-73 (HASD Siriwardene, 26.3 ov), 5-145 (H Karunaratne, 42.4 ov), 6-149 (H Madavi, 43.6 ov), 7-172 (OU Ranasinghe, 48.3 ov), 8-187 (WGAKK Kulasuriya, 49.5 ov), 9-187 (NND de Silva, 49.6 ov)
| Bowling | O | M | R | W | E |
| --- | --- | --- | --- | --- | --- |
| A Shrubsole | 10 | 4 | 21 | 2 | 2.10 |
| KL Cross | 9 | 2 | 40 | 1 | 4.44 |
| LA Marsh | 10 | 0 | 42 | 2 | 4.20 |
| NR Sciver | 7 | 0 | 19 | 0 | 2.71 |
| A Hartley | 10 | 0 | 36 | 3 | 3.60 |
| HC Knight | 4 | 0 | 19 | 0 | 4.75 |
England Women's Innings
Batting
R
B
AE Jones
c Fernando b Ranasinghe
54
39
TT Beaumont
b Fernando
43
60
L Winfield
c Ranaweera b Fernando
44
41
HC Knight
not out
20
31
NR Sciver
lbw by Fernando
6
14
DN Wyatt
not out
13
16
Fall of Wickets:
1-69 (AE Jones, 9.6 ov), 2-139 (TT Beaumont, 22.1 ov), 3-152 (L Winfield, 24.4 ov), 4-160 (NR Sciver, 28.1 ov)
| Bowling | O | M | R | W | E |
| --- | --- | --- | --- | --- | --- |
| Achini Kulasuriya | 4 | 0 | 17 | 0 | 4.25 |
| Inoshi Priyadarshani | 9 | 0 | 45 | 3 | 5.00 |
| Oshadi Ranasinghe | 6.3 | 0 | 41 | 1 | 6.51 |
| Inoka Ranaweera | 8 | 0 | 50 | 0 | 6.25 |
| Hansima Karunarathne | 2 | 0 | 5 | 0 | 2.50 |
| Shashikala Siriwardene | 3 | 0 | 25 | 0 | 8.33 |
| Nilakshi de Silva | 1 | 0 | 5 | 0 | 5.00 |