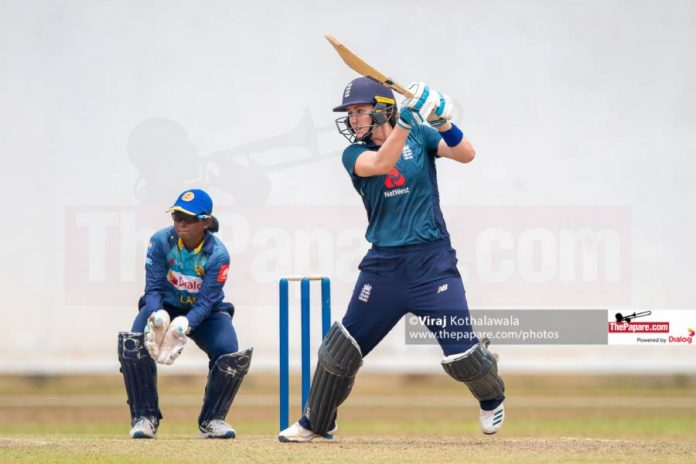 Nat Sciver smoked a 73-ball 93, before Katherine Brunt tore through Sri Lanka's top order to hand the touring English side a comfortable 154-run win (D/L Method) in the rain-affected 1st ICC Women's Championship ODI against Sri Lanka, at the Mahinda Rajapakse International Cricket Stadium in Suriyawewa.
Sri Lanka skipper Chamari Atapattu won the toss and elected to field first, but it was the English who got off to a great start – openers Amy Jones and Tammy Beaumont putting on 114 in just over 20 overs. Oshadi Ranasinghe broke the partnership when she had Beaumont caught by Atapattu and two more quick wickets, courtesy run-outs pulled things back for Sri Lanka but another 100+ run partnership between English skipper Heather Knight and Nat Sciver saw the visitors take the upper hand once again.
Knight perished after making a half century by Danielle Wyatt and Sciver provided some late fireworks to see England finish with 331 in their 50 overs.
Heather Knight, Amy Jones and Lauren Winfield powered the England Women's…
Inoka Ranaweera and Shashikala Siriwardene were the only two bowlers who were able to keep things tight in the middle, with all the other bowlers used by Atapattu going at over 7 runs an over – Ranasinghe picked up 2 wickets for 71 runs.
Coming into bat with a target of 332 before them, Sri Lanka needed a miracle – unfortunately it wasn't to be as they lost 5 wickets within the 1st powerplay and a 6th soon after, falling to 38/6 in the 12th over.
Chamari Atapattu was left to fight a lone battle yet again and she perished for a boundary laden 30 before Ranasinghe and Nilakshi de Silva stitched together a partnership of 88 runs, to ensure that Sri Lanka got to triple figures.
Rain came at the end of the 35th over and when things resumed, Sri Lanka were left needing 186 runs in 5 overs.
Oshadi Ranasinghe finished with a career best 51.
The two teams will face off in the 2nd ODI on the 19th of March at the same venue.
// var socket=io('http://localhost:8080'); var socket=io('http://202.124.184.250:8080');
jQuery( document ).ready(function() { console.log( "ready" ); var prev_bat_team = 0;
socket.on('message',function (message) { message = JSON.parse(message); console.log(message); if( message.data.cric.commentary){ jQuery('#cmt_wrap').prepend('
'+message.data.cric.commentary.event+'
'+message.data.cric.commentary.comment+'
'); } if(message.data.cric.match){ console.log(message.data.cric.match.teams_1_inn2_r[0]); function ove(balls) { var overs = 0; if(balls %6 == 0){ overs = balls/6; }else{ overs = parseInt(balls/6)+"."+(+balls - +parseInt(balls/6)*6); } console.log(overs); return overs; }
if(!message.data.cric.match.teams_1_inn2_r[0]){
jQuery('#score_1_'+message.data.cric.match.teams_1_r[0]['id']).html(message.data.cric.match.teams_1_r[0]['score'] + " / " + message.data.cric.match.teams_1_r[0]['wkts']); jQuery('#over_1_'+message.data.cric.match.teams_1_r[0]['id']).html("("+ove(message.data.cric.match.teams_1_r[0]['balls'])+" overs)"); }else { jQuery('#score_1_'+message.data.cric.match.teams_1_r[0]['id']).html(message.data.cric.match.teams_1_r[0]['score'] + " / " + message.data.cric.match.teams_1_r[0]['wkts']+" & "+message.data.cric.match.teams_1_inn2_r[0]['score']+" / "+message.data.cric.match.teams_1_inn2_r[0]['wkts']); jQuery('#over_1_'+message.data.cric.match.teams_1_r[0]['id']).html("("+ove(message.data.cric.match.teams_1_inn2_r[0]['balls'])+" overs)"); } if(!message.data.cric.match.teams_2_inn2_r[0]){
jQuery('#score_2_'+message.data.cric.match.teams_2_r[0]['id']).html(message.data.cric.match.teams_2_r[0]['score'] + " / " + message.data.cric.match.teams_2_r[0]['wkts']); jQuery('#over_2_'+message.data.cric.match.teams_2_r[0]['id']).html("("+ove(message.data.cric.match.teams_2_r[0]['balls'])+" overs)"); }else { jQuery('#score_2_'+message.data.cric.match.teams_2_r[0]['id']).html(message.data.cric.match.teams_2_r[0]['score'] + " / " + message.data.cric.match.teams_2_r[0]['wkts']+" & "+message.data.cric.match.teams_2_inn2_r[0]['score']+" / "+message.data.cric.match.teams_2_inn2_r[0]['wkts']); jQuery('#over_2_'+message.data.cric.match.teams_2_r[0]['id']).html("("+ove(message.data.cric.match.teams_2_inn2_r[0]['balls'])+" overs)"); }
if(message.data.cric.match.teams_1_r[0]['extras']!=null){ jQuery('#extras_1_r_'+message.data.cric.match.teams_1_r[0]['id']).html("("+ove(message.data.cric.match.teams_1_r[0]['extras'])); } if(message.data.cric.match.teams_2_r[0]['extras']!=null){ jQuery('#extras_2_r_'+message.data.cric.match.teams_1_r[0]['id']).html("("+ove(message.data.cric.match.teams_2_r[0]['extras'])); } if(message.data.cric.match.teams_1_inn2_r[0]['extras']!=null){ jQuery('#extras_1_r_2_'+message.data.cric.match.teams_1_inn2_r[0]['id']).html("("+ove(message.data.cric.match.teams_1_inn2_r[0]['extras'])); } if(message.data.cric.match.teams_2_inn2_r[0]['extras']!=null){ jQuery('#extras_1_r_2_'+message.data.cric.match.teams_2_inn2_r[0]['id']).html("("+ove(message.data.cric.match.teams_2_inn2_r[0]['extras'])); }
//extras_1_r_2_ // if(prev_bat_team != message.data.cric.team_id){ jQuery('#widget_wrapper').load(document.URL + ' #widget_wrapper'); // } // prev_bat_team = message.data.cric.team_id // }
}); });
ENGW won by 154 runs (D/L)
England Women's Innings
Batting
R
B
AE Jones
(runout) Siriwardane
79
71
TT Beaumont
c Jayangani b Ranasinghe
35
53
L Winfield
(runout) Madavi
2
8
HC Knight
c Madavi b Ranasinghe
61
66
NR Sciver
c Madavi b Jayangani
93
73
DN Wyatt
(runout) Karunarathne
47
26
FC Wilson
(runout) Madavi
8
3
KH Brunt
not out
0
0
Extras
6 (b 2, lb 3, w 1)
Fall of Wickets:
1-114 (TT Beaumont, 20.1 ov), 2-118 (AE Jones, 21.6 ov), 3-118 (L Winfield, 22.2 ov), 4-231 (HC Knight, 41.2 ov), 5-321 (DN Wyatt, 48.6 ov), 6-331 (FC Wilson, 49.5 ov), 7-331 (NR Sciver, 49.6 ov)
| Bowling | O | M | R | W | E |
| --- | --- | --- | --- | --- | --- |
| Udeshika Prabodhani | 7 | 1 | 60 | 0 | 8.57 |
| Inoka Ranaweera | 10 | 0 | 50 | 0 | 5.00 |
| Oshadi Ranasinghe | 10 | 0 | 71 | 2 | 7.10 |
| Harshitha Madavi | 1 | 0 | 9 | 0 | 9.00 |
| Shashikala Siriwardene | 10 | 0 | 42 | 0 | 4.20 |
| Chamari Athapatthu | 10 | 0 | 75 | 1 | 7.50 |
| Hansima Karunarathne | 2 | 0 | 19 | 0 | 9.50 |
Sri Lanka Women's Innings
Batting
R
B
Anushka Sanjeewani
c Beaumont b Brunt
0
3
Chamari Athapatthu
c Knight b Cross
30
45
Prasadini Weerakkody
lbw by Shrubsole
4
5
Shashikala Siriwardena
c Shrubsole b Brunt
0
6
Harshitha Madavi
c & b Brunt
3
8
Hasini Perera
(runout) Cross
0
2
Hansima Karunarathne
(runout) Wyatt
4
11
Nilakshi de Silva
c Jones b Cross
45
78
Oshadi Ranasinghe
not out
51
72
Udeshika Prabodhani
not out
7
12
Extras
15 (lb 7, nb 2, w 6)
Fall of Wickets:
1-0 (MAA Sanjeewani, 0.3 ov), 2-15 (PM Weerakkody, 3.1 ov), 3-16 (HASD Siriwardene, 4.4 ov), 4-20 (H Madavi, 6.4 ov), 5-21 (GWHM Perera, 7.2 ov), 6-38 (H Karunaratne, 11.4 ov), 7-46 (AC Jayangani, 13.3 ov), 8-134 (NND de Silva, 36.1 ov)
| Bowling | O | M | R | W | E |
| --- | --- | --- | --- | --- | --- |
| KH Brunt | 7 | 1 | 24 | 3 | 3.43 |
| A Shrubsole | 7 | 1 | 9 | 1 | 1.29 |
| LA Marsh | 8 | 1 | 33 | 0 | 4.13 |
| KL Cross | 7 | 0 | 33 | 2 | 4.71 |
| DN Wyatt | 5 | 0 | 22 | 0 | 4.40 |
| HC Knight | 6 | 1 | 31 | 0 | 5.17 |