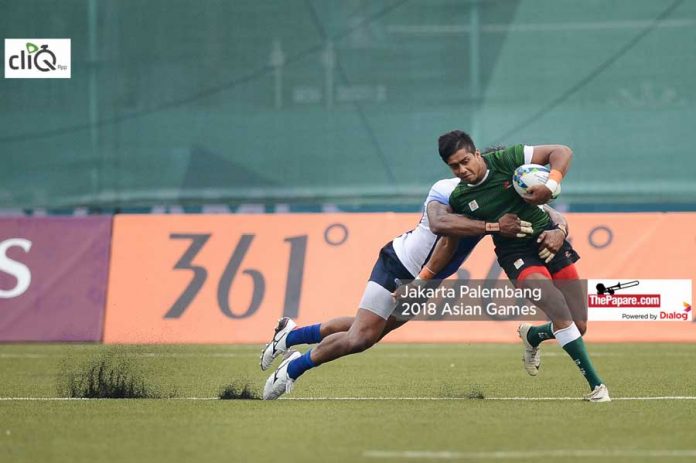 An early try by the Sevens specialist and speedster Kevin Dixon, who opened the scoring in the 1st minute for Sri Lanka, gave the Tuskers a perfect start. But something seemed off for Sri Lanka, comparing to their match-winning performance against Korea in the first match.
The Lankans were a tad bit over-confident which allowed the Chinese Taipei attackers to force the Tuskers to commit errors. Pouncing on every opportunity that came their way, Chinese Taipei scored two quick tries and snatched the lead off Sri Lanka.
However, the outstanding young player, Janidu Dilshan managed to sprint his way over to the whitewash at the brink of half time, giving his side a two point lead.
The second half got underway as Sri Lanka continued their out-of-form like pattern of play. But, after coach Matt Lee made a few substitutions, things began to change. The fresh legs in the park showed a sense of urgency as Janidu Dilshan scored his second try of the game after he was put into space.
Sudaraka Dikkumbura made a dashing break in the near corner with his first touch and sprinted a good 45 meters before he offloaded to Jason Dissanayake who jotted the ball down and extended Sri Lanka's lead.
But, Chinese Taipei didn't give up. They were counter attacking and hitting every gap in front of them. As a result, with just a few seconds remaining on the clock, the men in blue scored a brilliant try as the game came to a close.
With this win Sri Lanka has most definitely secured a spot in the Cup semi-final where they will most probably meet arch rivals Hong Kong.
However, if Sri Lanka miraculously manages to beat Japan tomorrow, they will then face China in the semis.
The Tuskers will take on Japan in their final group stage game tomorrow at 10.04 am.