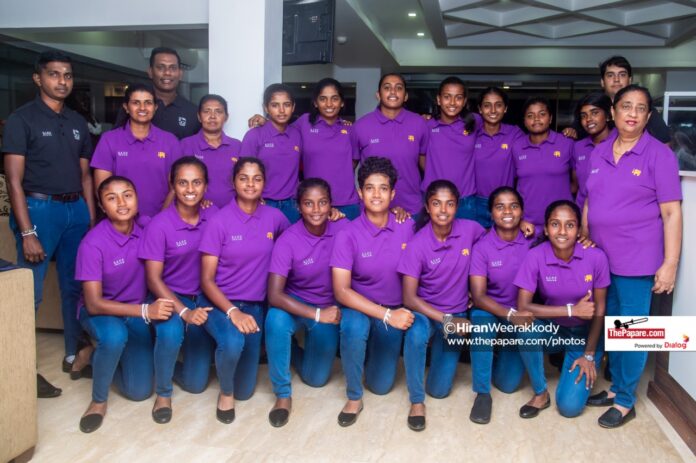 Sri Lanka Women's Under 19 team faced India Women's Under 19 A today in their final round one fixture of the quadrangular tournament. A 77-run loss saw Sri Lanka eliminated from the series as the two host teams India A and India B qualified for the finals.
Sri Lankan skipper Vishmi Gunaratne who won the toss, asked India A to bat first. India A skipper Shweta Sehrawat and Soumya Tiwari attacked the young Lankan bowlers from the word go and compiled a fantastic stand of 116 for the 1st wicket in just 13.4 overs. Sehrawat, who was the aggressor, scored 68 off 46 before getting dismissed. The wicket of Sehrawat was the only moment to celebrate for the Sri Lankan team as no more wickets fell in the India A innings. Soumya Tiwary, who played more of an anchor role, scored an unbeaten 65 off 54 deliveries while Sonia Mendhiya provided India A with a strong finish scoring 34 off just 20 balls. Thanks to these 3 knocks India A finished on 175 for the loss of 1 wicket. Manudi Nanayakkara was the only wicket taker for Sri Lanka taking 1 for 43.
In reply, the Sri Lankan batters couldn't keep up with the required rate as the Indian bowlers didn't give them any room to free their arms. Chasing 176, Sri Lanka A could only muster 98 runs after losing 9 wickets in their 20 overs. Manudi Nanayakkara was the only batter who showed some intent for Sri Lanka, scoring 35 off 27 balls which included 2 maximums. Sonam Yadav and Archana Devi were the chief architects in restricting Sri Lanka to 98; the two bowlers took 3 for 13 and 3 for 17 respectively.
With this result, Sri Lanka ended the quadrangular series with 1 win in 3 games and unfortunately fell short of qualifying for the finals. With less than 2 months to go for the Under 19 Women's T20 World Cup, it will be interesting to see what the future holds for the Sri Lankan side. Stay tuned to ThePapare.Com for all the latest news from the Sri Lankan U19 Women's Team.


Batsmen
R
B
4s
6s
SR
Soumya Tiwari
not out
65
54
7
1
120.37
Shweta Sehrawat
c Dulanga Dissanayke b Manudi Nanayakkara
68
46
11
1
147.83
Sonia Mendhiya
not out
34
20
2
2
170.00
| | |
| --- | --- |
| Extras | 8 (b 1 , lb 0 , nb 0, w 7, pen 0) |
| Total | 175/1 (20 Overs, RR: 8.75) |
| Bowling | O | M | R | W | Econ |
| --- | --- | --- | --- | --- | --- |
| Pamoda Shaini | 3 | 0 | 19 | 0 | 6.33 |
| Rashmi Nethranjali | 3 | 0 | 21 | 0 | 7.00 |
| Vihara Sewwandi | 3 | 0 | 31 | 0 | 10.33 |
| Vidushika Perera | 4 | 0 | 34 | 0 | 8.50 |
| Dewmi Vihanga | 3 | 0 | 26 | 0 | 8.67 |
| Manudi Nanayakkara | 4 | 0 | 43 | 1 | 10.75 |


Batsmen
R
B
4s
6s
SR
Vishmi Gunarathne
b Archana Devi
18
24
2
1
75.00
Sumudu Nisansala
b Titas Sadhu
4
4
1
0
100.00
Nethmi Senarathna
c Soumya Tiwari b Sonam Yadav
14
24
2
0
58.33
Rashmi Nethranjali
c Shweta Sehrawat b Archana Devi
0
3
0
0
0.00
Manudi Nanayakkara
c Shweta Sehrawat b Sonia Mendhiya
35
27
3
2
129.63
Dewmi Vihanga
st Hrishita Basu b Parshavi Chopra
0
1
0
0
0.00
Vihara Sewwandi
c Archana Devi b Sonam Yadav
13
23
0
0
56.52
Umaya Rathnayake
c Shweta Sehrawat b Sonam Yadav
2
7
0
0
28.57
Dulanga Dissanayke
st Hrishita Basu b Archana Devi
1
3
0
0
33.33
Vidushika Perera
not out
2
5
0
0
40.00
Pamoda Shaini
not out
0
2
0
0
0.00
| | |
| --- | --- |
| Extras | 9 (b 4 , lb 0 , nb 3, w 2, pen 0) |
| Total | 98/9 (20 Overs, RR: 4.9) |
| Bowling | O | M | R | W | Econ |
| --- | --- | --- | --- | --- | --- |
| Yashasri | 3 | 0 | 26 | 0 | 8.67 |
| Titas Sadhu | 2 | 0 | 10 | 1 | 5.00 |
| Sonam Yadav | 4 | 0 | 13 | 3 | 3.25 |
| Archana Devi | 4 | 0 | 16 | 3 | 4.00 |
| Parshavi Chopra | 3 | 0 | 9 | 1 | 3.00 |
| Sonia Mendhiya | 4 | 0 | 20 | 1 | 5.00 |