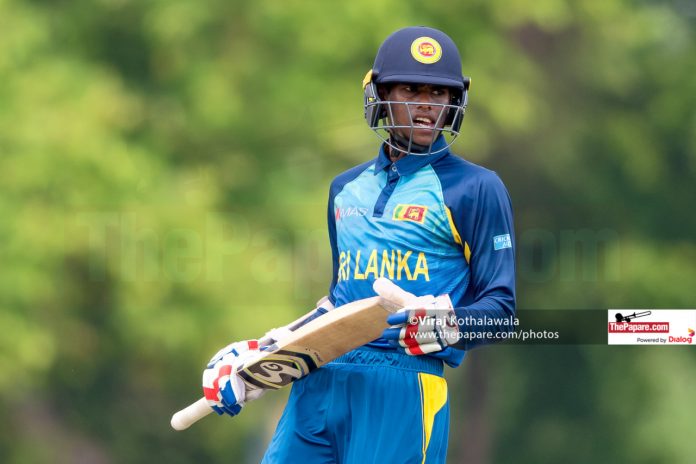 With plenty of rain around ahead of the 3rd Youth ODI against Bangladesh, the Sri Lanka  U19s won the toss and elected to field first at the Rangiri Dambulla International Stadium on Saturday. 
A tame opening day of the 2nd U19 Test saw Sri Lanka U19s reach 219/9 in 90 overs against the visiting Bangladeshis at the FTZ…
The game was already reduced to a 45 over affair before the rain intervened once again with Bangladesh 26.4 overs into their innings.
The visitors were setting themselves up for a formidable score reaching 114/3 but rain meant that the Sri Lanka U19s were given a revised target of 161 to win in 25 overs.
Right arm quick from St. Joseph's College, Lakshan Gamage was impressive for the hosts, capturing 2/14, while Tanzid Thamim top scored with 38 for the Bangladeshis.
Sri Lanka, who had a couple of poor shows with the bat in the series, came out all guns blazing with Mahindian Navod Paranavithana continuing from where he left off in the previous game. The stylish left hander hailing from the south, went on to hit a quick-fire 62 following his 83 in the 2nd Youth ODI.
Ravindu Rashantha(32*) and Nipun Dananjaya(38*) made sure there were no further hiccups after the dismissal of Paranavithana, as Sri Lanka U19s batting finally came good in the crunch game.
Bangladesh U19 – 

114/3 (26.4):

 Tanzid Hassan Thamim 38, Mahmudul Hssan Joy 25*, Tawhid Hridoy 20, Lakshan Gamage 2/14 
vs   Sri Lanka U19 

161/2 (16.4):

 Navod Paranavithana 62, Nipun Dananjaya 38*, Ravindu Rashantha 32*,  Kamil Mishara 26
// var socket=io('http://localhost:8080'); var socket=io('http://202.124.184.250:8080');
jQuery( document ).ready(function() { console.log( "ready" ); var prev_bat_team = 0;
socket.on('message',function (message) { message = JSON.parse(message); console.log(message); if( message.data.cric.commentary){ jQuery('#cmt_wrap').prepend('
'+message.data.cric.commentary.event+'
'+message.data.cric.commentary.comment+'
'); } if(message.data.cric.match){ console.log(message.data.cric.match.teams_1_inn2_r[0]); function ove(balls) { var overs = 0; if(balls %6 == 0){ overs = balls/6; }else{ overs = parseInt(balls/6)+"."+(+balls - +parseInt(balls/6)*6); } console.log(overs); return overs; }
if(!message.data.cric.match.teams_1_inn2_r[0]){
jQuery('#score_1_'+message.data.cric.match.teams_1_r[0]['id']).html(message.data.cric.match.teams_1_r[0]['score'] + " / " + message.data.cric.match.teams_1_r[0]['wkts']); jQuery('#over_1_'+message.data.cric.match.teams_1_r[0]['id']).html("("+ove(message.data.cric.match.teams_1_r[0]['balls'])+" overs)"); }else { jQuery('#score_1_'+message.data.cric.match.teams_1_r[0]['id']).html(message.data.cric.match.teams_1_r[0]['score'] + " / " + message.data.cric.match.teams_1_r[0]['wkts']+" & "+message.data.cric.match.teams_1_inn2_r[0]['score']+" / "+message.data.cric.match.teams_1_inn2_r[0]['wkts']); jQuery('#over_1_'+message.data.cric.match.teams_1_r[0]['id']).html("("+ove(message.data.cric.match.teams_1_inn2_r[0]['balls'])+" overs)"); } if(!message.data.cric.match.teams_2_inn2_r[0]){
jQuery('#score_2_'+message.data.cric.match.teams_2_r[0]['id']).html(message.data.cric.match.teams_2_r[0]['score'] + " / " + message.data.cric.match.teams_2_r[0]['wkts']); jQuery('#over_2_'+message.data.cric.match.teams_2_r[0]['id']).html("("+ove(message.data.cric.match.teams_2_r[0]['balls'])+" overs)"); }else { jQuery('#score_2_'+message.data.cric.match.teams_2_r[0]['id']).html(message.data.cric.match.teams_2_r[0]['score'] + " / " + message.data.cric.match.teams_2_r[0]['wkts']+" & "+message.data.cric.match.teams_2_inn2_r[0]['score']+" / "+message.data.cric.match.teams_2_inn2_r[0]['wkts']); jQuery('#over_2_'+message.data.cric.match.teams_2_r[0]['id']).html("("+ove(message.data.cric.match.teams_2_inn2_r[0]['balls'])+" overs)"); }
if(message.data.cric.match.teams_1_r[0]['extras']!=null){ jQuery('#extras_1_r_'+message.data.cric.match.teams_1_r[0]['id']).html("("+ove(message.data.cric.match.teams_1_r[0]['extras'])); } if(message.data.cric.match.teams_2_r[0]['extras']!=null){ jQuery('#extras_2_r_'+message.data.cric.match.teams_1_r[0]['id']).html("("+ove(message.data.cric.match.teams_2_r[0]['extras'])); } if(message.data.cric.match.teams_1_inn2_r[0]['extras']!=null){ jQuery('#extras_1_r_2_'+message.data.cric.match.teams_1_inn2_r[0]['id']).html("("+ove(message.data.cric.match.teams_1_inn2_r[0]['extras'])); } if(message.data.cric.match.teams_2_inn2_r[0]['extras']!=null){ jQuery('#extras_1_r_2_'+message.data.cric.match.teams_2_inn2_r[0]['id']).html("("+ove(message.data.cric.match.teams_2_inn2_r[0]['extras'])); }
//extras_1_r_2_ // if(prev_bat_team != message.data.cric.team_id){ jQuery('#widget_wrapper').load(document.URL + ' #widget_wrapper'); // } // prev_bat_team = message.data.cric.team_id // }
}); });
Ban U19's Innings
Batting
R
B
Tanzid Hasan
c & b L Gamage
38
36
Pritom Kumar
c R de Silva b L Gamage
8
35
Towhid Hridoy
lbw by R de Silva
20
38
Hassan Joy
not out
25
39
Shamim Hossain
not out
5
12
Fall of Wickets:
1-57 (Tanzid Hasan, 10.4 ov), 2-60 (Pritom Kumar, 12.2 ov), 3-105 (Towhid Hridoy, 23.5 ov)
| Bowling | O | M | R | W | E |
| --- | --- | --- | --- | --- | --- |
| Chamindu Wijesinghe | 5 | 0 | 42 | 0 | 8.40 |
| Ashan Daniel | 6.4 | 0 | 16 | 0 | 2.50 |
| Lakshan Gamage | 4 | 0 | 14 | 2 | 3.50 |
| Raveen de Silva | 8 | 0 | 25 | 1 | 3.13 |
| Rohan Sanjaya | 3 | 1 | 3 | 0 | 1.00 |
Sri Lanka U19's Innings
Batting
R
B
Navod Paranavithana
st A Ali b S Hossain
62
39
Kamil Mishara
c T Hridoy b A Galib
26
12
Nipun Dananjaya
not out
38
15
Fall of Wickets:
1-66 (ND Paranavithana, 5.5 ov), 2-115 (ND Paranavithana, 12.1 ov)
| Bowling | O | M | R | W | E |
| --- | --- | --- | --- | --- | --- |
| Shoriful Islam | 3 | 0 | 39 | 0 | 13.00 |
| Mittunjoy Chowdhury | 3 | 0 | 35 | 0 | 11.67 |
| Shamim Hossain | 3 | 0 | 22 | 1 | 7.33 |
| Asadullah Galib | 3.4 | 0 | 37 | 1 | 10.88 |
| Rakibul Hasan | 1 | 0 | 9 | 0 | 9.00 |