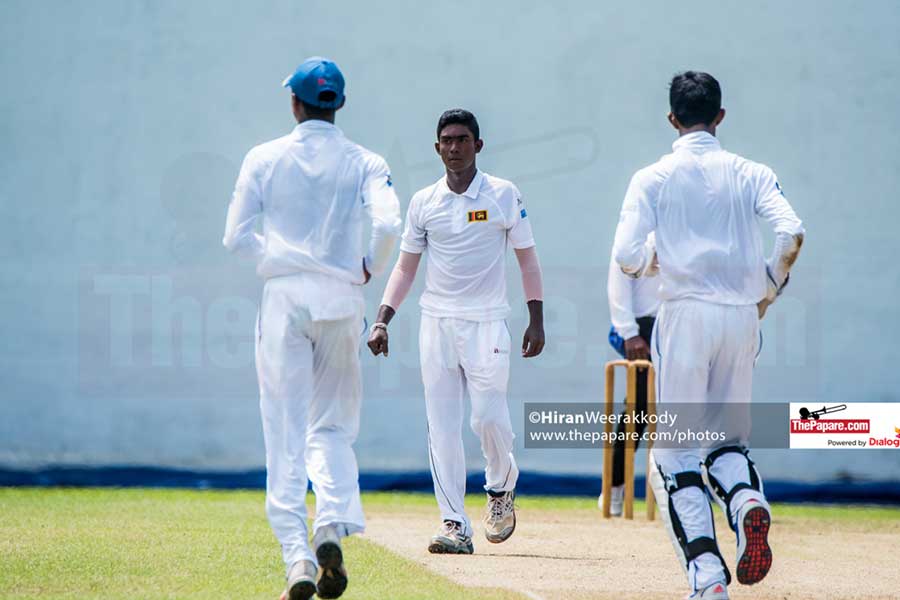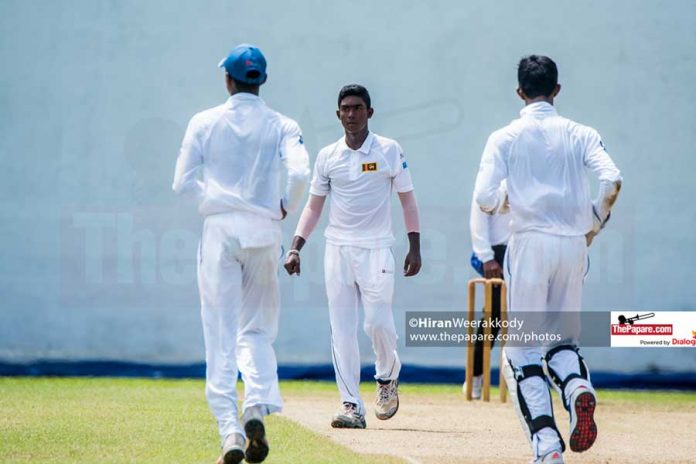 Sri Lanka U19s ended day two of the 1st Youth Test against Bangladesh in a decent position as they scored 65 runs for the loss of just 1 wicket in the 26 overs they batted after Bangladesh scored 309 runs for their 1st inning.
With Bangladesh on 209/3 overnight, day 2 was delayed due to rain. Play was allowed to commence at 1 pm at the NCC Grounds in Colombo.
Bangladesh takes honours on opening day
The Sri Lankan bowlers did well today after a rusty outing yesterday as they took the remaining 7 wickets for 100 runs, restricting the visitors for 309. Apart from the Bangladeshi skipper Tawhid Hirdoy, who scored 54 yesterday, Amite Hasan scored 64 runs batting at 7 to top score in the Bangladesh inning.
In bowling for the hosts, Nalandian seamer Chamindu Wijesinghe grabbed 4 scalps for 68 runs in 16.1 overs. The spin trio Ashien Daniel, Sandun Mendis and Rohan Sanjaya contributed with 2 wickets apiece.
Photos: Sri Lanka U19 vs Bangladesh U19 – 1st Youth Test | Day 1
With Bangladesh batting for 38.1 overs in the rain-shortened day, Sri Lanka were given 20-odd tricky overs to bat in overcast conditions.
Battling the conditions exceptionally the Lankan openers, Navod Paranavithana and Kamil Mishara, put on an impressive 55-run partnership. The Bangladeshi skipper once again stepped forward as he broke the stubborn-looking partnership with his handy off-spin.
Kamil Mishara was the man to be dismissed for a 58-ball 19 which included 1 boundary and a six. The Sri Lanka U19 skipper Nipun Dananjaya who walked in at 3 remained unbeaten on 5 with Paranavithana seeing through the day unbeaten on 35.
The two left-handers will resume Sri Lanka's 1st inning tomorrow, the 3rd day of the 4-day Youth Test.
// var socket=io('http://localhost:8080'); var socket=io('http://202.124.184.250:8080');
jQuery( document ).ready(function() { console.log( "ready" ); var prev_bat_team = 0;
socket.on('message',function (message) { message = JSON.parse(message); console.log(message); if( message.data.cric.commentary){ jQuery('#cmt_wrap').prepend('
'+message.data.cric.commentary.event+'
'+message.data.cric.commentary.comment+'
'); } if(message.data.cric.match){ console.log(message.data.cric.match.teams_1_inn2_r[0]); function ove(balls) { var overs = 0; if(balls %6 == 0){ overs = balls/6; }else{ overs = parseInt(balls/6)+"."+(+balls - +parseInt(balls/6)*6); } console.log(overs); return overs; }
if(!message.data.cric.match.teams_1_inn2_r[0]){
jQuery('#score_1_'+message.data.cric.match.teams_1_r[0]['id']).html(message.data.cric.match.teams_1_r[0]['score'] + " / " + message.data.cric.match.teams_1_r[0]['wkts']); jQuery('#over_1_'+message.data.cric.match.teams_1_r[0]['id']).html("("+ove(message.data.cric.match.teams_1_r[0]['balls'])+" overs)"); }else { jQuery('#score_1_'+message.data.cric.match.teams_1_r[0]['id']).html(message.data.cric.match.teams_1_r[0]['score'] + " / " + message.data.cric.match.teams_1_r[0]['wkts']+" & "+message.data.cric.match.teams_1_inn2_r[0]['score']+" / "+message.data.cric.match.teams_1_inn2_r[0]['wkts']); jQuery('#over_1_'+message.data.cric.match.teams_1_r[0]['id']).html("("+ove(message.data.cric.match.teams_1_inn2_r[0]['balls'])+" overs)"); } if(!message.data.cric.match.teams_2_inn2_r[0]){
jQuery('#score_2_'+message.data.cric.match.teams_2_r[0]['id']).html(message.data.cric.match.teams_2_r[0]['score'] + " / " + message.data.cric.match.teams_2_r[0]['wkts']); jQuery('#over_2_'+message.data.cric.match.teams_2_r[0]['id']).html("("+ove(message.data.cric.match.teams_2_r[0]['balls'])+" overs)"); }else { jQuery('#score_2_'+message.data.cric.match.teams_2_r[0]['id']).html(message.data.cric.match.teams_2_r[0]['score'] + " / " + message.data.cric.match.teams_2_r[0]['wkts']+" & "+message.data.cric.match.teams_2_inn2_r[0]['score']+" / "+message.data.cric.match.teams_2_inn2_r[0]['wkts']); jQuery('#over_2_'+message.data.cric.match.teams_2_r[0]['id']).html("("+ove(message.data.cric.match.teams_2_inn2_r[0]['balls'])+" overs)"); }
if(message.data.cric.match.teams_1_r[0]['extras']!=null){ jQuery('#extras_1_r_'+message.data.cric.match.teams_1_r[0]['id']).html("("+ove(message.data.cric.match.teams_1_r[0]['extras'])); } if(message.data.cric.match.teams_2_r[0]['extras']!=null){ jQuery('#extras_2_r_'+message.data.cric.match.teams_1_r[0]['id']).html("("+ove(message.data.cric.match.teams_2_r[0]['extras'])); } if(message.data.cric.match.teams_1_inn2_r[0]['extras']!=null){ jQuery('#extras_1_r_2_'+message.data.cric.match.teams_1_inn2_r[0]['id']).html("("+ove(message.data.cric.match.teams_1_inn2_r[0]['extras'])); } if(message.data.cric.match.teams_2_inn2_r[0]['extras']!=null){ jQuery('#extras_1_r_2_'+message.data.cric.match.teams_2_inn2_r[0]['id']).html("("+ove(message.data.cric.match.teams_2_inn2_r[0]['extras'])); }
//extras_1_r_2_ // if(prev_bat_team != message.data.cric.team_id){ jQuery('#widget_wrapper').load(document.URL + ' #widget_wrapper'); // } // prev_bat_team = message.data.cric.team_id // }
}); });
Full Scorecard
309/10 & 115/10
(45.2 overs)
288/10 & 123/10
(43.3 overs)
BAN U19 won by 13 runs
Ban U19's 1st Innings
Batting
R
B
Tanzid Hasan
b Wijesinghe
42
31
Prantik Nabil
c Mishara b Daniel
45
114
Mahmudul Joy
b Mendis
19
71
Towhid Hridoy
c Silva b Sanjaya
54
105
Shamim Hossain
c Mishara b Daniel
43
66
Akbar Ali
lbw by Sanjaya
17
28
Amite Hasan
c Mishara b Wijesinghe
64
99
Rakibul Hasan
c Dananjaya b Mendis
6
24
Rishad Hossain
c Mishara b Wijesinghe
4
38
Shoriful Islam
b Wijesinghe
4
7
Shahin Alam
not out
1
22
Total
309/10 (96.1 overs)
Fall of Wickets:
1-54 (T Hasan), 2-93 (M Joy,), 3-139 (P Nabil), 4-209 (S Hossain), 5-213 (T Hridoy), 6-235 (A Ali), 7-258 (Rakibul), 8-276 (R Hossain), 9-282 (S Islam), 10-309 (A Hasan)
| Bowling | O | M | R | W | E |
| --- | --- | --- | --- | --- | --- |
| Naveen Fernando | 4 | 0 | 24 | 0 | 6.00 |
| Chamindu Wijesinghe | 16.1 | 1 | 68 | 4 | 4.22 |
| Ashan Daniel | 20 | 4 | 64 | 2 | 3.20 |
| Rohan Sanjaya | 35 | 11 | 70 | 2 | 2.00 |
| Sandun Mendis | 18 | 1 | 69 | 2 | 3.83 |
| Navod Paranavithana | 3 | 0 | 4 | 0 | 1.33 |
Sri Lanka U19's 1st Innings
Batting
R
B
Navod Paranavithana
b T Hridoy
40
45
Kamil Mishara
b T Hridoy
19
58
Nipun Dananjaya
lbw by H Joy
11
29
Mohomed Shamaz
b S Alam
31
128
Sonal Dinusha
c S Islam b R Hasan
100
202
Janishka Perera
c A Ali b S Islam
14
40
Sandun Mendis
lbw by R Hasan
14
20
C Wijesinghe
c A Hasan b S Alam
8
19
Ashan Daniel
c A Hasan b S Islam
21
71
Naveen Fernando
c A Ali b R Hasan
15
58
Rohan Sanjaya
not out
1
1
Extras
14 (b 6, nb 3, w 3, lb 2)
Fall of Wickets:
1-55 (N Paranavithana), 2-75 (N Paranavithana), 3-78 (N Dananjaya), 4-168 (M Shamaz), 5-193 (J Perera), 6-212 (S Mendis), 7-229 (C Wijesinghe), 8-270 (A Daniel), 9-278 (S Dinusha), 10-288 (N Fernando)
| Bowling | O | M | R | W | E |
| --- | --- | --- | --- | --- | --- |
| Shoriful Islam | 20 | 2 | 57 | 2 | 2.85 |
| Sahin Alam | 20 | 5 | 43 | 2 | 2.15 |
| Mahmudul Joy | 6 | 0 | 21 | 0 | 3.50 |
| Shamim Hossain | 4 | 3 | 2 | 0 | 0.50 |
| Rishad Hossain | 12 | 3 | 23 | 0 | 1.92 |
| Rakibul Hasan | 32 | 4 | 79 | 3 | 2.47 |
| Towhid Hridoy | 19 | 4 | 55 | 3 | 2.89 |
Ban U19's 2nd Innings
Batting
R
B
Tanzid Hasan
c R Sanjaya b A Daniel
6
5
Nawrose Nabil
c S Mendis b R Sanjaya
13
48
Hassan Joy
c K Mishara b C Wijesinghe
14
32
Towhid Hridoy
c J Perera b C Wijesinghe
0
1
Shamim Hossain
lbw by R Sanjaya
19
34
Amite Hasan
b A Daniel
6
9
Akbar Ali
c M Shamaz b A Daniel
42
74
Rakibul Hasan
c N Dananjaya b S Mendis
6
21
Rishad Hossain
st. K Mishara b R Sanjaya
3
24
Sahin Alam
not out
2
11
Shoriful Islam
c R Sanjaya b A Daniel
0
5
Total
115/10 (45.2 overs)
Fall of Wickets:
1-7 (T Hasan, 1.2 ov), 2-30 (H Joy, 11.3 ov), 3-30 (T Hridoy, 11.4 ov), 4-43 (N Nabil, 17.1 ov), 5-54 (A Hasan, 20.1 ov), 6-62 (S Hossain, 23.2 ov), 7-89 (R Hasan, 32.3 ov), 8-107 (R Hossain, 40.2 ov), 9-115 (A Ali, 43.3 ov), 10-115 (S Islam, 45.2 ov)
| Bowling | O | M | R | W | E |
| --- | --- | --- | --- | --- | --- |
| Chamindu Wijesinghe | 9 | 2 | 38 | 2 | 4.22 |
| Ashan Daniel | 16.2 | 8 | 19 | 4 | 1.17 |
| Rohan Sanjaya | 16 | 2 | 43 | 3 | 2.69 |
| Sandun Mendis | 4 | 1 | 11 | 1 | 2.75 |
Sri Lanka U19's 2nd Innings
Batting
R
B
Navod Paranavithana
lbw by S Hossain
16
14
Kamil Mishara
lbw by S Alam
0
3
Nipun Dananjaya
c T Hridoy b R Hasan
21
37
Mohomed Shamaz
lbw by R Hasan
11
34
Sonal Dinusha
(runout) T Hridoy
24
57
Janishka Perera
lbw by R Hasan
1
11
Sandun Mendis
(runout) T Hasan
13
30
Chaminda Wijesinghe
c A Ali b S Islam
29
37
Ashan Daniel
c A Hasan b S Alam
0
3
Nuwanidu Fernando
c M Hasan b S Alam
2
10
Rohan Sanjaya
not out
4
25
Total
123/10 (43.3 overs)
Fall of Wickets:
1-0 (K Mishara, 1.3 ov), 2-26 (N Paranavithana, 4.2 ov), 3-49 (N Dananjaya, 12.2 ov), 4-52 (M Shamaz, 16.3 ov), 5-54 (J Perera, 18.3 ov), 6-76 (S Mendis, 27.4 ov), 8-91 (A Daniel, 33.3 ov), 9-97 (N Fernando, 35.4 ov), 10-123 (C Wijesinghe, 43.3 ov)
| Bowling | O | M | R | W | E |
| --- | --- | --- | --- | --- | --- |
| Shoriful Islam | 6.3 | 1 | 23 | 1 | 3.65 |
| Shahin Alam | 12 | 6 | 31 | 3 | 2.58 |
| Shamim Hossain | 3 | 0 | 10 | 1 | 3.33 |
| Towhid Hridoy | 7 | 1 | 24 | 0 | 3.43 |
| Rakibul Hasan | 15 | 2 | 34 | 3 | 2.27 |