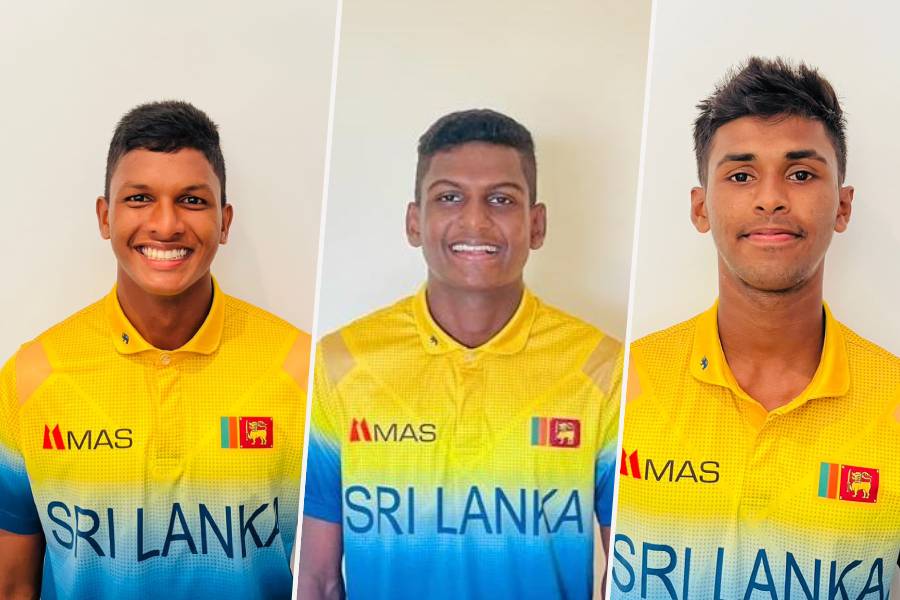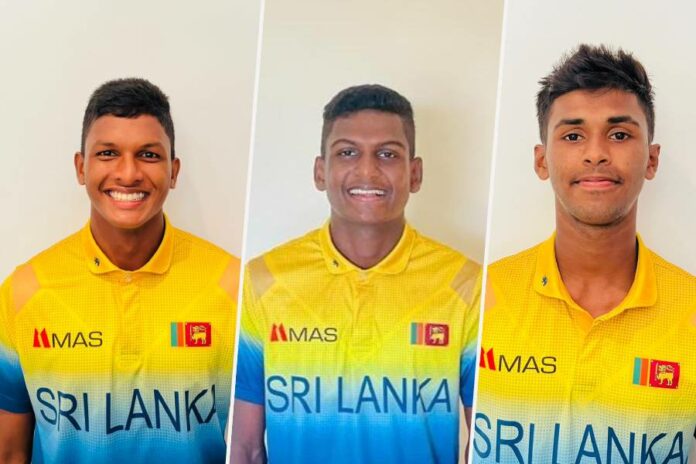 The first four-day Youth Test between Sri Lanka U19 and England U19 began yesterday (21) at Chelmsford.
Ben McKinney, the English skipper, won the toss decided to bat first on a very good surface for batting.
England youth batters who looked to be aggressive from the word go continued that pattern of scoring fast until the fall of their last wicket at 387 in just 78.3 overs.
George Bell, who scored a swashbuckling knock of 107 off just 96 deliveries, completely dominated the young Lankan bowlers, his knock including 16 fours. Ross Whitefield, who also batted brilliantly made a fine 86 which included 8 fours and a six.
Bell and Whitefield also managed to put together an express 185-run stand for the 3rd wicket in just 182 deliveries. After the loss of the 3rd wicket England U19 faltered thanks to a great phase of bowling by the visitors as they grabbed the next 5 wickets for just 67 runs.
But lower order batsman Bertie Foreman managed to bring in some momentum once again to his team with a brisk unbeaten knock of 58 from 56 balls. Thanks to this knock from Foreman, England U19 scored 71 runs off their last wicket.
For the visiting Sri Lankan U19 team, 17-year-old speedster Duvindu Ranatunga took 4 wickets for 100 runs. Ranatunga's 4 scalps included the prized ones of Bell and Whiteley who troubled the Sri Lankan attack. Dulaj Samuditha provided him good support with a 2-wicket haul alongside Wanuja Sahan who also took 2 wickets.
With 9 overs left in the day the Sri Lankan openers walked out to bat hoping to reach stumps without any casualties but unfortunately lost Sadisha Rajapaksa for 11, leaving Sri Lanka won 25/1 at the close of first day's play.
Asitha Wanninayake, the unbeaten batter was on 13. With a deficit of 362 runs and a new ball at play, the Sri Lankan top order will have their work cut out  to take the upper hand in this encounter.
387/10 (78.3) & 292/10 (75.5)
407/10 (141.1) & 276/7 (57.1)


Batsmen
R
B
4s
6s
SR
Harry Singh
c Lahiru Dewatage b Duvindu Ranatunga
27
46
2
0
58.70
Ben McKinney
c Vinuja Ranpul b Dulaj Samuditha
33
34
6
0
97.06
Ross Whitfield
c Wanuja Sahan b Vinuja Ranpul
86
106
8
1
81.13
George Bell
c Dulaj Samuditha b Vinuja Ranpul
107
96
16
0
111.46
Matthew Hurst
c Duvindu Ranatunga b Vinuja Ranpul
8
18
1
0
44.44
Alex Horton
c & b Wanuja Sahan
0
5
0
0
0.00
Dominic Kelly
st Lahiru Dewatage b Raveen de Silva
14
42
1
0
33.33
George Thomas
c Vinuja Ranpul b Dulaj Samuditha
19
24
2
0
79.17
Bertie Foreman
not out
58
56
4
2
103.57
Eddie Jack
c Lahiru Dewatage b Shevon Daniel
8
23
1
0
34.78
Benjamin Cliff
c Pawan Pathiraja b Wanuja Sahan
18
21
3
0
85.71
| | |
| --- | --- |
| Extras | 9 (b 4 , lb 4 , nb 0, w 1, pen 0) |
| Total | 387/10 (78.3 Overs, RR: 4.93) |
| Bowling | O | M | R | W | Econ |
| --- | --- | --- | --- | --- | --- |
| Dulaj Samuditha | 17 | 1 | 105 | 2 | 6.18 |
| Vinuja Ranpul | 10 | 0 | 62 | 0 | 6.20 |
| Wanuja Sahan | 18.3 | 5 | 56 | 2 | 3.06 |
| Duvindu Ranatunga | 17 | 1 | 100 | 4 | 5.88 |
| Raveen De Silva | 9 | 1 | 31 | 1 | 3.44 |
| Sadisha Rajapaksa | 1 | 0 | 6 | 0 | 6.00 |
| Shevon Daniel | 6 | 0 | 19 | 1 | 3.17 |


Batsmen
R
B
4s
6s
SR
Sadisha Rajapaksa
c Alex Horton b Benjamin Cliff
11
24
2
0
45.83
Asitha Wanninayake
b Thomas Aspinwall
132
315
19
0
41.90
Shevon Daniel
lbw b Benjamin Cliff
22
33
3
0
66.67
Pawan Pathiraja
lbw b Bertie Foreman
32
95
5
0
33.68
Ranuda Somarathne
c Bertie Foreman b Eddie Jack
65
114
6
0
57.02
Raveen de Silva
b Eddie Jack
62
135
7
0
45.93
Lahiru Dewatage
lbw b Thomas Aspinwall
0
1
0
0
0.00
Vinuja Ranpul
c Thomas Aspinwall b Bertie Foreman
42
85
4
2
49.41
Wanuja Sahan
b Bertie Foreman
13
29
2
0
44.83
Duvindu Ranatunga
lbw b Bertie Foreman
1
13
0
0
7.69
Dulaj Samuditha
not out
0
4
0
0
0.00
| | |
| --- | --- |
| Extras | 27 (b 11 , lb 9 , nb 1, w 6, pen 0) |
| Total | 407/10 (141.1 Overs, RR: 2.88) |
| Bowling | O | M | R | W | Econ |
| --- | --- | --- | --- | --- | --- |
| Benjamin Cliff | 28 | 5 | 68 | 2 | 2.43 |
| Thomas Aspinwall | 31 | 8 | 98 | 2 | 3.16 |
| Dominic Kelly | 23 | 6 | 65 | 0 | 2.83 |
| Eddie Jack | 23 | 6 | 62 | 2 | 2.70 |
| Bertie Foreman | 36.1 | 11 | 94 | 4 | 2.60 |


Batsmen
R
B
4s
6s
SR
Harry Singh
lbw b Wanuja Sahan
2
8
0
0
25.00
Ben McKinney
c Lahiru Dewatage b Wanuja Sahan
56
99
3
0
56.57
Ross Whitfield
b Vinuja Ranpul
110
134
12
1
82.09
George Bell
c Duvindu Ranatunga b Wanuja Sahan
29
27
3
1
107.41
Matthew Hurst
b Duvindu Ranatunga
39
105
0
1
37.14
Alex Horton
c Wanuja Sahan b Raveen De Silva
14
18
2
0
77.78
Dominic Kelly
b Wanuja Sahan
3
11
0
0
27.27
Thomas Aspinwall
c Shevon Daniel b Raveen De Silva
13
22
2
0
59.09
Bertie Foreman
c Vinuja Ranpul b Duvindu Ranatunga
12
14
2
0
85.71
Eddie Jack
c Vinuja Ranpul b Duvindu Ranatunga
7
16
1
0
43.75
Benjamin Cliff
not out
1
1
0
0
100.00
| | |
| --- | --- |
| Extras | 6 (b 0 , lb 5 , nb 0, w 1, pen 0) |
| Total | 292/10 (75.5 Overs, RR: 3.85) |
| Bowling | O | M | R | W | Econ |
| --- | --- | --- | --- | --- | --- |
| Dulaj Samuditha | 3 | 0 | 16 | 0 | 5.33 |
| Wanuja Sahan | 27 | 2 | 89 | 4 | 3.30 |
| Sadisha Rajapaksa | 6 | 1 | 15 | 0 | 2.50 |
| Vinuja Ranpul | 11 | 1 | 45 | 1 | 4.09 |
| Duvindu Ranatunga | 7.5 | 0 | 34 | 3 | 4.53 |
| Asitha Wanninayake | 4 | 0 | 13 | 0 | 3.25 |
| Raveen De Silva | 16 | 0 | 70 | 2 | 4.38 |
| Shevon Daniel | 1 | 0 | 5 | 0 | 5.00 |


Batsmen
R
B
4s
6s
SR
Sadisha Rajapaksa
b Thomas Aspinwall
4
9
1
0
44.44
Asitha Wanninayake
c Ben McKinney b Dominic Kelly
22
51
3
0
43.14
Shevon Daniel
b Thomas Aspinwall
6
13
1
0
46.15
Pawan Pathiraja
lbw b Thomas Aspinwall
4
14
0
0
28.57
Ranuda Somarathne
not out
120
115
12
1
104.35
Raveen De Silva
lbw b Ben McKinney
22
38
3
0
57.89
Lahiru Dewatage
lbw b Dominic Kelly
49
49
8
0
100.00
Vinuja Ranpul
c Harry Singh b Thomas Aspinwall
18
31
1
0
58.06
Wanuja Sahan
not out
23
23
1
0
100.00
| | |
| --- | --- |
| Extras | 8 (b 0 , lb 6 , nb 0, w 2, pen 0) |
| Total | 276/7 (57.1 Overs, RR: 4.83) |
| Bowling | O | M | R | W | Econ |
| --- | --- | --- | --- | --- | --- |
| Benjamin Cliff | 10.1 | 0 | 43 | 0 | 4.26 |
| Thomas Aspinwall | 16 | 3 | 67 | 4 | 4.19 |
| Dominic Kelly | 11 | 1 | 52 | 2 | 4.73 |
| Eddie Jack | 4 | 0 | 13 | 0 | 3.25 |
| Bertie Foreman | 13 | 0 | 74 | 0 | 5.69 |
| Ben McKinney | 3 | 0 | 21 | 1 | 7.00 |