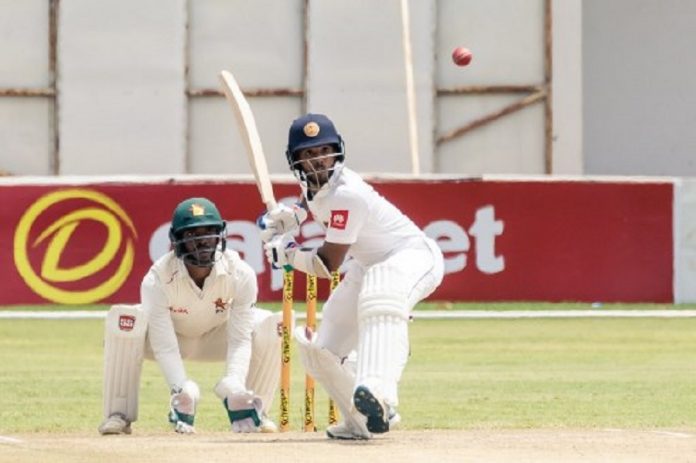 Kusal Mendis' 7th Test ton on day 5 of the 2nd Test between Sri Lanka and Zimbabwe paved the way for a well-fought draw, giving the Lions the series 1-0.
After rain and bad light had diminished Zimbabwe's chances of setting Sri Lanka a 400+ target on day 4, the expectation was that the hosts would declare overnight in a bid to push for a win. However, surprisingly, overnight batsmen Sean Williams and Donald Tiripano did come out to bat to extend Zimbabwe's lead. The ploy didn't last very long at all as the hosts declared after just 1 delivery, setting Sri Lanka 361 to win in 96 overs.
Read More: Rain spoils Zimbabwe's day
Sri Lanka got off to a slow and steady start via openers Dimuth Karunaratne and Oshada Fernando, as the pair put on 26 in 13.4 overs, seeing off the new ball, before a soft dismissal saw Karunaratne sent back. Mendis then joined Fernando and the pair looked steady right throughout, cautious at first and then accelerating during the 2nd half of the 1st session to go into Lunch unscathed.
Mendis was the aggressor from the get-go, using his feet adeptly to Sikandar Raza, who picked up 7 wickets in the 1st innings and ended up making 116 in 233 deliveries, including 13 fours and 1 six. 
Fernando fell at the beginning of the 2nd session but another solid partnership between Mathews and Mendis steadied Sri Lanka once again. Raza did trouble the visiting batsmen with the odd delivery keeping low, but Mendis, Mathews and eventually Dinesh Chandimal were solid in defense as the game drew to a close. With a result looking unlikely, the teams decided to call it a day with 10 of the 96 overs due to be bowled on day 5 remaining.
Despite having the likes of Dhananjaya De Silva and Niroshan Dickwella yet to bat, Sri Lanka, understandably, did not push for a win, having already more or less secured the series with a win in the 1st Test.
Zimbabwe on the other hand would be disappointed that they could not do better on a deteriorating pitch to register their 1st ever Test win over Sri Lanka.
293/10 (119.5) & 204/3 (87)
406/10 (115.3) & 247/7 (75)


Batsmen
R
B
4s
6s
SR
Prince Masvaure
c Niroshan Dickwella b Lahiru Kumara
9
44
1
0
20.45
Kevin Kasuza
b Suranga Lakmal
38
97
4
0
39.18
Craig Ervine
c Oshada Fernando b Dhananjaya de Silva
12
11
1
1
109.09
Brendan Taylor
lbw b Suranga Lakmal
62
62
10
1
100.00
Sean Williams
b Dhananjaya de Silva
107
137
10
3
78.10
Sikandar Raza
c Angelo Mathews b Lasith Embuldeniya
72
99
4
2
72.73
Regis Chakabva
c Niroshan Dickwella b Lasith Embuldeniya
31
69
3
0
44.93
Tinotenda Mutombodzi
lbw b Dhananjaya de Silva
33
99
4
0
33.33
Donald Tiripano
c Suranga Lakmal b Lasith Embuldeniya
13
47
1
0
27.66
Carl Mumba
not out
11
19
2
0
57.89
Victor Nyauchi
c Dhananjaya de Silva b Lasith Embuldeniya
6
10
1
0
60.00
| | |
| --- | --- |
| Extras | 12 (b 8 , lb 3 , nb 1, w 0, pen 0) |
| Total | 406/10 (115.3 Overs, RR: 3.52) |
| Fall of Wickets | 1-21 (13.6) Prince Masvaure, 2-49 (19.4) Craig Ervine, 3-114 (32.6) Kevin Kasuza, 4-133 (36.5) Brendan Taylor, 5-292 (71.6) Sikandar Raza, 6-324 (78.5) Sean Williams, 7-362 (95.2) Regis Chakabva, 8-386 (110.1) Tinotenda Mutombodzi, 9-394 (111.6) Donald Tiripano, 10-406 (115.3) Victor Nyauchi, |
| Bowling | O | M | R | W | Econ |
| --- | --- | --- | --- | --- | --- |
| Suranga Lakmal | 22 | 9 | 37 | 2 | 1.68 |
| Vishwa Fernando | 14 | 1 | 45 | 0 | 3.21 |
| Lahiru Kumara | 20 | 5 | 60 | 1 | 3.00 |
| Lasith Embuldeniya | 42.3 | 8 | 182 | 4 | 4.30 |
| Dhananjaya de Silva | 17 | 1 | 71 | 3 | 4.18 |


Batsmen
R
B
4s
6s
SR
Dimuth Karunarathne
lbw b Sikandar Raza
44
120
3
0
36.67
Oshada Fernando
c Regis Chakabva b Donald Tiripano
44
119
4
0
36.97
Kusal Mendis
c Carl Mumba b Sikandar Raza
22
73
1
1
30.14
Angelo Mathews
c Regis Chakabva b Carl Mumba
64
158
3
2
40.51
Dinesh Chandimal
c & b Sikandar Raza
6
9
0
1
66.67
Dhananjaya de Silva
b Sikandar Raza
42
64
5
1
65.62
Niroshan Dickwella
lbw b Sikandar Raza
1
6
0
0
16.67
Suranga Lakmal
c Tinotenda Mutombodzi b Sikandar Raza
5
27
0
0
18.52
Lasith Embuldeniya
c Brian Mudzinganyama b Sikandar Raza
5
39
0
0
12.82
Vishwa Fernando
c Regis Chakabva b Victor Nyauchi
38
81
5
0
46.91
Lahiru Kumara
not out
3
22
0
0
13.64
| | |
| --- | --- |
| Extras | 19 (b 9 , lb 10 , nb 0, w 0, pen 0) |
| Total | 293/10 (119.5 Overs, RR: 2.45) |
| Fall of Wickets | 1-94 (36.2) Dimuth Karunarathne, 2-104 (43.1) Oshada Fernando, 3-134 (62.5) Kusal Mendis, 4-142 (64.5) Dinesh Chandimal, 5-226 (86.3) Dhananjaya de Silva, 6-228 (88.2) Niroshan Dickwella, 7-242 (94.3) Suranga Lakmal, 8-244 (97.1) Angelo Mathews, 9-268 (108.4) Lasith Embuldeniya, 10-293 (119.5) Vishwa Fernando, |
| Bowling | O | M | R | W | Econ |
| --- | --- | --- | --- | --- | --- |
| Carl Mumba | 18 | 4 | 43 | 1 | 2.39 |
| Sikandar Raza | 43 | 8 | 113 | 7 | 2.63 |
| Donald Tiripano | 24 | 12 | 30 | 1 | 1.25 |
| Victor Nyauchi | 22.5 | 7 | 40 | 1 | 1.78 |
| Tinotenda Mutombodzi | 12 | 1 | 48 | 0 | 4.00 |


Batsmen
R
B
4s
6s
SR
Prince Masvaure
run out (Dhananjaya de Silva)
35
105
3
1
33.33
Craig Ervine
c Niroshan Dickwella b Vishwa Fernando
13
43
1
0
30.23
Regis Chakabva
c Dhananjaya de Silva b Lasith Embuldeniya
15
39
1
0
38.46
Brendan Taylor
lbw b Lahiru Kumara
67
75
7
1
89.33
Timycen Maruma
st Niroshan Dickwella b Lasith Embuldeniya
0
14
0
0
0.00
Sikandar Raza
lbw b Vishwa Fernando
34
74
4
0
45.95
Sean Williams
not out
53
77
6
1
68.83
Tinotenda Mutombodzi
b Suranga Lakmal
8
22
0
0
36.36
Donald Tiripano
not out
1
2
0
0
50.00
| | |
| --- | --- |
| Extras | 21 (b 4 , lb 15 , nb 1, w 1, pen 0) |
| Total | 247/7 (75 Overs, RR: 3.29) |
| Fall of Wickets | 1-32 (11.2) Craig Ervine, 2-64 (23.3) Regis Chakabva, 3-111 (38.2) Prince Masvaure, 4-124 (42.4) Timycen Maruma, 5-151 (49.3) Brendan Taylor, 6-221 (67.5) Sikandar Raza, 7-240 (74.3) Tinotenda Mutombodzi, |
| Bowling | O | M | R | W | Econ |
| --- | --- | --- | --- | --- | --- |
| Suranga Lakmal | 18 | 5 | 34 | 1 | 1.89 |
| Dhananjaya de Silva | 7 | 2 | 32 | 0 | 4.57 |
| Vishwa Fernando | 20 | 5 | 43 | 2 | 2.15 |
| Lahiru Kumara | 10 | 2 | 38 | 0 | 3.80 |
| Lasith Embuldeniya | 20 | 0 | 81 | 2 | 4.05 |


Batsmen
R
B
4s
6s
SR
Oshada Fernando
lbw b Sikandar Raza
47
108
4
0
43.52
Dimuth Karunarathne
c Regis Chakabva b Carl Mumba
12
38
0
0
31.58
Kusal Mendis
not out
116
233
13
1
49.79
Angelo Mathews
c Craig Ervine b Victor Nyauchi
13
69
1
0
18.84
Dinesh Chandimal
not out
13
75
0
0
17.33
| | |
| --- | --- |
| Extras | 3 (b 1 , lb 1 , nb 1, w 0, pen 0) |
| Total | 204/3 (87 Overs, RR: 2.34) |
| Fall of Wickets | 1-26 (13.4) Dimuth Karunarathne, 2-107 (38.1) Oshada Fernando, 3-140 (61.2) Angelo Mathews, |
| Bowling | O | M | R | W | Econ |
| --- | --- | --- | --- | --- | --- |
| Sikandar Raza | 32 | 10 | 63 | 1 | 1.97 |
| Donald Tiripano | 16 | 10 | 15 | 0 | 0.94 |
| Carl Mumba | 4 | 1 | 13 | 1 | 3.25 |
| Sean Williams | 16 | 0 | 49 | 0 | 3.06 |
| Victor Nyauchi | 12 | 3 | 43 | 1 | 3.58 |
| Tinotenda Mutombodzi | 7 | 2 | 19 | 0 | 2.71 |