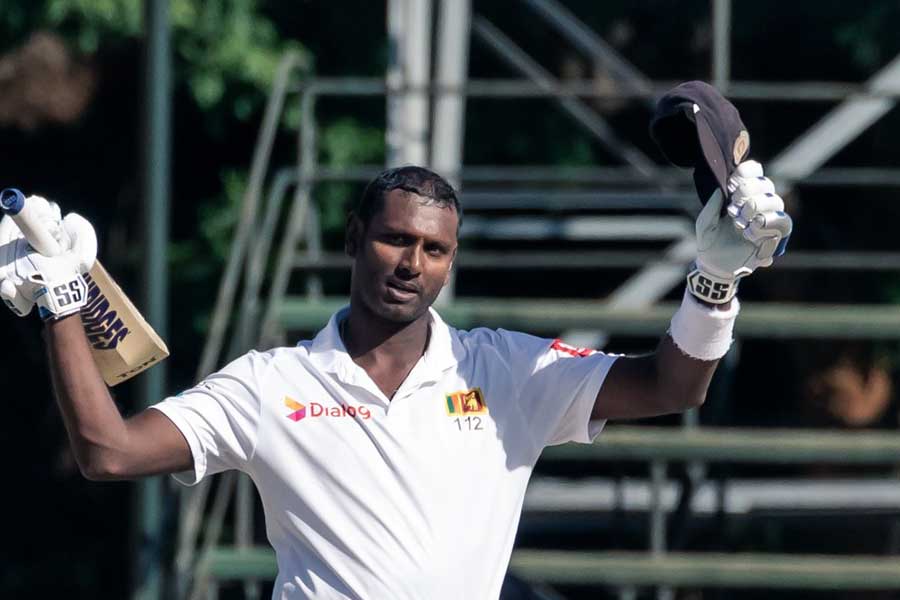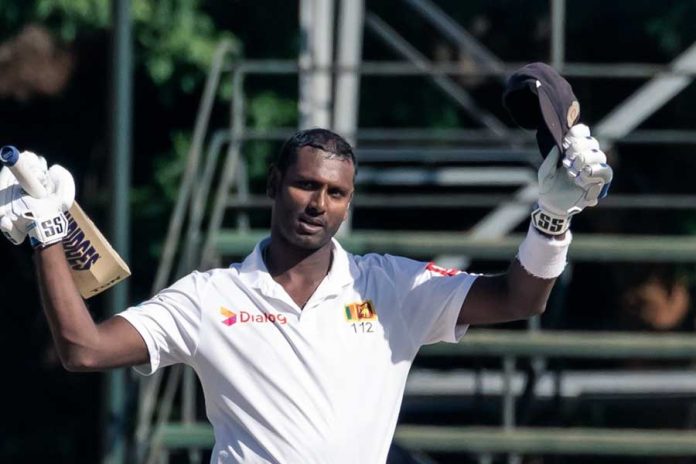 The first Test between hosts Zimbabwe and Sri Lanka at the Harare Sports Club ground will go the full length with two possible results on the final day. Sri Lanka may fancy their chances for a win by an innings with the lead they possess at the end of day 4 while Zimbabwe will most probably push for a draw.
Most of the day was just about Angelo Mathews and his memorable innings. Starting off the day by reaching his 10th Test ton, Mathews went on to become Sri Lanka's 10th Test double centurion later on in the day. 
Mendis-Mathews combo put Sri Lanka on top
Sri Lanka's other overnight batsman Dhananjaya De Silva couldn't add much to his account as his brief stay ended soon after he reached his 6th Test fifty on day 4. He fell to  Zimbabwe's most impressive bowler of the match, debutant pacer Victor Nyauchi, trying to up the scoring rate and ending up giving a catch mid-on.
One of Sri Lanka's busiest batsmen, Niroshan Dickwella then joined Mathews following the Mathews-De Silva 98-run stand and added 136 runs for the 6th wicket, taking almost 45 overs. The slow scoring was a feature in the entire Lankan innings. Even with Zimbabwe having batted for more than 5 sessions, favorites to win the game, Sri Lanka showed zero urgency in scoring and pushing for a win. The wicket too didn't show any major signs of becoming difficult for batting despite early predictions of breaking up to assist the spinners.
However, Zimbabwean part-time spinner Sikandar Raza then came into the act claiming 3 wickets. After trapping Dickwella in front of the stumps for 63 he dismissed Suranga Lakmal and Lasith Embuldeniya with consecutive deliveries. Lakmal was trying to add some impetus to the innings with an energetic knock of 27 which included 2 sixes while Embuldeniya played the wrong line in his very first delivery.
Zimbabwe's new opening pair of Prince Masvaure and Kevin Kasuza's concussion substitute (Kasuza was ruled out of the Test due to concussion), debutant Brian Mudzinganyama looked very cautious as they came out to bat in the last hour after Sri Lanka's declaration following Mathews' 200. 
The Lankan bowlers will have to try extremely hard if they are to take 10 wickets tomorrow. However, irrespective of the result, this game will be remembered in Sri Lanka cricket's folklore for a landmark knock by one of Sri Lanka's greatest Test batsmen, Angelo Mathews.
358/10 (148) & 170/10 (92)


Batsmen
R
B
4s
6s
SR
Prince Masvaure
c Dimuth Karunaratne b Lasith Embuldeniya
55
149
7
0
36.91
Kevin Kasuza
lbw b Lahiru Kumara
63
214
5
1
29.44
Craig Ervine
b Suranga Lakmal
85
187
5
3
45.45
Brendan Taylor
lbw b Suranga Lakmal
21
47
1
1
44.68
Sean Williams
c Niroshan Dickwella b Lasith Embuldeniya
18
46
1
1
39.13
Sikandar Raza
st Niroshan Dickwella b Lasith Embuldeniya
41
65
6
0
63.08
Regis Chakabva
c Angelo Mathews b Lasith Embuldeniya
8
20
1
0
40.00
Donald Tiripano
not out
44
103
3
0
42.72
Kyle Jarvis
b Lasith Embuldeniya
1
5
0
0
20.00
Ainsley Ndlovu
c Kusal Mendis b Lahiru Kumara
5
25
1
0
20.00
Victor Nyauchi
c Lakshan Sandakan b Suranga Lakmal
11
29
1
0
37.93
| | |
| --- | --- |
| Extras | 6 (b 0 , lb 4 , nb 2, w 0, pen 0) |
| Total | 358/10 (148 Overs, RR: 2.42) |
| Fall of Wickets | 1-96 (50.1) Prince Masvaure, 2-164 (75.3) Kevin Kasuza, 3-208 (91.5) Brendan Taylor, 4-247 (106.3) Sean Williams, 5-247 (107.2) Craig Ervine, 6-266 (114.2) Regis Chakabva, 7-307 (128.4) Sikandar Raza, 8-309 (130.1) Kyle Jarvis, 9-328 (139.1) Ainsley Ndlovu, 10-358 (147.6) Victor Nyauchi, |
| Bowling | O | M | R | W | Econ |
| --- | --- | --- | --- | --- | --- |
| Suranga Lakmal | 27 | 10 | 53 | 3 | 1.96 |
| Kasun Rajitha | 29 | 9 | 55 | 0 | 1.90 |
| Lasith Embuldeniya | 42 | 12 | 114 | 5 | 2.71 |
| Lahiru Kumara | 29 | 8 | 82 | 2 | 2.83 |
| Dhananjaya de Silva | 21 | 8 | 50 | 0 | 2.38 |


Batsmen
R
B
4s
6s
SR
Dimuth Karunaratne
c Ainsley Ndlovu b Victor Nyauchi
37
78
4
0
47.44
Oshada Fernando
b Donald Tiripano
21
41
2
0
51.22
Kusal Mendis
c Brendan Taylor b Victor Nyauchi
80
163
8
0
49.08
Angelo Mathews
not out
200
468
16
3
42.74
Dinesh Chandimal
c & b Sean Williams
12
32
1
0
37.50
Dhananjaya de Silva
c Prince Masvaure b Victor Nyauchi
63
112
7
0
56.25
Niroshan Dickwella
lbw b Sikandar Raza
63
120
3
0
52.50
Suranga Lakmal
st Regis Chakabva b Sikandar Raza
27
41
0
2
65.85
Lasith Embuldeniya
b Sikandar Raza
0
1
0
0
0.00
Kasun Rajitha
lbw b Sean Williams
1
6
0
0
16.67
| | |
| --- | --- |
| Extras | 11 (b 2 , lb 5 , nb 4, w 0, pen 0) |
| Total | 515/9 (176.2 Overs, RR: 2.92) |
| Fall of Wickets | 1-32 (11.1) Oshada Fernando, 2-92 (28.6) Dimuth Karunaratne, 3-184 (66.2) Kusal Mendis, 4-227 (81.4) Dinesh Chandimal, 5-325 (116.2) Dhananjaya de Silva, 6-461 (160.3) Niroshan Dickwella, 7-510 (173.4) Suranga Lakmal, 8-510 (173.5) Lasith Embuldeniya, 9-515 (176.2) Kasun Rajitha, |
| Bowling | O | M | R | W | Econ |
| --- | --- | --- | --- | --- | --- |
| Kyle Jarvis | 37 | 12 | 84 | 0 | 2.27 |
| Victor Nyauchi | 32 | 7 | 69 | 3 | 2.16 |
| Donald Tiripano | 31 | 3 | 82 | 1 | 2.65 |
| Ainsley Ndlovu | 28 | 3 | 107 | 0 | 3.82 |
| Sean Williams | 32.2 | 3 | 104 | 2 | 3.23 |
| Sikandar Raza | 16 | 0 | 62 | 3 | 3.88 |


Batsmen
R
B
4s
6s
SR
Prince Masvaure
c Niroshan Dickwella b Suranga Lakmal
17
58
2
0
29.31
Brian Mudzinganyama
lbw b Suranga Lakmal
16
62
2
0
25.81
Craig Ervine
c Dimuth Karunaratne b Suranga Lakmal
7
13
0
0
53.85
Brendan Taylor
c Kusal Mendis b Suranga Lakmal
38
58
5
1
65.52
Sean Williams
c Niroshan Dickwella b Kasun Rajitha
39
79
5
0
49.37
Sikandar Raza
st Niroshan Dickwella b Lasith Embuldeniya
17
55
1
0
30.91
Regis Chakabva
b Lasith Embuldeniya
26
142
1
0
18.31
Donald Tiripano
lbw b Lahiru Kumara
6
61
1
0
9.84
Kyle Jarvis
b Lahiru Kumara
1
15
0
0
6.67
Ainsley Ndlovu
b Lahiru Kumara
0
7
0
0
0.00
Victor Nyauchi
not out
0
3
0
0
0.00
| | |
| --- | --- |
| Extras | 3 (b 2 , lb 0 , nb 1, w 0, pen 0) |
| Total | 170/10 (92 Overs, RR: 1.85) |
| Fall of Wickets | 1-33 (18.2) Prince Masvaure, 2-36 (20.3) Brian Mudzinganyama, 3-41 (22.3) Craig Ervine, 4-120 (44.3) Brendan Taylor, 5-120 (45.2) Sean Williams, 6-148 (62.1) Sikandar Raza, 7-159 (81.6) Donald Tiripano, 8-163 (85.6) Kyle Jarvis, 9-165 (89.4) Ainsley Ndlovu, 10-170 (91.6) Regis Chakabva, |
| Bowling | O | M | R | W | Econ |
| --- | --- | --- | --- | --- | --- |
| Suranga Lakmal | 20 | 8 | 27 | 4 | 1.35 |
| Kasun Rajitha | 14 | 6 | 23 | 1 | 1.64 |
| Dhananjaya de Silva | 11 | 6 | 12 | 0 | 1.09 |
| Lahiru Kumara | 21 | 8 | 32 | 3 | 1.52 |
| Lasith Embuldeniya | 26 | 8 | 74 | 2 | 2.85 |


Batsmen
R
B
4s
6s
SR
Oshada Fernando
not out
4
5
0
0
80.00
Dimuth Karunaratne
not out
10
13
1
0
76.92
| | |
| --- | --- |
| Extras | 0 (b 0 , lb 0 , nb 0, w 0, pen 0) |
| Total | 14/0 (3 Overs, RR: 4.67) |
| Bowling | O | M | R | W | Econ |
| --- | --- | --- | --- | --- | --- |
| Donald Tiripano | 2 | 0 | 8 | 0 | 4.00 |
| Victor Nyauchi | 1 | 0 | 6 | 0 | 6.00 |