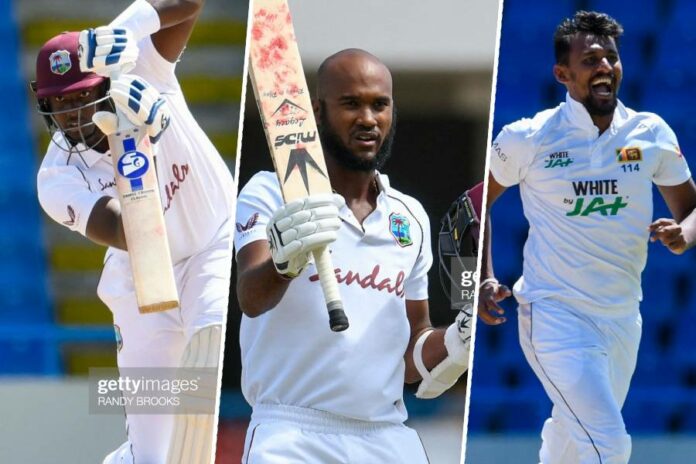 West Indian skipper Kraig Brathwaite and former skipper Jason Holder stroked fifties with the bat as the hosts set a challenging target of 377 runs for the visitors at the end of the fourth day of the second Test match between Sri Lanka and West Indies played at Sir Vivian Richards Stadium in Antigua. 
Sri Lanka started their day on 250 for 8 with Pathum Nissanka and Lasith Embuldeniya in the middle, trailing 104 runs behind West Indies' first essay. Nissanka got to his fifty in the very first over of the day but could not carry on as he was dismissed for 51 runs. Sri Lanka eventually bowled out for 258 runs in 107 overs. 
West Indies began their second innings with a lead of 96 runs but the visitors managed to get the early breakthrough as the opening batsman John Campbell dismissed by Suranga Lakmal for just 10 runs.
Even though Sri Lanka got off to a good start with the ball they had to face a huge blow as their main spinner Lasith Embuldeniya was injured and had to be stretchered off the field in the 6th over.  
Jermaine Blackwood who was promoted to Number three-position, had a lucky run-up to Lunch as he survived a close lbw decision and a dropped catch but his luck eventually came to an end as he nicked behind a short ball of Dushmantha Chameera for 18 runs at the stroke of Lunch.    
At 58 for 2, the skipper Kraig Brathwaite and Kyle Mayers got together in the middle and built a valuable 82-run partnership for the 3rd wicket before Lakmal came back and break the partnership in the 44th over.  
The hosts continued to dominate with the bat even after the post Tea session and declared their innings at 280 for 4 setting a challenging target of 377 runs for the visitors. Brathwaite once again became the top scorer of Windies' innings scoring 85 runs while former skipper Jason Holder remained unbeaten on 71 runs for the hosts. 
Chasing 377 runs to win, Sri Lankan openers Dimuth Karunaratne and Lahiru Thirimanne got off to a solid start as they put on 29 runs in 9 overs at stumps on day four.
258/10 (108) & 193/2 (79)
354/10 (111.1) & 280/4 (72.4)


Batsmen
R
B
4s
6s
SR
Kraig Brathwaite
b Dushmantha Chameera
126
311
13
0
40.51
John Campbell
c Niroshan Dickwella b Suranga Lakmal
5
24
1
0
20.83
Nkrumah Bonner
b Suranga Lakmal
0
6
0
0
0.00
Kyle Mayers
c Niroshan Dickwella b Vishwa Fernando
49
61
8
0
80.33
Jermaine Blackwood
c Niroshan Dickwella b Suranga Lakmal
18
29
2
1
62.07
Jason Holder
c Lahiru Thirimanne b Dhananjaya de Silva
30
34
5
0
88.24
Joshua Da Silva
c Niroshan Dickwella b Dushmantha Chameera
1
35
0
0
2.86
Alzarri Joseph
lbw b Lasith Embuldeniya
29
41
3
1
70.73
Rahkeem Cornwall
c Vishwa Fernando b Suranga Lakmal
73
92
10
1
79.35
Kemar Roach
c Niroshan Dickwella b Dushmantha Chameera
9
36
1
0
25.00
Shannon Gabriel
not out
1
5
0
0
20.00
| | |
| --- | --- |
| Extras | 13 (b 0 , lb 6 , nb 7, w 0, pen 0) |
| Total | 354/10 (111.1 Overs, RR: 3.18) |
| Bowling | O | M | R | W | Econ |
| --- | --- | --- | --- | --- | --- |
| Suranga Lakmal | 28 | 11 | 94 | 4 | 3.36 |
| Vishwa Fernando | 27 | 4 | 71 | 1 | 2.63 |
| Lasith Embuldeniya | 25 | 5 | 88 | 1 | 3.52 |
| Dushmantha Chameera | 21.1 | 4 | 69 | 3 | 3.27 |
| Dhananjaya de Silva | 10 | 3 | 26 | 1 | 2.60 |


Batsmen
R
B
4s
6s
SR
Dimuth Karunarathne
c Nkrumah Bonner b Alzarri Joseph
1
17
0
0
5.88
Lahiru Thirimanne
b Kemar Roach
55
106
6
0
51.89
Oshada Fernando
lbw b Kyle Mayers
18
71
1
0
25.35
Dinesh Chandimal
c Hayden Walsh b Shannon Gabriel
44
101
5
0
43.56
Dhananjaya de Silva
lbw b Jermaine Blackwood
39
140
1
0
27.86
Pathum Nissanka
c Hayden Walsh b Kemar Roach
51
131
0
0
38.93
Niroshan Dickwella
c Joshua Da Silva b Jason Holder
20
25
0
0
80.00
Suranga Lakmal
c Kraig Brathwaite b Alzarri Joseph
6
9
0
0
66.67
Dushmantha Chameera
c Joshua Da Silva b Jason Holder
2
26
0
0
7.69
Lasith Embuldeniya
not out
5
21
0
0
23.81
Vishwa Fernando
c Joshua Da Silva b Kemar Roach
0
2
0
0
0.00
| | |
| --- | --- |
| Extras | 17 (b 4 , lb 5 , nb 7, w 1, pen 0) |
| Total | 258/10 (108 Overs, RR: 2.39) |
| Bowling | O | M | R | W | Econ |
| --- | --- | --- | --- | --- | --- |
| Kemar Roach | 19 | 5 | 59 | 3 | 3.11 |
| Shannon Gabriel | 16 | 3 | 37 | 1 | 2.31 |
| Alzarri Joseph | 22 | 4 | 64 | 2 | 2.91 |
| Jason Holder | 21 | 3 | 39 | 2 | 1.86 |
| Kyle Mayers | 11 | 7 | 10 | 1 | 0.91 |
| Rahkeem Cornwall | 15 | 5 | 25 | 0 | 1.67 |
| Jermaine Blackwood | 4 | 0 | 16 | 1 | 4.00 |


Batsmen
R
B
4s
6s
SR
Kraig Brathwaite
b Dushmantha Chameera
85
196
4
0
43.37
John Campbell
c Niroshan Dickwella b Suranga Lakmal
10
25
1
0
40.00
Jermaine Blackwood
c Niroshan Dickwella b Dushmantha Chameera
18
41
2
0
43.90
Kyle Mayers
lbw b Suranga Lakmal
55
76
8
0
72.37
Jason Holder
not out
71
88
7
0
80.68
Joshua Da Silva
not out
20
16
2
0
125.00
| | |
| --- | --- |
| Extras | 21 (b 2 , lb 12 , nb 6, w 1, pen 0) |
| Total | 280/4 (72.4 Overs, RR: 3.85) |
| Did not bat | Nkrumah Bonner, Alzarri Joseph, Rahkeem Cornwall, Kemar Roach, Shannon Gabriel, |
| Bowling | O | M | R | W | Econ |
| --- | --- | --- | --- | --- | --- |
| Suranga Lakmal | 14 | 3 | 62 | 2 | 4.43 |
| Vishwa Fernando | 12.4 | 1 | 49 | 0 | 3.95 |
| Dhananjaya de Silva | 28 | 3 | 81 | 0 | 2.89 |
| Dushmantha Chameera | 18 | 0 | 74 | 2 | 4.11 |


Batsmen
R
B
4s
6s
SR
Lahiru Thirimanne
c Rahkeem Cornwall b Alzarri Joseph
39
114
5
0
34.21
Dimuth Karunarathne
lbw b Kyle Mayers
75
176
9
0
42.61
Oshada Fernando
not out
66
119
8
0
55.46
Dinesh Chandimal
not out
10
66
1
0
15.15
| | |
| --- | --- |
| Extras | 3 (b 0 , lb 1 , nb 1, w 1, pen 0) |
| Total | 193/2 (79 Overs, RR: 2.44) |
| Did not bat | Dhananjaya de Silva, Pathum Nissanka, Niroshan Dickwella, Suranga Lakmal, Lasith Embuldeniya, Dushmantha Chameera, Vishwa Fernando, |
| Bowling | O | M | R | W | Econ |
| --- | --- | --- | --- | --- | --- |
| Kemar Roach | 12 | 2 | 33 | 0 | 2.75 |
| Jason Holder | 10 | 3 | 24 | 0 | 2.40 |
| Rahkeem Cornwall | 26.4 | 8 | 53 | 0 | 2.01 |
| Shannon Gabriel | 5.2 | 2 | 20 | 0 | 3.85 |
| Alzarri Joseph | 10 | 2 | 33 | 1 | 3.30 |
| Jermaine Blackwood | 6 | 1 | 17 | 0 | 2.83 |
| Kraig Brathwaite | 3 | 0 | 7 | 0 | 2.33 |
| Kyle Mayers | 6 | 4 | 5 | 1 | 0.83 |