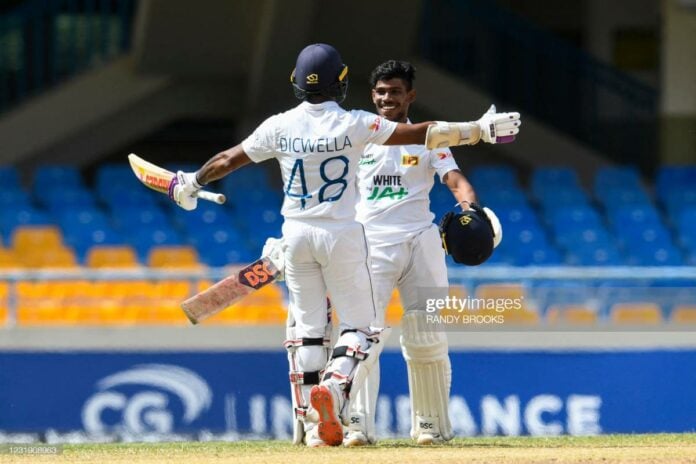 A debut Test century from the 22-year-old Pathum Nissanka and his record-breaking partnership with Niroshan Dickwella guided Sri Lanka to 476 runs in the second innings on day four of the first Test match against West Indies at Sir Vivian Richards Stadium in Antigua as the visitors set a target of 375 runs.
Sri Lanka started their day on 255 for 4 with a lead of 153 as their set pair Dhananjaya de Silva and debutant Pathum Nissanka returned to the middle but the senior partner De Silva had to walk back to the dressing room within five balls soon after he reached his half century.
Niroshan Dickwella joined Nissanka and made sure there wouldn't be any collapse as in the first innings. Pathum Nissanka looked calm and composed against the West Indian attack as he was not troubled by the pace of the opposition attack or the movement of the duke ball. It was heartening to watch a 22-year-old batting with such maturity on his debut game in West Indian conditions.
Read – Sri Lanka on top after a record partnership between Fernando and Thirimanne
Nissanka became the highest scorer of the innings, completing a brilliant century, batting for 252 deliveries. While doing so, he became only the 4th Sri Lankan to become Test centurion on his Test debut but the specialty was he was the only one to do it outside home.
Test hundreds on debut by Sri Lankans
Brendon Kuruppu 201* vs New Zealand in 1987
Romesh Kaluwitharana 132* vs Australia in 1992
Thian Samaraweera 103* vs India in 2001
Pathum Nissanka 103 vs West Indies in 2021
Sri Lanka needed their last recognized batsmen to set a huge target on the board to challenge the opposition and they did exactly that. In fact, the pair added a record breaking 179 runs for the 6th wicket breaking the Sri Lanka record for the highest partnership on West Indian soil for any wicket which was renewed earlier in the same innings by Oshada Fernando and Lahiru Thirimanne. It was also the highest 6th wicket partnership for Sri Lanka against the hosts.
Read more – Charith Asalanka blasts 178 as the domestic 50-over tournament kicks off in style
Highest partnership for Sri Lanka in Caribbean for any wicket
179 – Pathum Nissanka & Niroshan Dickwella – Antigua – 2021
162 – Lahiru Thirimanne & Oshada Fernando – Antigua – 2021
138 – Thilan Samaraweera & Chaminda Vaas – Port of Spain – 2008
Highest 6th wicket partnership for Sri Lanka against West Indies
179 – Pathum Nissanka & Niroshan Dickwella – Antigua – 2021
165 – Thilan Samaraweera, Hashan Tillakaratne – SSC – 2001
154 – Thilan Samaraweera, Hashan Tillakaratne – Galle – 2001
Meanwhile Dickwella, who was searching for his maiden Test century, missed out on a ton by just 4 runs after batting so well with Nissanka. However, Dickwella was very lucky to survive that long as he was given three lives during his innings (A drop catch by gully, Edged to keeper but umpired ruled not out, ball bounced onto the stumps but the bails weren't dislodged)
He was dismissed by Kemar Roach off a back of length delivery which managed to find the stumps despite Dickwella's attempt to run it to thirdman. With that half-century he now holds the most half centuries by a Test cricketer without a century.
Most Test 50s without a 100
17 – Niroshan Dickwella (SL)
16 – Chetan Chauhan (Ind)
13 – Ken Mackay (Aus)
12 – Shane Warne (Aus)
Sri Lanka managed to amass 476 runs which is the joint highest total in Caribbean for Sri Lanka equaling the record total set in 2008 in the famous Test match at Providence Stadium, Guyana.
With 375 to win, West Indies lost the wicket of John Campbell who was undone by a superb spell from Vishwa Fernando who set him up to edge one to Dickwella. That was Sri Lanka's only success in that 20-over period where the hosts stripped 34 runs from the target.
>> Visit the Sri Lanka v West Indies 2021 Hub <<
Still all three (or four if you count the tie) results are possible in this game and a win here for Sri Lanka would do a whole lot of good to the players who had a horrid time so far in the Caribbean. Sri Lanka have only won 2 Test matches (out of previous 9 matches) in West Indies and never won a Test series there. (out of 3)
169/10 (69.4) & 476/10 (149.5)
271/10 (103) & 236/4 (100)


Batsmen
R
B
4s
6s
SR
Dimuth Karunarathne
c John Campbell b Rahkeem Cornwall
12
43
1
0
27.91
Lahiru Thirimanne
b Jason Holder
70
180
4
0
38.89
Oshada Fernando
run out ()
4
11
0
0
36.36
Dinesh Chandimal
c Joshua Da Silva b Jason Holder
4
25
0
0
16.00
Dhananjaya de Silva
b Kemar Roach
13
26
2
0
50.00
Pathum Nissanka
c Jason Holder b Kemar Roach
9
12
2
0
75.00
Niroshan Dickwella
c Rahkeem Cornwall b Jason Holder
32
76
2
0
42.11
Suranga Lakmal
c Kraig Brathwaite b Jason Holder
3
13
0
0
23.08
Dushmantha Chameera
b Kemar Roach
2
7
0
0
28.57
Lasith Embuldeniya
lbw b Jason Holder
3
15
0
0
20.00
Vishwa Fernando
not out
1
11
0
0
9.09
| | |
| --- | --- |
| Extras | 16 (b 4 , lb 6 , nb 1, w 5, pen 0) |
| Total | 169/10 (69.4 Overs, RR: 2.43) |
| Bowling | O | M | R | W | Econ |
| --- | --- | --- | --- | --- | --- |
| Kemar Roach | 16 | 2 | 47 | 3 | 2.94 |
| Shannon Gabriel | 9 | 2 | 22 | 0 | 2.44 |
| Rahkeem Cornwall | 14 | 6 | 25 | 1 | 1.79 |
| Alzarri Joseph | 11 | 2 | 32 | 0 | 2.91 |
| Jason Holder | 17.4 | 6 | 27 | 5 | 1.55 |
| Kyle Mayers | 2 | 0 | 6 | 0 | 3.00 |


Batsmen
R
B
4s
6s
SR
Kraig Brathwaite
c Dhananjaya de Silva b Suranga Lakmal
3
43
0
0
6.98
John Campbell
c Niroshan Dickwella b Dushmantha Chameera
42
148
4
0
28.38
Nkrumah Bonner
lbw b Lasith Embuldeniya
31
63
5
0
49.21
Kyle Mayers
c Dhananjaya de Silva b Suranga Lakmal
45
70
6
2
64.29
Jermaine Blackwood
b Suranga Lakmal
2
7
0
0
28.57
Jason Holder
b Suranga Lakmal
19
61
2
0
31.15
Joshua Da Silva
c Niroshan Dickwella b Dushmantha Chameera
46
124
5
0
37.10
Alzarri Joseph
c Dinesh Chandimal b Suranga Lakmal
0
8
0
0
0.00
Rahkeem Cornwall
b Vishwa Fernando
61
85
9
2
71.76
Kemar Roach
not out
5
15
1
0
33.33
Shannon Gabriel
lbw b Vishwa Fernando
0
3
0
0
0.00
| | |
| --- | --- |
| Extras | 17 (b 1 , lb 6 , nb 9, w 1, pen 0) |
| Total | 271/10 (103 Overs, RR: 2.63) |
| Bowling | O | M | R | W | Econ |
| --- | --- | --- | --- | --- | --- |
| Suranga Lakmal | 25 | 9 | 47 | 5 | 1.88 |
| Vishwa Fernando | 17 | 6 | 52 | 2 | 3.06 |
| Dushmantha Chameera | 22 | 1 | 71 | 2 | 3.23 |
| Lasith Embuldeniya | 28 | 6 | 64 | 1 | 2.29 |
| Dhananjaya de Silva | 11 | 2 | 30 | 0 | 2.73 |


Batsmen
R
B
4s
6s
SR
Lahiru Thirimanne
b Kemar Roach
76
201
4
0
37.81
Dimuth Karunarathne
c John Campbell b Kemar Roach
3
13
0
0
23.08
Oshada Fernando
c Joshua Da Silva b Kyle Mayers
91
149
11
0
61.07
Dinesh Chandimal
c Joshua Da Silva b Kyle Mayers
4
9
0
0
44.44
Dhananjaya de Silva
b Alzarri Joseph
50
79
6
0
63.29
Pathum Nissanka
c Kemar Roach b Rahkeem Cornwall
103
252
6
0
40.87
Niroshan Dickwella
b Kemar Roach
96
163
8
0
58.90
Suranga Lakmal
run out ()
8
24
0
0
33.33
Lasith Embuldeniya
c Kyle Mayers b Rahkeem Cornwall
6
9
0
0
66.67
Dushmantha Chameera
c Jason Holder b Rahkeem Cornwall
10
11
0
1
90.91
Vishwa Fernando
not out
0
0
0
0
0.00
| | |
| --- | --- |
| Extras | 29 (b 13 , lb 5 , nb 11, w 0, pen 0) |
| Total | 476/10 (149.5 Overs, RR: 3.18) |
| Bowling | O | M | R | W | Econ |
| --- | --- | --- | --- | --- | --- |
| Kemar Roach | 27 | 3 | 74 | 3 | 2.74 |
| Shannon Gabriel | 18 | 2 | 67 | 0 | 3.72 |
| Jason Holder | 22 | 4 | 40 | 0 | 1.82 |
| Alzarri Joseph | 21 | 2 | 83 | 1 | 3.95 |
| Rahkeem Cornwall | 42.5 | 4 | 137 | 3 | 3.22 |
| Kraig Brathwaite | 9 | 1 | 30 | 0 | 3.33 |
| Kyle Mayers | 9 | 2 | 24 | 2 | 2.67 |
| Jermaine Blackwood | 1 | 0 | 3 | 0 | 3.00 |


Batsmen
R
B
4s
6s
SR
Kraig Brathwaite
b Lasith Embuldeniya
23
124
0
0
18.55
John Campbell
c Niroshan Dickwella b Vishwa Fernando
11
15
2
0
73.33
Nkrumah Bonner
not out
113
274
13
1
41.24
Kyle Mayers
c Lahiru Thirimanne b Lasith Embuldeniya
52
113
5
0
46.02
Jermaine Blackwood
b Vishwa Fernando
4
29
0
0
13.79
Jason Holder
not out
18
48
4
0
37.50
| | |
| --- | --- |
| Extras | 15 (b 4 , lb 8 , nb 3, w 0, pen 0) |
| Total | 236/4 (100 Overs, RR: 2.36) |
| Bowling | O | M | R | W | Econ |
| --- | --- | --- | --- | --- | --- |
| Suranga Lakmal | 25 | 10 | 33 | 0 | 1.32 |
| Vishwa Fernando | 19 | 0 | 73 | 2 | 3.84 |
| Lasith Embuldeniya | 28 | 9 | 62 | 2 | 2.21 |
| Dushmantha Chameera | 18 | 3 | 44 | 0 | 2.44 |
| Dhananjaya de Silva | 10 | 5 | 12 | 0 | 1.20 |